'Waco' Creators Explore The Gray Areas Of A Deadly Siege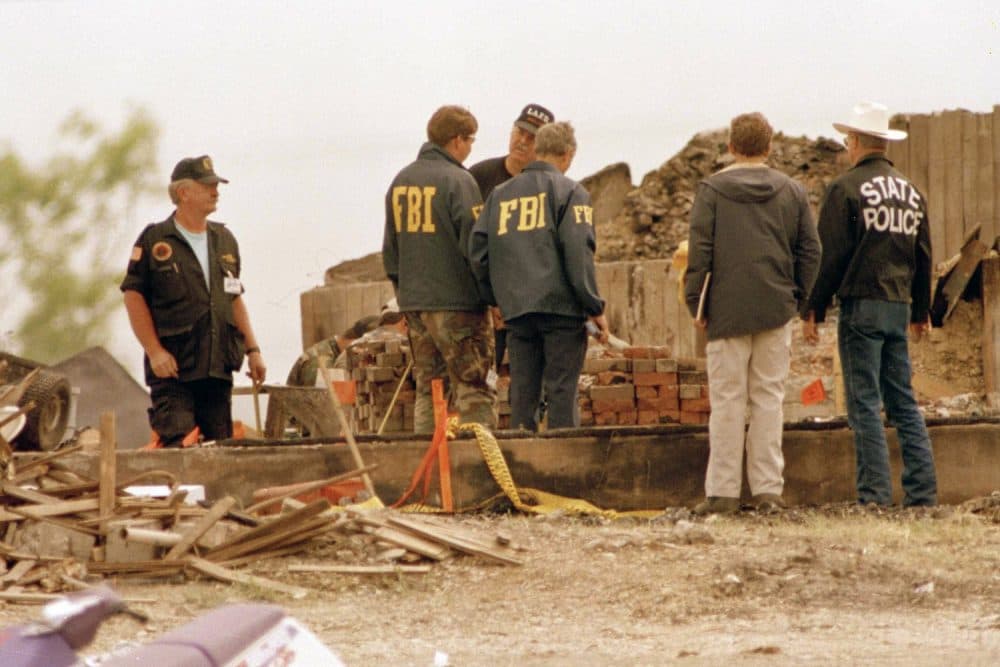 This article is more than 3 years old.
The new TV series about the standoff at a Branch Davidian compound outside Waco, Texas tries to explore the gray areas on both sides of the deadly siege, the show's creators say.
"We always thought that there was just a lot more to that story than than the media told us at the time," Drew Dowdle, co-creator of the Paramount Network's "Waco" series, said Monday on the NPR show On Point.
He added: "This was just a situation dying to go wrong."
More than 70 people died in gun battles and an ensuing fire, including four federal agents and scores of men, women and children inside the Mount Carmel Center. The events surrounding the 51-day siege are still very much in dispute, but they have had reverberations in American history, including the Oklahoma City bombing — the bomber specifically cited Waco — and the evolution of modern police tactics.
The show's creators, brothers Drew and John Erick Dowdle, hope to reveal shades of gray in a situation that many believed to be black and white.
"It wasn't black and white, it wasn't this side was right and this side was wrong."
They got the idea after coming across a book by David Thibodeau, one of the nine survivors from the compound.
"There was just something in the Kafkaesque nightmare of being in a place where you have no communication with the outside world, and seeing on the news your community being slowly demonized and being able to do nothing about it," John Dowdle says.
There were serious issues with the Branch Davidians and Koresh himself, the Dowdles acknowledge. Koresh had multiple wives, and he was accused of pedophilia.
Koresh was guilty of some indefensible things, the Dowdles said. They don't shy away from that. But they also try to change perspectives about him, and to show those gray areas. He could be funny. He was a musician. Hours and hours of recorded conversations between Koresh and negotiators revealed that he could be reasonable.
"I think it's sometimes easier to paint someone as a monster versus to try to look at the elements of their environment and their upbringing that kind of made them what they are," said John Dowdle.
The show also examines the other gray area: the federal response. The FBI negotiators and David Koresh were able to communicate effectively more often than not, but anytime the negotiators would score a win, the tactical side of the FBI would come in to undercut that and cause a deep level of distrust, the Dowdles said
It's these complications that the the Dowdle brothers explore in "Waco." They hope that viewers learn that what happened in 1993 isn't as simple as they might've thought.
"What happened at Waco was a lot more in a gray zone," said John Dowdle. "It wasn't black and white, it wasn't this side was right and this side was wrong. Both sides had a lot of gray."
We were also joined by Lee Hancock, a former Dallas Morning News reporter who's writing a book on the siege.
She took issue with how the incident was portrayed in the "Waco" series; the raid was not, Hancock said, staged as a publicity stunt. The series shows Koresh telling people that he was careful with guns and they weren't doing anything illegal, but survivors said they were in fact converting illegal assault rifles into machine guns.
"It's it's an interesting piece of drama," Hancock said. "But in terms of reflecting the facts of what happened down there, it's troubling — there are a lot of issues that they just misrepresent about what happened."