'Hell On Earth' In Syria's Long-Running War
Play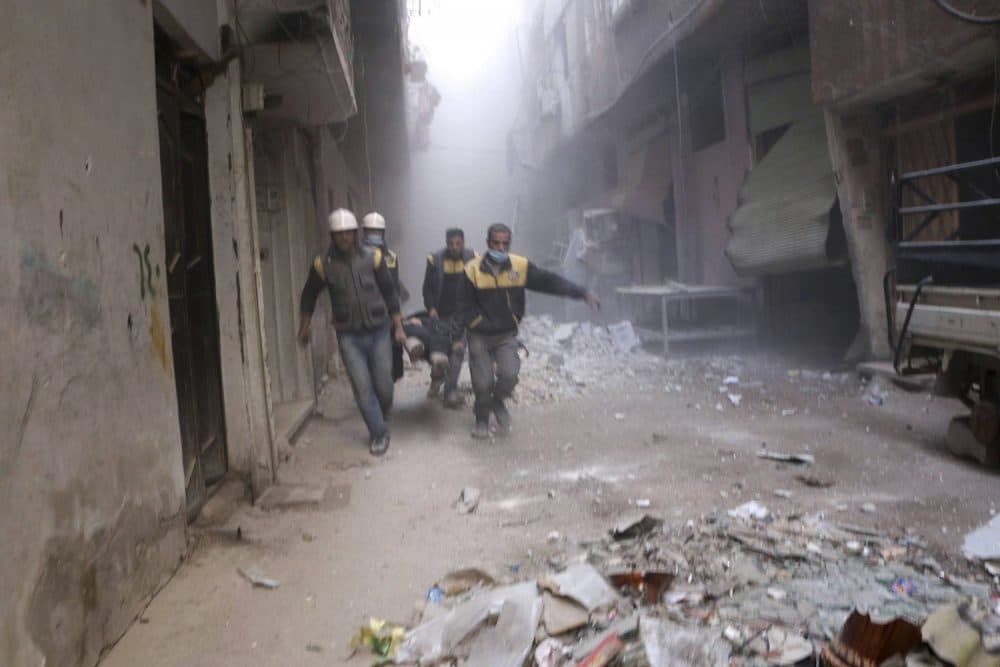 This article is more than 4 years old.
The U.N. has demanded a ceasefire in Syria, but the fighting hasn't ceased. On Tuesday, we looked at why — and how the major players, from Syria to Turkey to the U.S., are trying to control land and influence in the war's endgame.
We also discussed the humanitarian crisis in Ghouta, Syria, where violence and shelling is continuing despite efforts to stop the bloodshed — and chemical attacks, which in the past have been blamed on Syrian government forces.
Here are some highlights from our guests:
"It's truly nightmarish," Liz Sly, the Washington bureau chief for the Washington Post, said of the situation in Ghouta. "The head of the U.N. called it hell on Earth."
Sly on chemical attacks in Ghouta: "I notice a lot of allegations that the rebels were firing chlorine at themselves But the U.N. has done a lot of investigations and they always point back at the Assad regime."
Dr. Jad Salem, a Syrian doctor and board member of the Union of Medical Care and Relief Organizations, joined us from Dubai and likened the situation in Ghouta to the 1995 Srebrenica massacre in Bosnia, when 8,000 Muslims were killed, prompting international action.
"It's kind of a modern ethnic cleansing," Salem said. "Now we can call it ideological cleansing with state terrorism be exercised against those civilians."
Noah Bonsey, senior analyst at the International Crisis Group: "It's fair to say the US policy options in Syria were never good and never easy, and they've gotten steadily worse and harder as the war has gone on."
Ambassador Frederic Hoff, Atlantic Council's Rafik Hariri Center for the Middle East: "I think what what Russian President Vladimir Putin has wanted out of Syria more than anything else is his ability to turn to the Russian electorate his constituents back home and say, look, I've been able to save Bashar al-Assad, of all people, from an alleged American regime change campaign through the region. Pay no attention to corruption in Russia, pay no attention to a failing economy. Pay no attention to a kleptocracy. This is exhibit A of Russia's return to the world stage as a great power."
Guests:
Liz Sly, Beirut bureau chief for the Washington Post. (@LizSly)
Ambassador Frederic Hof, director of the Atlantic Council's Rafik Hariri Center for the Middle East (@frederichof)
Noah Bonsey, International Crisis Group. (@noahbonsey)
Dr. Jad Salem, chair of media and advocacy and board member of UOSSM International, the Union of Medical Care and Relief Organizations.
From The Reading List:
Washington Post: Violence Rages Unabated In Ghouta As Syria Defies U.N. Cease-Fire Resolution — "Syrian government forces defied a new U.N. Security Council resolution calling for a cease-fire on Sunday by launching a ground offensive, sustaining their airstrikes and allegedly dropping at least one bomb laden with chlorine against a rebel-held enclave outside Damascus."
This is the hard logic of the cruel, cruel war in Syria: As government and probably Russian jets drop bombs and chlorine gas on civilians now in a Damascus suburb; when US jets attacked and killed dozens of Russian troops earlier this month. What you're seeing is the players carving up the country, and killing as many civilians as it takes to do it. This hour, On Point: The bloodletting and the humanitarian catastrophe in Syria. --Jane Clayson
This program aired on February 27, 2018.