Week In The News: Trump-Sessions Spat, DACA Deadline, Gun Politics
47:11
Play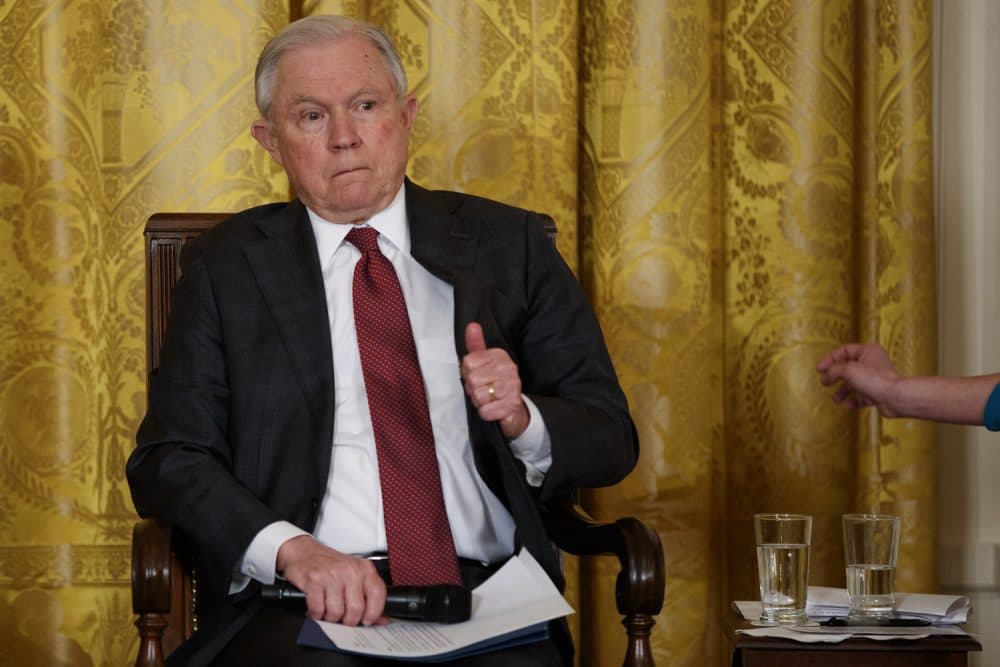 This article is more than 2 years old.
President Donald Trump and Attorney General Jeff Sessions go another round. Gun politics. Supreme Court takes a pass on DACA. Our weekly news round tables goes behind the headlines.
Guests:
Kimberly Atkins, chief Washington reporter and columnist for the Boston Herald. (@kimberlyeatkins)
Alan Gomez, immigration reporter for USA Today. (@alangomez)
Jack Beatty, On Point news analyst.
From The Reading List:
Washington Post: Trump Attacked Sessions Again. But Can He Fire Him? — "Yes. Cabinet officials serve at the pleasure of the president, and can be fired for any cause, or no cause. However, the politics and legality of firing this particular official at this particular time would be fraught, because Special counsel Robert S. Mueller III is already investigating Trump's intentions around his repeated attempts to force or shame Sessions into quitting, to determine if those efforts are part of a broader pattern of attempted obstruction of justice."
USA Today: The Parkland Survivors Started A Movement When They Took On Gun Violence. Here's How It Happened. — "The survivors of the shooting at Marjory Stoneman Douglas High School in Parkland, Fla., have broken through a decades-long stalemate in the gun-control debate in ways that no other group of survivors has been able to."
Boston Herald: Vladimir Putin Boasts Of New Nuclear Weapons — "Russian President Vladimir Putin unveiled a host of new nuclear weapons he claimed to be capable of striking the United States — an effort, he said, meant to counter the U.S. missile defense system."
Maybe you're noticing how often news people say it…it's been some week. The President raking his own Attorney General…again, the troubles surrounding Jared Kushner rise, again…a White House communications director leaves, again. The President appears to make policy on guns, and trade, on the fly…again. A federal court puts the kibosh on a Trump policy, again…this time it's DACA.

This hour, On Point: Our weekly news roundtable goes behind the headlines.

--Ray Suarez
This program aired on March 2, 2018.