West Virginia Teacher Strike Ends, But Walkouts Could Spread Amid Pay Crisis
47:31
Play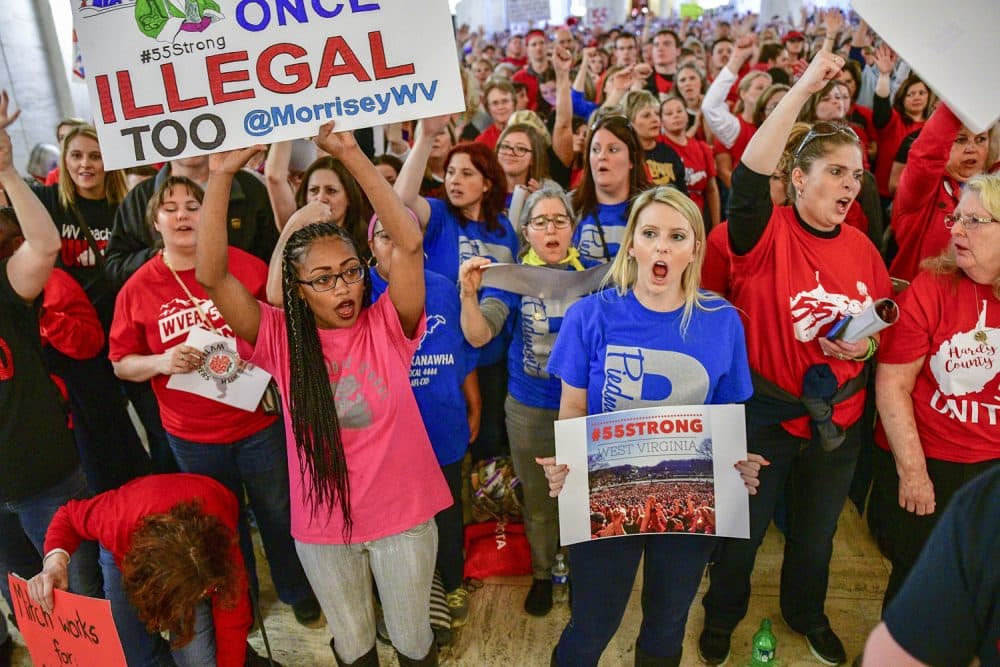 This article is more than 3 years old.
A teacher strike in West Virginia ends with a deal to give teachers a pay raise. But teachers in other states are ready to walk out. We'll look at the crisis in teacher pay across the country.
Guests:
Andrea Lannom, statehouse reporter for The Register-Herald in West Virginia. (@AndreaLannom)
Dale Lee, president of the West Virginia Education Association.
Dana Goldstein, education reporter for the New York Times. (@danagoldstein)
Jessica Tilley, fifth-grade teacher at Lee Elementary School in Oklahoma City.
From The Reading List:
New York Times: Fighting Poverty, Drugs And Even Violence, On A Teacher's Salary -- "Raucous cheers echoed off the high marble ceilings of the West Virginia Capitol on Tuesday as state leaders announced they had met striking teachers' demands for a 5 percent pay raise."
The Register-Herald: West Virginia Answers Teacher Strike With 5 Percent Pay Raise — "West Virginia Gov. Jim Justice signed legislation Tuesday afternoon that will provide all public employees in West Virginia with a 5 percent pay raise, ending a nine-day teacher walkout that closed all public schools to about 277,000 students in the state."
This program aired on March 7, 2018.