'Hogwash,' Architect Of Dodd-Frank Rollback Says Of Criticism
06:09
Play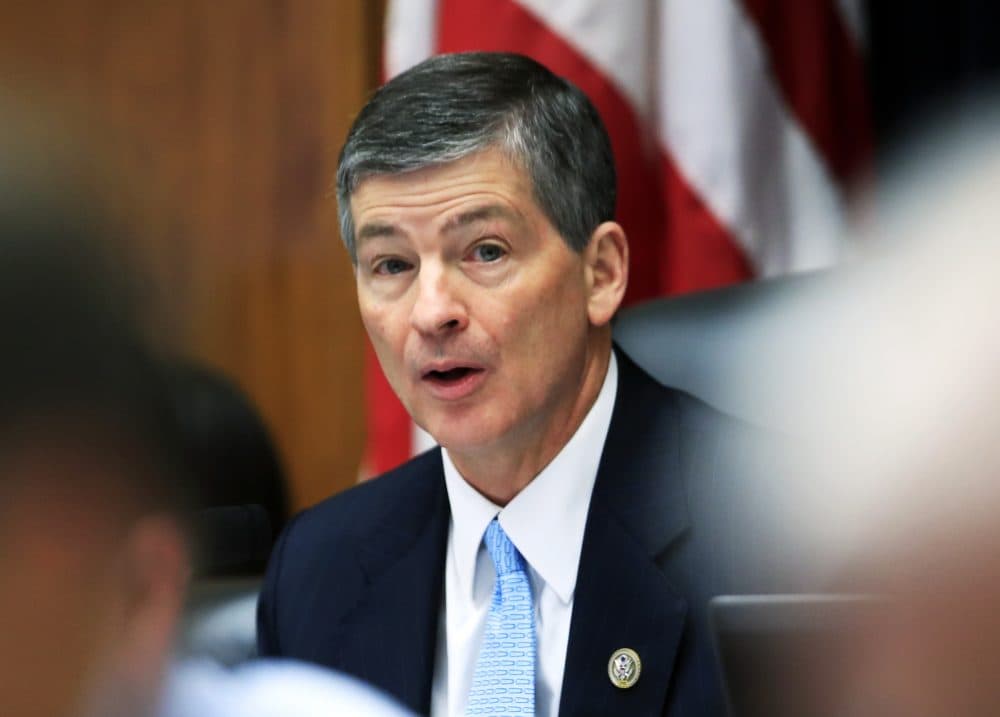 This article is more than 3 years old.
A key congressman who's leading the House's plans to roll back regulations that were put on banks after the financial crisis has one word for critics who say trimming Dodd-Frank will cause another crash: "Hogwash."
"We are losing a community bank or credit union every other day in America and they're not dying of natural causes," U.S. Rep. Jeb Hensarling, a Republican of Texas, told On Point Thursday. "A law that ostensibly was drafted in order to deal with Wall Street has hit Main Street."
Hensarling is the chairman of the House Financial Services Committee. The U.S. Senate is currently considering its own version of the Dodd-Frank rollback, but any differences between the Senate plan and the House plan have to be hammered out.
Some Democrats have joined with Republicans in the Senate to move that proposal forward. The centerpiece of that legislation would ease regulations and compliance rules on banks with between $50 billion and $250 billion in assets.
Dodd-Frank critics say the law forces too many smaller banks to meet onerous requirements, like so-called "stress tests" to make sure they won't fail.
We also spoke with Erica Werner, Washington Post congressional reporter, Jared Bernstein, senior fellow at the Center on Budget and Policy Priorities, and Tom Easton, American finance editor at The Economist. The full show is available here:
Here are some highlights with our conversation with Hensarling, hosted by Meghna Chakrabarti:
Just quickly if you could describe to us what the key differences between the proposal in the House versus the Senate.
"The House vision is, we want bankers to be able to help capitalize small businesses, help capitalize the American dream, but they need to have a sufficient level of capital themselves. We believe the answer to maximum economic growth and to minimize the risk of financial instability is large amounts of private capital, not lots amount of federal control. And so we balance a deregulatory effort with very high levels of private capital. And so that's the basic difference.
"Now having said that I understand the Senate is producing a group of bipartisan bills. We have taken component parts of the Choice Act and we have voted on them on an individualized basis. We're now up to about four dozen different bills, and it passed with overwhelming bipartisan votes that would help our small banks, our credit unions some of the regional banks to help let capital flow in. So we expect whatever the Senate produces, they're going to have to negotiate with the House because we have our series of bipartisan bills as well."
Congressman Hensarling though let me ask you, I've been seeing people on the Senate side of things saying that if there are major provisions that come into a bill from the House that they may lose the bipartisan support they have there.
"Well I don't know. I'm looking at a bill H.R. 477 by Mr. Huizenga of Michigan that passed the House 426-0. I don't see that in the Senate bill. I've got a bill from Mr. McHenry, H.R. 1219, that passed the House 417-3. I've got a bill from Mr. Hultgren in Illinois that passed 331-80.
"These aren't partisan bills, they're not Republican bills, they're bipartisan bills and they're all about ensuring that credit flows to our constituents so that they can buy a car, go on a family vacation, send a kid to college. And the House will not be ignored. There are two different sides of the Capitol the House will not be ignored. We will not rubberstamp what the Senate does."
We've heard throughout this hour from callers and folks commenting online that they're very concerned that loosening regulations in Dodd Frank, it's being done for the greed of the financial industry and could lead us to another crisis. What's your response to them?
"Hogwash. It would probably be what I would say. We are losing a community bank or credit union every other day in America and they're not dying of natural causes. Again a law that ostensibly was drafted in order to deal with Wall Street has hit Main Street. Talk to any community bank or any president of the credit union and they will tell you this after Dodd-Frank, this is statistically verifiable, the big banks have gotten bigger. They can handle the weight, the load and the expense of this regulatory burden.
"Again, the answer ought to be more capital — a greater capital buffer, greater liquidity ratios. It shouldn't be that federal government will micromanage our credit system. We don't want Washington in charge of allocating credit. That's what helped get us into that problem in the first place. Putting people into homes they could not afford to keep. It was terrible for the families and it was terrible for the economy."
This segment aired on March 8, 2018.