'What Are Americans Doing? How Is This Even Possible?'
07:44
Play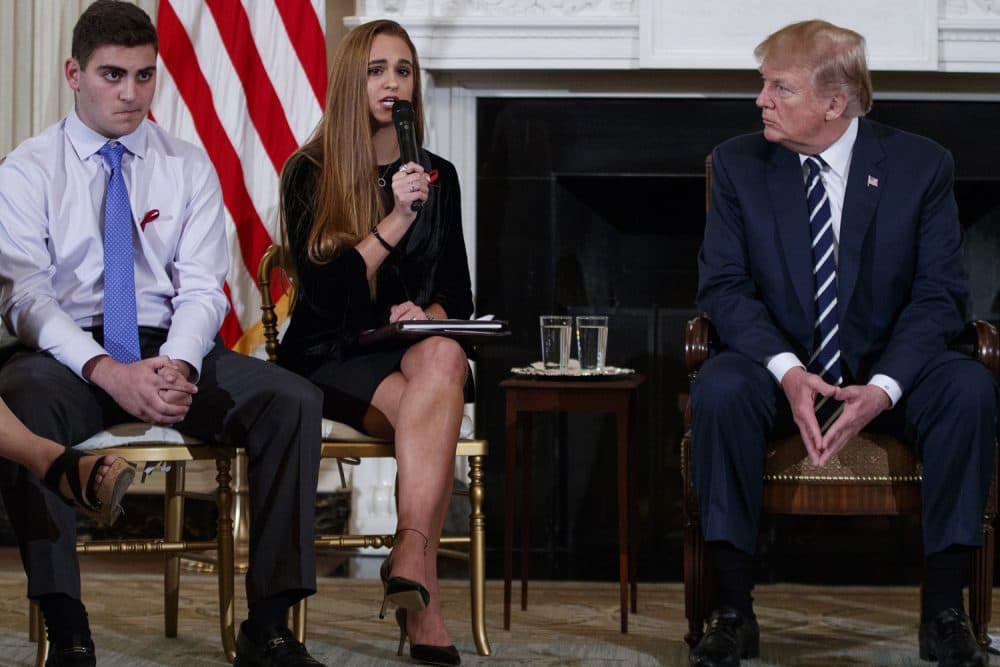 This article is more than 1 year old.
The White House releases a school safety plan that backs off President Trump's comments about raising the age limits for purchasing certain weapons, but sticks to a plan to arm teachers.
On Point broke it down with Lois Beckett, a reporter for The Guardian covering guns.
Here's a transcript of her interview with guest host Meghna Chakrabarti:
First of all describe to us what specifically is in the president's school safety plan.
Beckett: So the plan that was released last night and discussed by White House officials does include moving forward on a plan to provide some federal support for giving teachers and other school staff firearms training. We haven't gotten any specifics on how much money will be devoted to that. The White House says that existing Justice Department funds meant to help local jurisdictions would be used to help teachers get firearms training with local law enforcement officials. So that of course is probably the most controversial part of the plan.
Education Secretary Betsy DeVos was speaking about this very point today. She was on Today with Savannah Guthrie. ... There was some uncertainty there were in terms of what Secretary DeVos was saying. How clear is the plan on this issue?
Beckett: We haven't gotten a lot of details on the plan. Basically what the White House has said is that there are existing state and local programs to allow some school personnel to carry guns within the schools, to carve out exceptions under federal law to allow them to do that. and that they want to sort of build on what some states are already doing. It's just such a striking fact of the American gun control debate that this whole issue is being discussed around arming schools. The fact that the secretary of education is now talking about whether or not teachers or students would be carrying military-style rifles within public schools — This is something that the rest of the world is looking at and saying, 'What are Americans doing? How is this even possible?'
That gets to the other part of the plan that's actually not there in terms of keeping certain weapons out of the hands of certain people, because the president had talked about advocating raising the buying age to 21. Back in February he said the NRA will back it. Florida decided to make that move and the NRA is suing the state of Florida. This part of the of Trump's previous proposals is not in the plan.
Beckett: Even as early as Sunday morning, White House spokesman Raj Shah was saying that age limits were going to be part of this forthcoming plan. But what we saw is that for weeks Trump and the NRA were opposed on this issue and Trump said that the NRA would back away from this and instead it's the president who has backed away saying that he's going to wait and see how this lawsuit turns out before he acts on age limits for gun purchases. It's also noteworthy that the president tweeted this morning that there just wasn't a lot of political support for this policy. That is not the case. Recent polls have shown that a majority of American adults 67 percent 71 percent support raising the age for all gun purchases to 21. So there is a lot of public support. But there's not support from the NRA and the president is backing off.
From the parts of the plan that you're describing that are there and those that are not, it sounds like an NRA-approved school safety plan.
Beckett: There are elements of it that really do have broader backing from gun violence prevention experts. Probably the most significant part of the plan from that perspective is that the president endorsed the creation of extreme risk protection orders. So these would give law enforcement or family members a way to petition a court and say, This person is really unstable, they're high risk, they shouldn't own guns right now.
And that's a policy that was developed by scientists and mental health experts five years ago after Sandy Hook. It has widespread support among gun violence prevention groups including Sandy Hook Promise, an organization that represents some of the families from Sandy Hook. Different states, California, Washington, Oregon, has pushed this policy forward in recent years. And so it's a real win for science to have the president endorse that. He's not pushing Congress, he's pushing on the states, but this will potentially give Republicans at the state level cover to come behind this measure which really could have a real effect on saving lives.
So help me understand a little bit more, because there seems to be some confusion about what the Trump administration's stance is on whether certain issues around gun safety in schools should be dealt with at the state level or at the federal level. Because for example with the age limit question as you've reported the president, he's not taking on that issue head on anymore but instead assigning that to a new federal commission on school safety chaired by Secretary DeVos. But just a second ago we heard DeVos say well a lot of these questions should be hashed out by the states.
Beckett: Last night different White House officials repeatedly said as the president has said there's been too much talk on this issue, it's time for action. But the action at the White House is taking is creating a federal commission to talk about this stuff more and punting a lot of the most controversial issues including age limits to this commission, which is of course the opposite of taking action — it is in fact just engaging in more talk. On Saturday night, the president was at a rally in Pennsylvania and mocked the idea of blue ribbon commissions as an approach to dealing with drug abuse. And yet the White House is coming forward and saying for school shootings this is the path we want to take. So the president is clearly feeling the pressure from the public and from students in Florida to really do something, but isn't living up to those promises, is really trying to delay on a lot of fronts here.
Lois, help me understand how much of this is actually binding or U.S. is could be potentially effective because as you're saying a little bit earlier it's not clear how much any of these proposals will cost. And the Justice Department saying it's going to use money already budgeted within the DOJ.
Beckett: There's a lot of questions around that. And certainly one of the other policies that the president had endorsed and then backed away from was actually closing loopholes in the background check system. Instead he decided to only endorse the mildest possible compromise in Congress which is to ask states and federal agencies to follow the existing law. So again, they talk on making steps forward. But in fact just going with the most minimal viable product.
Guest:
Lois Beckett, reporter for The Guardian. (@loisbeckett)
From The Reading List:
The Guardian: Trump Plans To Arm Teachers But Drops Pledge On Gun Purchase Age Limit — "The Trump administration will use existing justice department funding to help train teachers and other school personnel to use firearms in an attempt to 'harden' schools against mass shooting attacks, the White House announced on Sunday."
This segment aired on March 12, 2018.