Sean Hannity And The Trump Presidency
47:28
Play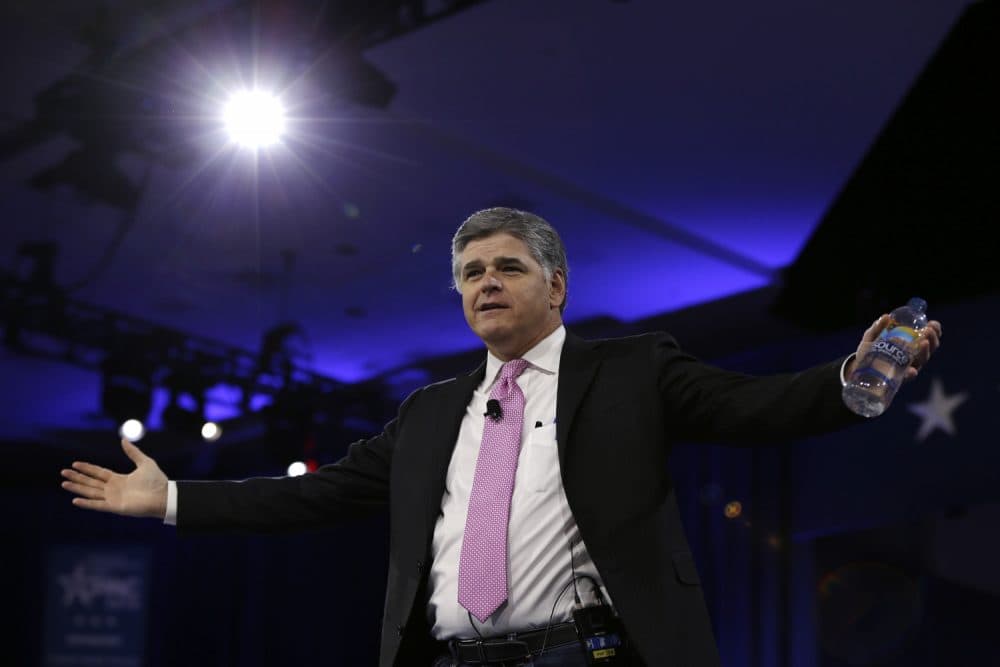 This article is more than 3 years old.
With Melissa Block
Questions about Fox News and Sean Hannity. We'll look at his deep ties to the president — and his relationship with Trump's personal attorney, Michael Cohen.
Guests: 
Sarah Ellison, Staff writer at the Washington Post covering media and politics. (@Sarahellison)
Angelo Carusone, President of the media watchdog group Media Matters. (@GoAngelo)
Joseph Wulfsohn, Writer and columnist for Mediaite, and contributor to The Federalist. (@JosephWulfsohn)
From The Reading List: 
The Washington Post: Hannity's rising role in Trump's world: 'He basically has a desk in the place' — "For a president who feels, intensely, that he is under siege, Hannity offers what he prizes: loyalty and a mass audience. And Trump, in turn, has directed his supporters to Hannity's show — urging people on Twitter last week to watch the commentator attack special counsel Robert S. Mueller III, who heads the investigation into Russian interference in the 2016 campaign. Their bond intensified during the 2016 campaign and has grown stronger during Trump's time in office."
The New York Times: No Disclosure? No Problem. Sean Hannity Gets a Pass at Fox News -- "That Mr. Hannity failed to disclose an entanglement with a prominent Trump consigliere — particularly one at the center of a federal criminal investigation — did not sit well in some corners of the Fox newsroom, especially among reporters who have expressed displeasure with the White House access enjoyed by the channel's Trump-boosting commentators. In an official statement, however, the network stood up for its star, saying: 'We have reviewed the matter and spoken to Sean and he continues to have our full support.'"
He hosts one of the most-watched shows on cable news. And insiders say "he basically has a desk" in the Trump White House. Sean Hannity of Fox News has the ear of President Trump - and a direct line to millions of TV viewers and radio listeners across the country. Now, it turns out Hannity and Trump also share a lawyer: Michael Cohen, who's embroiled in the President's legal troubles.

This hour, On Point: the intertwined worlds of Hannity and Trump.

-- Melissa Block
Correction: During our broadcast, one of our guests incorrectly stated that George Stephanopoulos made a $75,000 donation to the Clinton campaign. In fact, as we stated just before that answer, Stephanopolous donated to the Clinton Foundation, the non-profit organization. As Politico reported in 2015, Stephanopolous donated to the foundation from 2012-2014 in three $25,000 donations. We should have corrected our guest.
This article was originally published on April 19, 2018.
This program aired on April 19, 2018.