The Eruption In Hawaii And The Science Of Volcanoes
47:50
Play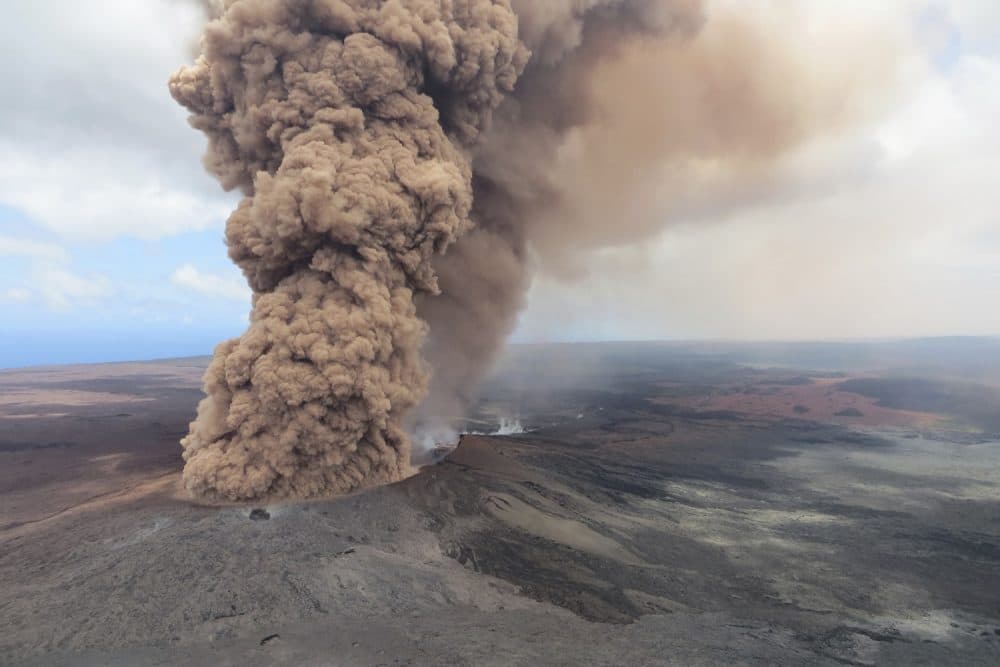 This article is more than 1 year old.
With Jane Clayson
We'll talk Hawaii's Kilauea eruption and volcanology.
Guests:
Ku'uwehi Hiraishi, general assignment reporter for Hawaii Public Radio who has been reporting on Hawaii's Kilauea volcano.
Erik Klemetti, volcanologist and professor and chair of the Department of Geosciences at Denison University. He visited Mount Kilauea for a research project two months ago and writes the "Rocky Planet" blog for Discover Magazine. (@eruptionsblog)
Demian Barrios, lava photographer who has worked in Hawaii for 19 years. (dbphotogallery)
Reading List:
Reuters: "Hawaii Volcano's Toll Of Destruction Rises, 35 Buildings Gone" — "The Hawaii Civil Defense Agency said the 1,700 people evacuated from the Leilani Estates area near the erupting Kilauea volcano on the eastern corner of the Big Island would be allowed to make brief visits back during the daylight hours on Monday, but had to be alert to the risk of deadly gas emissions."
Hawaii Public Radio: "Stories From Leilani Estates" --
"When I got there, the lava had already you know come half way down the street and that was, our house was above that. So I stayed there, and said goodbye and gave a blessing and got a blessing for about an hour. And it was just me and the lava."
Hawaii's Kilauea volcano has always been active, but its latest eruption has taken a fiery toll. Last week, a 6.9 magnitude earthquake forced a dozen vents to open, spewing lava and releasing toxic gas. More than 1,700 people fled, and many more are at risk as the eruptions continue. And the volcano is just one of many that volcanologists have an eye on as they watch for future eruptions.
This hour, On Point: The science of volcanoes.
-Jane Clayson
This program aired on May 8, 2018.