Abortion Politics Across The Atlantic: Ireland's Vote, America's Ongoing Debate
Play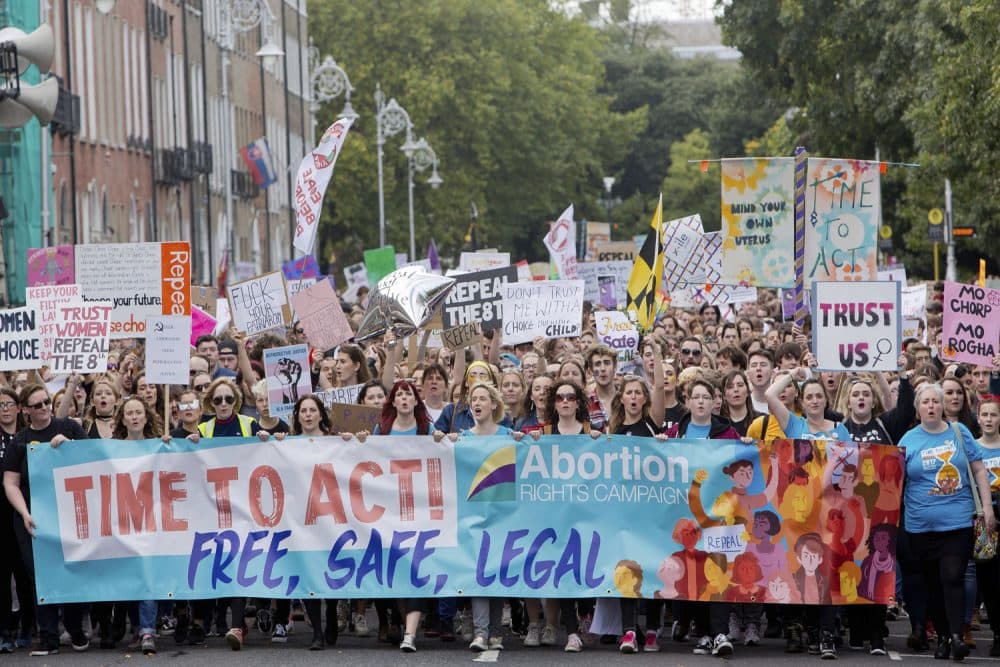 This article is more than 4 years old.
With David Wright
Abortion politics in Ireland. Ahead of the vote that could bring changes to the country's abortion laws, we'll hear the debate and look at battles closer to home.
Guests:
Pat Leahy, political editor at The Irish Times. (@PatLeahyIT)
Sinéad Kennedy, co-founder and secretary of the Coalition to Repeal the Eighth Amendment. (@SineadmKennedy)
Caroline Simons, legal consultant and spokesperson for the Pro Life Campaign. (@carolinesimons)
Christina Cauterucci, staff writer for Slate. (@c_cauterucci)
From The Reading List:
The Irish Times: "Abortion vote: Socio-economic engagement divide in north Dublin" — "Engagement on the Eighth Amendment referendum was varied on the doorsteps in two areas of north Dublin in the past week. There appeared to be a much greater interest and knowledge about the May 25th vote in working class Donaghmede than in the more disadvantaged Darndale.
Described by the State social inclusion agency Pobal as 'very disadvantaged' Darndale has an unemployment rate of 44.6 per cent with just 2.7 per cent of its residents having a third-level education."
Vox: "The domestic gag rule on abortion, explained" — "The White House is reportedly considering a domestic gag rule that would essentially apply the restrictions of the global rule to providers that receive federal Title X funds, which help low-income patients get services like contraceptive counseling and testing for sexually transmitted infections. Such a rule would force Planned Parenthood and other reproductive health providers to either stop discussing abortions with their patients or stop receiving Title X money."
Next week voters in Ireland go to the polls to decide whether the right to life for a child still in the womb are equal to the rights of a pregnant mother. That principle has been enshrined in the Irish constitution for decades. They call it the Eighth Amendment. It makes abortion a crime. The debate there brings up the same issues and arguments here. The passions run just as deep on both sides.

This hour, On Point: Reproductive politics, in Ireland, and closer to home. Plus, Rex Tillerson's remarks Wednesday that the U.S. is facing a "crisis of ethics and integrity in our society."

-- David Wright
This program aired on May 17, 2018.