The Biggest 'What-If' Moments In Sports History
48:22
Play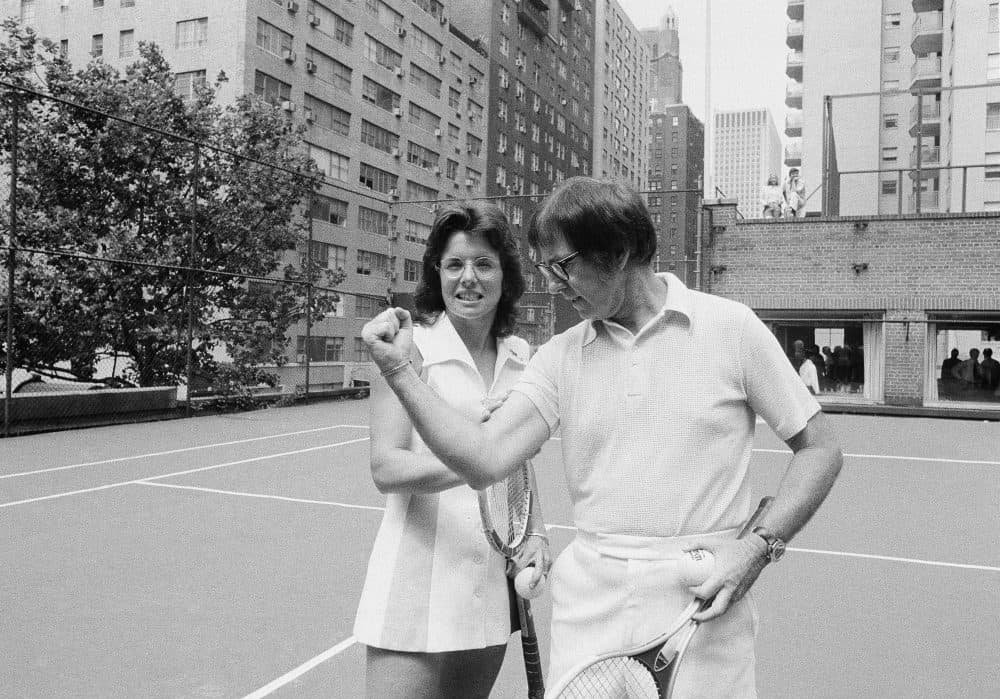 This article is more than 2 years old.
With Ray Suarez
What if Billie Jean King had lost to Bobby Riggs? We'll imagine that and other what-if moments in sports with Mike Pesca and a roster of all-star writers.
Guests
Mike Pesca, author of "Upon Further Review: The Greatest What-Ifs in Sports History." Host of Slate's daily podcast The Gist. (@pescami)
Jason Gay, sports columnist for the Wall Street Journal. (@jasongay)
Claude Johnson, president and executive director of the Black Fives Foundation, which researches, teaches and preserves the history of basketball prior to the NBA. (@ClaudeJohnson)
Shira Springer, sports and society reporter at WBUR. (@ShiraSpringer)
Julian Zelizer, professor of history and public affairs at Princeton University. (@julianzelizer)
From The Reading List
Excerpt from "Upon Further Review"
What If Nixon Had Been Good at Football?
Julian E. Zelizer
When he was young, Richard Milhous Nixon loved to play football. He adored the game, mastering the minutiae of the playbook and savoring the thrill of gladiator-like competition. For a young man who was always trying to prove himself, football seemed like the ultimate arena in which to show what kind of man he was.
The problem was that Nixon was not very good at the sport.
This didn't stop him from trying. Although he had played soccer while in grade school, he turned to football—as well as basketball and track—once he reached high school, first at Fullerton Union and then at Whittier High School in California. Nixon was a meager 140–160 pounds (estimates of his weight have varied), perhaps better suited physically to the debate team—where he excelled—than to football.
To compensate for his stature Nixon became one of the hardest-working players on the junior varsity football team—during practice, at least. Even on the JV, young Dick Nixon, as his friends called him, almost never got much playing time. The methods that he liked to use in debate, like trying to bait an opponent into the wrong answer, were not very effective on the gridiron. Nixon lacked the basic physical tools required by football. Nobody who saw him play expected him to go far in the sport. "Dick just didn't seem to have the feel for it," one teammate said.
Nixon did so well academically in high school that he earned admission into Harvard University. His family didn't have enough money to send him there; what money they did have went to the treatment of Richard's brother Harold, who'd fallen ill with tuberculosis, and they needed Richard to work at the family store. So instead of Harvard, Nixon attended Whittier College, a small, private Quaker school founded in 1887 and named after the poet John Greenleaf Whittier. Not being able to attend Harvard devastated Nixon, who would spend much of his life feeling that the Cambridge crowd didn't respect him.
Nixon would have to make a name for himself at Whittier. Based on his mediocre record in high school, Nixon didn't think that he could make the football team, which was quite good despite the school's size. The team's coach, Wallace "Chief " Newman, had been an all-American player at USC, and by most accounts was overqualified for the job. The Poets, as the team was called, played in the Southern California Intercollegiate Athletic Conference (a minor association of college teams in the Los Angeles area). The students called Newman "the Chief " because of his Native American heritage. He ran a pretty good team, and in Nixon's freshman year in 1930 Newman found himself short on players. The coach invited Nixon to join the team to serve as a backup tackle. Nixon accepted.
While Nixon did slightly better at basketball and track, success in the game he loved eluded him in college as it had in high school. "We used Nixon as a punching bag," the coach recalled. "If he'd had the physical ability he'd have been a terror." One of Nixon's teammates recalled that "he wasn't cut out to play the sport," while the team's water boy said that Nixon had "two left feet." He was inspirational to his teammates only because he was so motivated despite being manifestly ill equipped for the game. Nixon "was undersized for a tackle, but he was too uncoordinated and slow-footed to play in the backfield," wrote his biographer Evan Thomas. "Mostly he was used as cannon fodder for the first team at practice and sat on the bench during games." His teammates understood that when he came into the game an offsides penalty was soon to follow. Young Nixon was so enthusiastic he usually bolted Julian E. Zelizer 241 over the line of scrimmage before the quarterback yelled "Hike!" "Anyone who could take the beating he had to take, the physical beating, was brave," said another of his teammates. Newman knew how to rouse Nixon. "He inspired in us the idea that if we worked hard enough, we could beat anyone," Nixon later recalled. That wasn't really true, but those words still motivated Nixon.
Nixon was called on to play in a game only if Whittier was so far in the lead there was no chance of losing. He weighed about twenty pounds less than any of his teammates, and he was painfully aware of his shortcomings. At one rally that was held on the field, he joked: "You know, it took me eighteen years to do it, but I've finally made it. I've got off the bench and onto the playing field." The fans loved him. Toward the end of the games in which the Poets were losing badly, the fans would chant: "We want Nixon! Put Nixon in!" Some of his outlook came from Newman, a leader he deeply admired, who liked to say, "Show me a good loser, and I'll show you a loser." He had another aphorism: "You must never be satisfied with losing. You must get angry, terribly angry, about losing." It was a refrain that Nixon would hang on to throughout his life.
Excerpted from the book UPON FURTHER REVIEW by Mike Pesca. Copyright © 2018 by Mike Pesca. Reprinted with permission of Twelve Books/Hachette Book Group, New York, NY. All rights reserved.
NPR: "Blimps Full Of Money And 30 Other Sports Hypotheticals In 'Upon Further Review'" — "Sports fans are particularly good at asking what if questions. Sports, after all, are full of counterfactual possibilities replete with drama.
"'It's more as if we've had it thrust upon us,' says Mike Pesca, host of the Slate podcast The Gist and an NPR sports commentator. 'Because in every league, there are many, many more losers than winners, right? Every season ends with a team either not making the playoffs or being eliminated from the playoffs. That means everyone's a loser. And in almost all cases, every one of those losers has a moment, and their fans have a moment, when they say what if — legitimate or not, and it's often legitimate. And sometimes the what if extends beyond one pitch, and it goes to that draft pick we didn't make 8 years ago. That's kind of the engine of sports.' "
Historians and novelists love to play with what if… like, what if the Nazis had won World War II? But sports offer an endless, fertile field for alternative history… "What-if" is a game with no shot clock, and unlimited extra innings. Mike Pesca and a formidable lineup of writers has fielded a serious, sometimes sociological, sometimes silly set of proposals about alternatives to what really happened.

This hour, On Point: We'll replay what never was. But what if?

- Ray Suarez
This program aired on May 21, 2018.