Week In The News: North Korea Summit Cancelled, FBI Briefing, Gun Safety In Texas
48:14
Play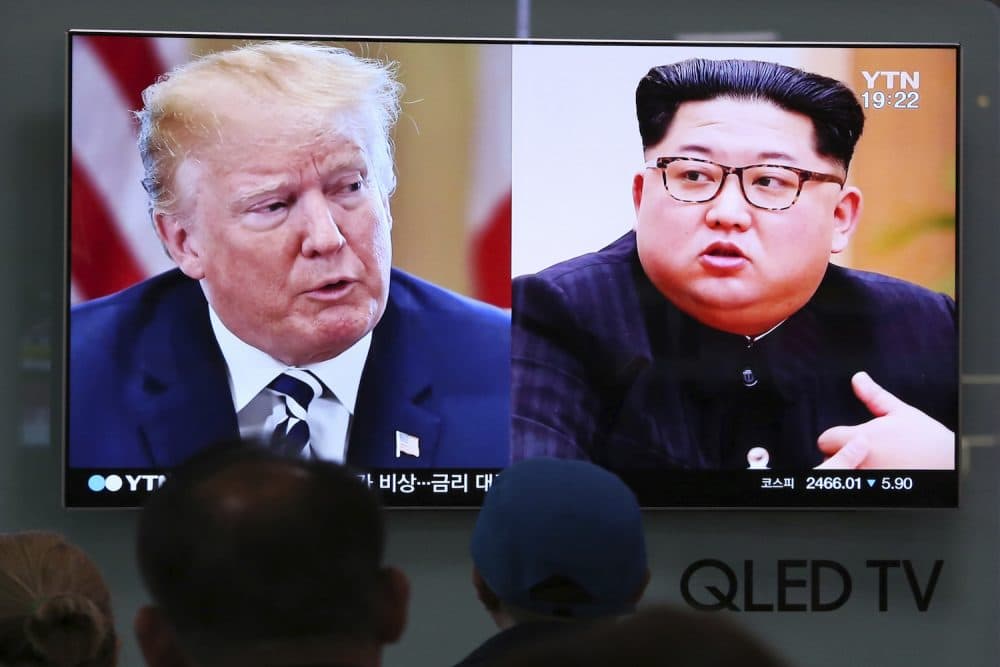 This article is more than 2 years old.
With Ray Suarez
North Korea summit cancelled. Harvey Weinstein in custody. The FBI briefing. Gun safety summit in Texas. Our weekly news roundtable goes behind the headlines.
Guests:
Michelle Kosinski, CNN's senior diplomatic correspondent covering the State Department. (@MichLKosinski)
Major Garrett, chief White House correspondent for CBS News. He also hosts a weekly CBS News podcast called "The Takeout". (@MajorCBS)
Jack Beatty, On Point news analyst.
From The Reading List:
Politico: "Inside Trump's North Korea gamble" — "Past American presidents have approached nuclear talks with North Korea as a matter of delicate statecraft, requiring seasoned experts and long technical briefings.
For President Donald Trump, it was just another exercise in what one Trump friend approvingly called 'the art of the deal.'
Trump aides and associates cast Thursday's cancellation of a planned June 12 summit with North Korean leader Kim Jong Un as a decisive move that showed the president's sharp negotiating instincts can translate to the world stage.
'He is not taking the guy's shit,' boasted the Trump friend, who speaks with the president frequently.
But critics said the reversal simply proved that Trump is out of his depth when it comes to high-stakes diplomacy. At the same time, some were relieved that Trump will no longer head to Singapore planning to 'wing it,' as one former U.S. official familiar with Trump administration planning described the White House's preparations — or lack thereof — for the scrubbed meeting."
The New York Times: "Harvey Weinstein Turns Himself in for Arrest on Rape Charges in New York" — "Harvey Weinstein turned himself in on Friday morning to be arrested by New York City detectives on charges that he raped one woman and forced another to perform oral sex on him.
Around 7:30 a.m., he walked glumly into a police station house in Lower Manhattan, flanked by several detectives. Toting three large books under his right arm, he looked up without saying a word as a crush of reporters and onlookers yelled, 'Harvey!'
With camera shutters clicking closed and reporters shouting questions, the scene was a mirror image of the red carpets where Mr. Weinstein presided for decades as a movie mogul and king of Hollywood. But after years of harnessing his wealth and his influence in the movie industry to enforce a code of silence around his predatory behavior, and after withstanding an investigation into groping allegations only three years ago, Mr. Weinstein faced the first criminal charges in a monthslong investigation into his conduct."
The Hill: "Dems after briefing: 'No evidence' spy placed in Trump campaign" --"Congressional Democrats said after a closed-door briefing with top Justice Department officials Thursday that there is 'no evidence' that the FBI placed a spy in the Trump campaign, hitting back at a claim by President Trump.
'Nothing we heard today has changed our view that there is no evidence to support any allegation that the FBI or any intelligence agency placed a spy in the Trump campaign or otherwise failed to follow appropriate procedures and protocols,' Rep. Adam Schiff (D-Calif.) told reporters."
Members of Congress get a briefing on what the Mueller team's got. The NFL threatens fines if players demonstrate during the Star-Spangled Banner. Hill Republicans in a family fight over immigration. Sandy Hook families sue InfoWars' Alex Jones for defamation.

This hour, On Point: The weekly news roundtable.

- Ray Suarez
This program aired on May 25, 2018.