She Was Ordered To Stay Drug-Free While On Probation. Is It Constitutional?
Play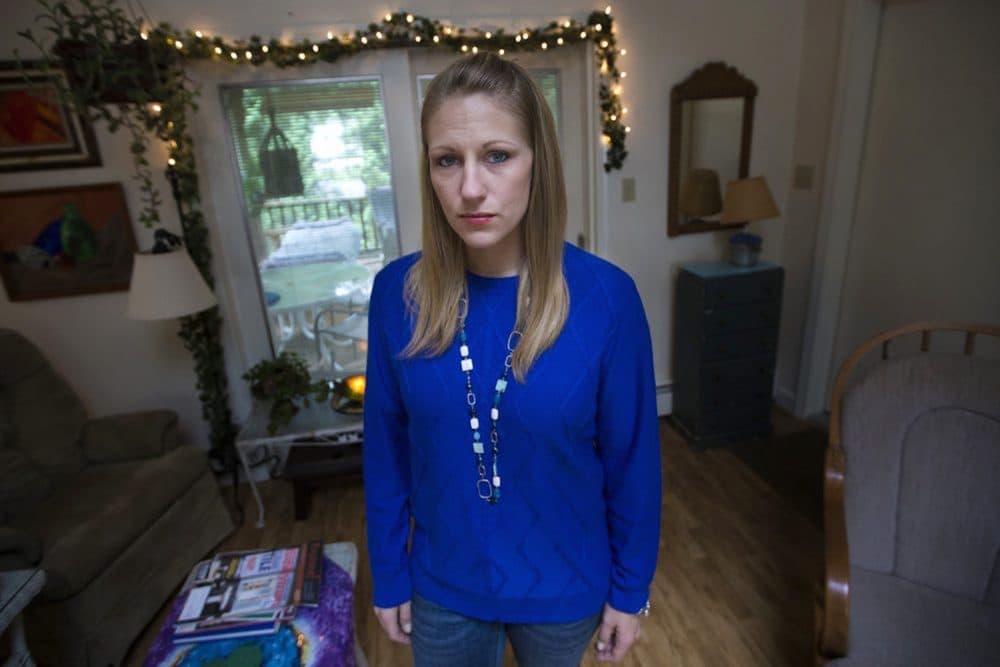 This article is more than 4 years old.
With John Harwood
If addiction is a disease, should a relapse send you back to jail? A first-in-the-nation court case could decide.
Guests:
Deborah Becker, senior correspondent and host at NPR member station WBUR, where she focuses on mental health, criminal justice and education. (@wburdebbecker)
Lisa Newman-Polk, lawyer, social worker, and advocate for prison reform and ending the criminalization of drugs and addiction. Representing Julie Eldred in her case before the Massachusetts Supreme Judicial Court.
Stephen Morse, professor of psychology and Law in Psychiatry at the University of Pennsylvania Law School. He is an author on an amicus brief in support of the commonwealth.
John Kelly, professor of psychiatry in the field of addiction medicine at Harvard Medical School.
From The Reading List:
WBUR: "Case Asks If It's Constitutional To Require Someone On Probation To Remain Drug-Free" — "Massachusetts' highest court soon takes up a controversial case that raises provocative questions about the criminal justice system and addiction.
The case asks if it's constitutional to require someone on probation to remain drug-free. Some say it could be one of the most important cases before the state Supreme Judicial Court in the past decade.
The case involves 29-year-old Julie Eldred, who was put on probation for a year in 2016 for a larceny charge. Her probation conditions stipulated that she remain drug-free and submit to random drug tests. One of those tests — taken 12 days after Eldred was placed on probation — came up positive for the opioid fentanyl. Because that was a violation of her probation, she was sent to jail."
The New York Times (Opinion): "If Addiction Is a Disease, Why Is Relapsing a Crime?" — "Of course, criminalizing relapse isn't the only absurdity that exists at the intersection of drug addiction, criminal justice and public health. As a recent Times article explained, states across the country are enacting laws that allow for homicide charges against just about anyone connected to an overdose death, even if that person is also suffering from addiction.
The irony is both dark and profound: Only in death do drug users become victims. Until then, they are criminals.
In addition, a vast majority of American prisons deny opioid addicts access to medication-assisted therapy, or MAT, which uses Food and Drug Administration-approved medications that can relieve opioid cravings and withdrawal symptoms. Most addiction specialists say MAT is far and away the most effective treatment for opioid use disorder."
The Atlantic: "'The Court System Shouldn't Interrupt the Treatment Process'" — "Newman-Polk's argument, which is shared by many medical professionals, is that incarceration poses a threat to the recovery process—not that court-ordered drug treatment or testing is unfair, or that criminal sanctions shouldn't be imposed on probationers who don't comply with treatment. Eldred had been on a regime of anti-craving medicine, Suboxone, for five days when she relapsed.
'From a therapeutic perspective, it is very disruptive to put somebody in a position where they're afraid if they talk about relapse—or even talk about cravings to relapse—they could be jailed,' said Newman-Polk, who previously worked as an addiction counselor. 'If the court feels that addiction treatment is a necessary probation condition, then the court system shouldn't interrupt the treatment process.'"
Julie Eldred was a drug addict on criminal probation – which required her to stay clean. She was trying to. But as so often happens, she couldn't. The judge sent her to jail for 10 days. Is that what our society ought to do? Is relapse a crime requiring time behind bars – or a symptom of disease requiring treatment? A case before Massachusetts' highest court will provide an answer.

This hour, On Point: what's the right strategy for America's addiction crisis?

- John Harwood
This program aired on June 25, 2018.