Week In The News: Pruitt Resigns, Tariffs In Effect, SCOTUS Front-Runners, North Korea Visit
48:22
Play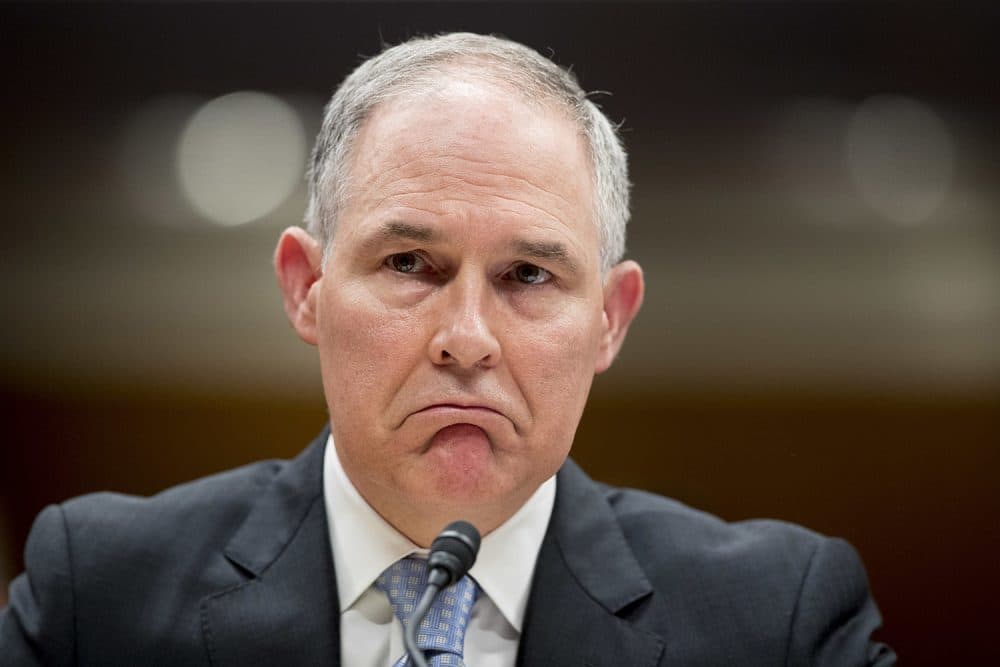 With Bob Oakes.
Supreme Court job interviews. Parent deportation forms controversy. Leftist wins Mexico's presidency in a landslide. Thai soccer team found alive in cave. The roundtable takes it all on board.
Guests
Kimberly Atkins, Chief Washington reporter and columnist for the Boston Herald. (@KimberlyEAtkins)
Sahil Kapur, National political reporter for Bloomberg. (@sahilkapur)
Jack Beatty, On Point news analyst. (@JackBeattyNPR)
From The Reading List
Bloomberg: Republicans Near Their Goal of Overturning Roe. Reaching It Could Backfire — "For three decades, Republicans have successfully used the abortion issue to mobilize the religious right, whose support proved critical in Trump's 2016 election. The president — who in 2016 promised to pick justices who would overturn Roe — has a historic opportunity to alter the court's ideological balance with a more conservative nominee. But Trump may keep in mind where broader public opinion lies, ahead of an election where a surge of voter enthusiasm among women is endangering his party's grip on Congress."
CBS News: U.S.-China Tariffs: What's Behind Them, Who Could Be Hurt Most? — "The White House last month announced plans to slap 25 percent tariffs on roughly 1,100 goods imported from China, worth $50 billion a year. It had originally proposed the tariffs in April, starting with 1,333 Chinese products. After receiving public feedback, the administration cut 515 imports from the blacklist and added 284 others. Starting Friday, the U.S. will tax 818 Chinese products, worth $34 billion a year, from the original list."
NPR: Experts Skeptical That North Korea Is Serious About Denuclearizing — "Secretary of State Mike Pompeo is heading back to North Korea on Thursday to meet with North Korean leader Kim Jong Un and other senior officials. His mission: to flesh out the details of a vaguely worded joint declaration that Kim signed with President Trump in Singapore last month. In that document, the U.S. pledges security guarantees for North Korea, while North Korea commits to "work toward a complete denuclearization of the Korean peninsula." There are doubts, though, about how serious Pyongyang is about doing that."
This program aired on July 6, 2018.