The Week Ahead: What To Watch For In Washington And The World
47:31
Play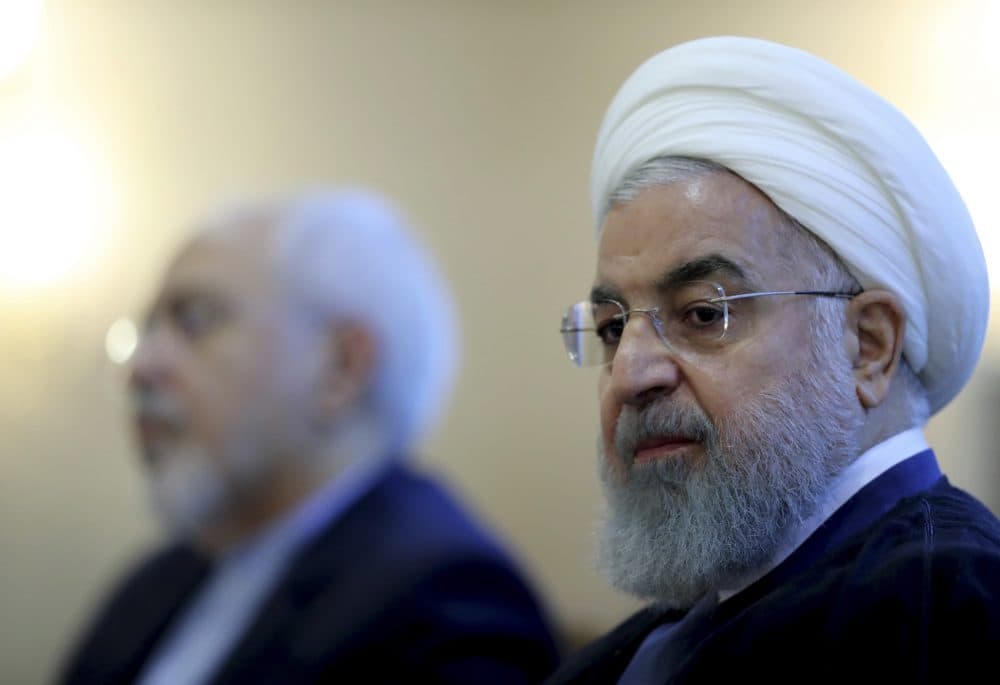 This article is more than 2 years old.
With Budd Mishkin
Top reporters open their notebooks and share what they're watching for in the week ahead in Washington and the world.
Guests
David Ignatius, foreign affairs columnist for the Washington Post. (@IgnatiusPost)
Juana Summers, senior writer for CNN Politics. (@jmsummers)
Byron York, chief political correspondent for The Washington Examiner and Fox News contributor. (@ByronYork)
From The Reading List
Los Angeles Times: "Trump targets Iran in blistering tweet, suddenly escalating tensions" — "President Trump has issued a blistering tweet that seems to threaten Iran with war unless it changes its ways, suddenly escalating tensions with the Islamic Republic and shifting attention away from his dealings with Russia.
'To Iranian President Rouhani,' Trump wrote shortly before midnight Sunday EDT, then he hit the caps-lock button: 'NEVER, EVER THREATEN THE UNITED STATES AGAIN OR YOU WILL SUFFER CONSEQUENCES THE LIKES OF WHICH FEW THROUGHOUT HISTORY HAVE EVER SUFFERED BEFORE. WE ARE NO LONGER A COUNTRY THAT WILL STAND FOR YOUR DEMENTED WORDS OF VIOLENCE & DEATH. BE CAUTIOUS!' "
Washington Post: "The intelligence community has never faced a problem quite like this" — "The American intelligence community has never faced a problem quite like President Trump — a commander in chief who is suspected by a growing number of Republicans and Democrats of deferring to Russia's views over the recommendations of his own intelligence agencies. 'There are almost two governments now,' worries John McLaughlin, a former acting CIA director. He discusses the Trump conundrum with the same vexation as a dozen other former intelligence officials I've spoken with since the president's shockingly acquiescent performance onstage Monday with Russian President Vladimir Putin. How are current intelligence chiefs handling this unprecedented situation? They are operating carefully but correctly, trying to balance their obligations to the president with the oaths they have sworn to protect and defend the Constitution. The officials continue to serve the elected president, but they are also signaling that they work for the American people."
Washington Examiner: "FISA warrant application supports Nunes memo" — "The weekend release of a highly-redacted version of the FBI's application for a Foreign Intelligence Surveillance Act warrant to wiretap onetime Trump foreign policy adviser Carter Page has renewed the argument over the Nunes memo — the brief report produced by House Intelligence Committee Chairman Rep. Devin Nunes detailing problems in the application. From the time of the memo's release in February, Democrats and some in the press have denounced it as a collection of lies and mischaracterizations. On Saturday night, the denouncing started again. 'The only thing the newly released FISA documents show is that Republicans have been lying for months,' the lefty think tank Center for American Progress said in a typical response. Now, however, we have both the memo and the FISA application, if in a blacked-out state. We can compare the two. And doing so shows the Nunes memo was overwhelmingly accurate. Perhaps some Democrats do not believe it should have been written, or they dispute what it included and left out, or they do not agree with its conclusions, but it was in fact accurate."
Politico: "DHS secretary hedges on July 26 deadline to reunite migrant families" — "Homeland Security Secretary Kirstjen Nielsen hedged Thursday on whether the federal government would meet the court-ordered deadline in a week to reunify migrant families who were separated at the U.S.-Mexican border. 'We will do our best, but we will not cut corners,' Nielsen said at the Aspen Security Forum. The government faces the July 26 deadline to reunify approximately 2,500 children ages 5 to 17 with their parents."
The President takes to Twitter just before midnight to threaten Iran with "consequences the likes of which few throughout history have ever suffered before." So starts a week that will include the start of the Paul Manafort trial, the Secretary of State testifying before Congress and this Thursday's court deadline to reunite migrant kids with their parents.

This hour, On Point: a reporters roundtable on the week ahead.

— Budd Mishkin
This program aired on July 23, 2018.