Week In The News: Cohen, Manafort, More Russian Hacking, New EPA Rules
49:09
Play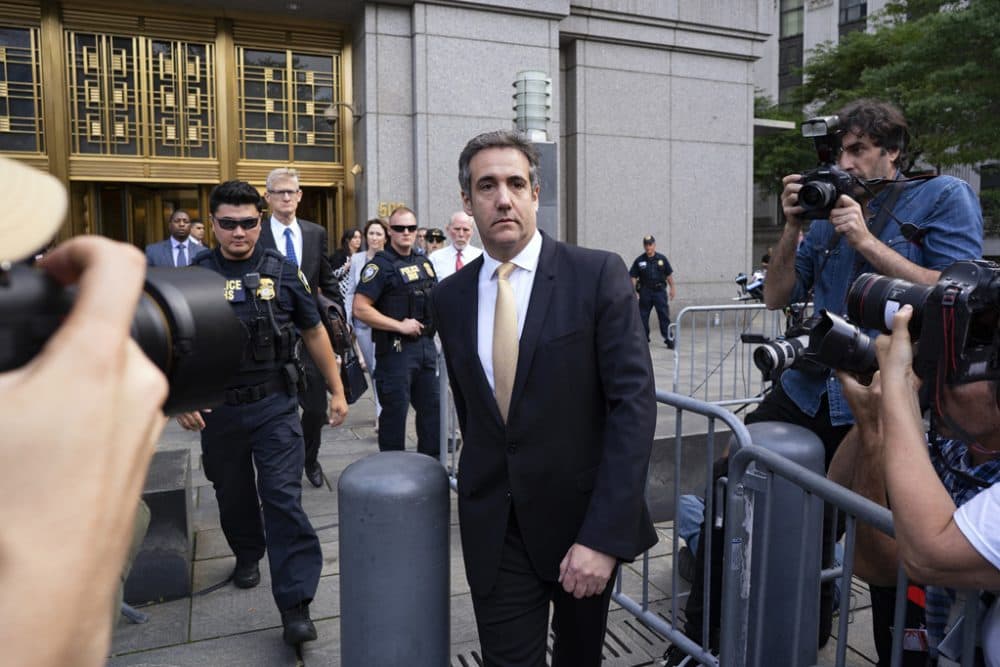 With David Folkenflik
What a year we had this week. Convictions in Virginia. Guilty pleas in New York. A White House once more plunged into crisis. We'll speak with a lawmaker, and then dissect with a roundtable of top-flight journalists.
Guests
Rep. Adam Schiff, D-Calif., ranking member of the House Intelligence Committee. He represents California's 28th Congressional District, which includes norther portions of the Greater Los Angeles area. (@RepAdamSchiff)
S.V. Dáte, senior White House correspondent for HuffPost. (@svdate)
Colleen McCain Nelson, vice president and editorial page editor, Kansas City Star. (@ColleenMNelson)
Jack Beatty, On Point news analyst. (@JackBeattyNPR)
From The Reading List
New York Times: "Trump Praises Manafort, Saying 'Unlike Michael Cohen' He 'Refused to Break'" — "President Trump on Wednesday praised his just-convicted former campaign chairman for refusing to 'break' and cooperate with federal prosecutors investigating Russia's interference in the 2016 election, expressing appreciation for the personal loyalty of a felon found guilty of defrauding the United States government.
"In a series of tweets the morning after an extraordinary day in which Paul Manafort, his former campaign chief, was convicted of tax and bank fraud and his longtime personal lawyer, Michael D. Cohen, pleaded guilty to campaign finance violations he said were directed by Mr. Trump, the president appeared to suggest he was more concerned with the fallout for himself than with the crimes."
CNN: "EPA rolls back Obama-era coal pollution rules as Trump heads to West Virginia" — "As his Environmental Protection Agency delivers its latest blow to environmental regulations aimed at reducing carbon emissions, President Donald Trump is heading into the heart of coal country to deliver the good news.
Trump will join supporters in Charleston, West Virginia, for a political rally on Tuesday to celebrate his administration's proposal to allow states to set their own emissions standards for coal-fueled power plants."
CNBC: "Facebook, Google and Twitter remove hundreds of accounts from Russia and Iran that tried to influence US elections" — "Facebook, Twitter, and Alphabet collectively removed hundreds of accounts tied to an alleged Iranian propaganda operation on Tuesday, while Facebook took down a second campaign it said was linked to Russia.
"Facebook CEO Mark Zuckerberg said the accounts identified on his company's platform were part of two separate campaigns, the first from Iran with some ties to state-owned media, the second linked to sources which Washington has previously named as Russian military intelligence services.
"Officials in Iran, where it is a holiday to mark the Muslim Eid al-Adha festival, were not immediately available to comment. Moscow has repeatedly denied using hacking or fake social media accounts to influence foreign elections. The Russian embassy in Washington did not immediately respond to a request for comment."
So much news. In today's Week In The News roundtable, we're focusing on the firestorm in Washington. Convictions in Virginia. Guilty pleas in New York. Tabloid secrets coming to light. The White House at war with the attorney general. A circle of suspicion drawing closer to the presidency.

This hour, On Point: things get real.

— David Folkenflik
This program aired on August 24, 2018.