Houston Mayor On Harvey Recovery: 'We All Need To Move With The Greatest Degree Of Urgency'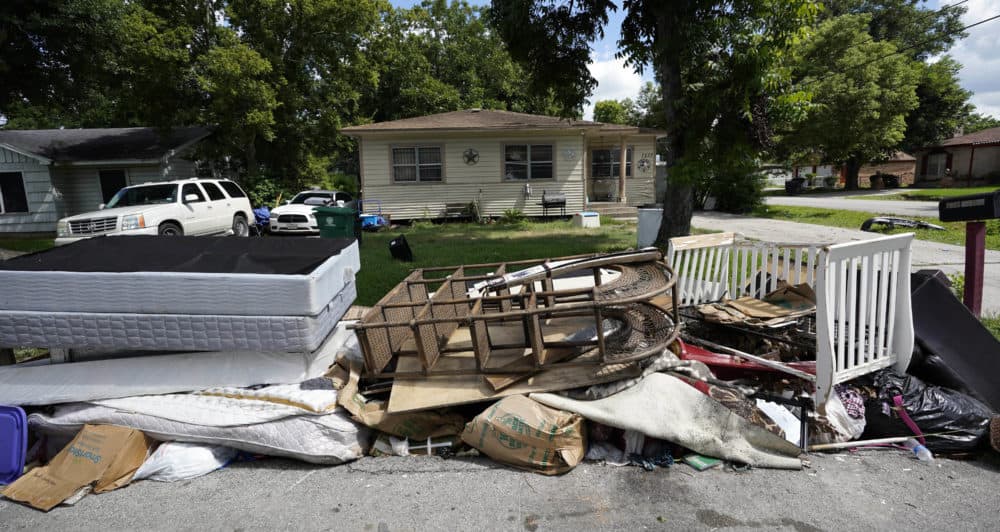 It's been one year since Hurricane Harvey made landfall. One of the worst storms in Texas history, Harvey killed 68 people and caused $125 billion dollars in damage. And for many Houstonians, the nightmare is still going.
"It's a slow process. The recovery will take probably about two to three years for communities to get back to normal — if there's such a thing as normal," the Rev. James Caldwell told On Point on Tuesday.
Many residents are still displaced, and many homes are still stripped down to the studs, Caldwell explained. The slow pace of recovery is particularly bad in some of Houston's historically black neighborhoods, including Kashmere Gardens, where Caldwell works as a pastor and community activist.
This week, voters in Harris County passed a $2.5 billion bond measure to improve the flood-protection system in the area.  The measure is the largest every approved by Harris County voters. There are more than 200 potential flood control projects that could be covered by the bond, including widening of flood channels and bayous, excavating detention basins, and home buyouts in areas vulnerable to extreme flooding.
Still, some of those working in disaster preparedness don't believe Texas has gone far enough to prepare for natural disasters on the scale of Hurricane Harvey. Houston Public Media reports that the cost for comprehensive flood control projects could top $30 billion.
"We have a number of short-term fixes, but most are based on our philosophy from the past," said Jim Blackburn, director of the Severe Storm Prevention, Education and Evacuation from Disaster (SSPEED) Center and professor at Rice University. "And that's fine. There's things that can and should be done. I think the real issue is, what does it look like going forward in the 21st century?
"I think Houston is at a crossroads: It will either be the leader in resilience thinking in the future, or it's going to be the first big failure, on an international level. We got hit with a storm that no city in the world could've handled. On the other hand, this is what's coming. This is what the future is."
The question now is will Houston be ready for that future?
Houston Democratic Mayor Sylvester Turner told On Point he's frustrated with the slow release of federal aid.
"For individuals who were impacted by Harvey, especially those individuals in low-income communities that were already on the margins and the storm pushed them down even further — people with special needs, my senior population and even middle-income family who exhausted all of their resources — our top priority of mine and this administration is housing," Turner said. "Housing is critically important because there are people that are still out of their homes, or people that are still in homes that need to be repaired or rebuilt."
While the U.S. Department of Housing and Urban Development (HUD) approved $5 billion for housing aid at the end of June, that money has yet to make it to the city, according to Turner.
"Those dollars won't get here until about, they're saying, November at the earliest," he said. "Those dollars have yet to arrive. We're now one year after Harvey."
The Texas General Land Office (GLO) says the city is waiting for the aid because both Houston and Harris County each "asked for direct allocations under the funding that came from Congress." Accordingly, HUD requires additional specific local action plans on top of the state action plan.
The local plans were submitted to GLO, which works as the facilitator in this process, in mid-to-late July, according spokeswoman Brittany Eck. The local plans were then sent for translation into six different languages by approved vendors. Eck says the GLO anticipates receiving the plans back this week, at which point the process enters a 30-day mandatory public comment period.
After those 30 days, the plans and comments go back to HUD for approval, which could take up to 45 more days.
"We are working with Houston and Harris County to make sure necessary steps are done as quickly as possible," Eck said.
Turner said the funds need to be delivered faster. "The quicker those dollars can come to the city, especially for housing, the better it will be for individuals and families who are living in situations that are not good for their health."
Any long term flood control plan for Houston will require a shared vision between local, state and federal authorities.
"In the last three years, we've had three 500-year floods," Turner told On Point. "We have to make sure we're taking steps to build a more resilient city. ... We have taken significant steps. But at the same time, we recognize that there are thousands of people who are still recovering and we don't want to leave a single person behind."
"I think locally we have a great partnership, we have great potential. I think the federal government, actually, has stepped up and done quite well," Blackburn says. "We had the appropriations bill passed in February that sent a good bit of money into the community with the prospect of more to come.
Blackburn says it's at the state level where Texas has fallen short
"If I had to give a report card, the state would get an absolute F. I think everybody else is trying hard and making progress."
Texas Gov. Greg Abbott, however, said in June that Texas is ready for the next Hurricane Harvey.
"We are ready, and we are taking steps on a daily basis to make sure we will be able to address any challenge coming our way," Abbott told reporters. "We're getting everything lined up to make sure that we will be capable of responding to a replication of Hurricane Harvey."
Abbott added that Texas is not expecting "the same level of activity that was seen in 2017."
"We've got an issue of vision. We have to think of ourselves differently going forward," Blackburn told On Point. He emphasized that in this first year after Harvey, he hasn't seen an official, definitive concept of what a flood-resilient city would actually look like.
"We're going to see more Harveys. We're going to see more severe storms. We need to get used to living with water."