Global Affairs Roundup: The Week In International News
48:55
Play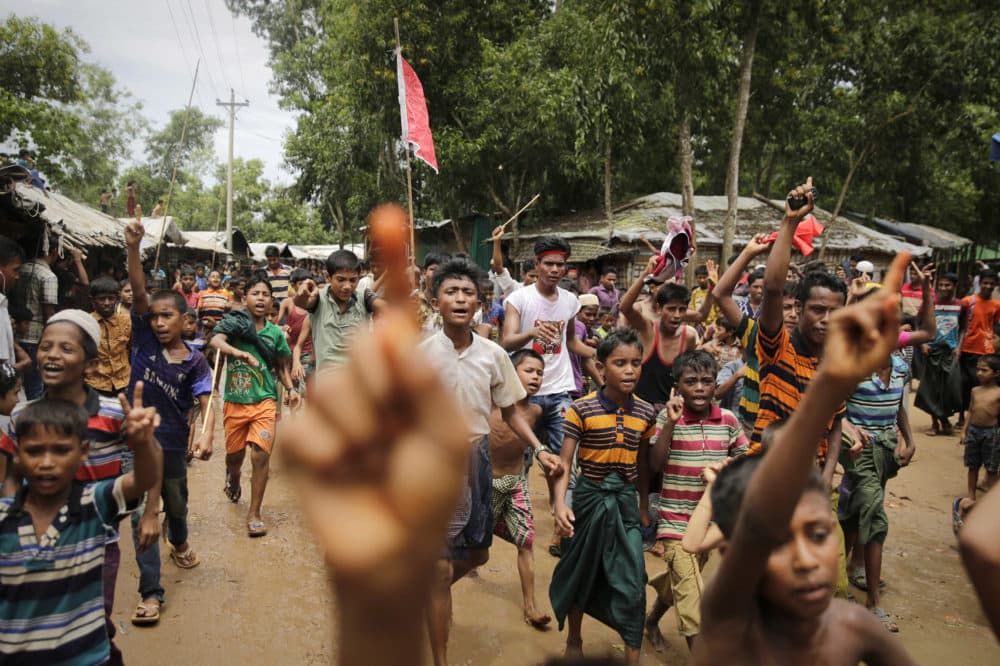 This article is more than 2 years old.
With Meghna Chakrabarti
All eyes may be on Washington these days, but there's plenty happening out there around the world. Top world watchers bring us up to speed on the big news abroad.
Guests
Matthew Karnitschnig, chief Europe correspondent for Politico Europe. (@MKarnitschnig)
David Rennie, Beijing bureau chief for The Economist. (@DSORennie)
Kathy Gilsinan, senior editor covering foreign affairs at The Atlantic. (@kgilsinan)
From The Reading List
The Christian Science Monitor: "UN team says Myanmar military leaders should face genocide charges" — "Investigators working for the United Nation's top human rights body said Monday that Myanmar military leaders should be prosecuted for genocide against Rohingya Muslims, taking the unusual step of identifying six by name among those behind deadly, systematic crimes against the ethnic minority.
"The call, accompanying a first report by the team of investigators, amounts to some of the strongest language yet from UN officials who have denounced alleged human rights violations in Myanmar since a bloody crackdown began last August."
Reuters: "Canada rejoins talks to stay in NAFTA, deal possible this week" — "Canada's top trade negotiator joins her Mexican and U.S. counterparts in Washington on Tuesday in a bid to remain part of a revamped trilateral North American trade pact, as U.S. officials expressed optimism a deal could be reached this week.
"But Ottawa will be under pressure to accept new terms on autos trade, dispute settlement and intellectual property rules after the United States and Mexico agreed on Monday to overhaul the North American Free Trade Agreement (NAFTA).
"U.S. President Donald Trump warned he could proceed with a deal with Mexico alone and levy tariffs on Canada if it does not come on board with the revised trade terms."
Washington Post: "Venezuela's refugee exodus is the biggest crisis in the hemisphere" — "A 7.3-magnitude earthquake shook the northern coast of Venezuela on Tuesday night, knocking items off supermarket shelves and causing tremors as far away as Bogota, the Colombian capital. Authorities reported no casualties.
"But amid economic devastation and political havoc, the country is still feeling many other shocks. A popular satirical website tweeted that the earthquake was the result of a tectonic plate trying to flee Venezuela — a dark joke gesturing to the thousands of Venezuelans seeking to escape the country every day.
"According to U.N. figures, some 2.3 million Venezuelans — about 7 percent of the population — have left their homeland over the past couple of years. Other estimates place the number at closer to 4 million."
This program aired on August 29, 2018.