This Week In News: Kavanaugh Hearings, McCain's Replacement, Primaries And More
48:50
Play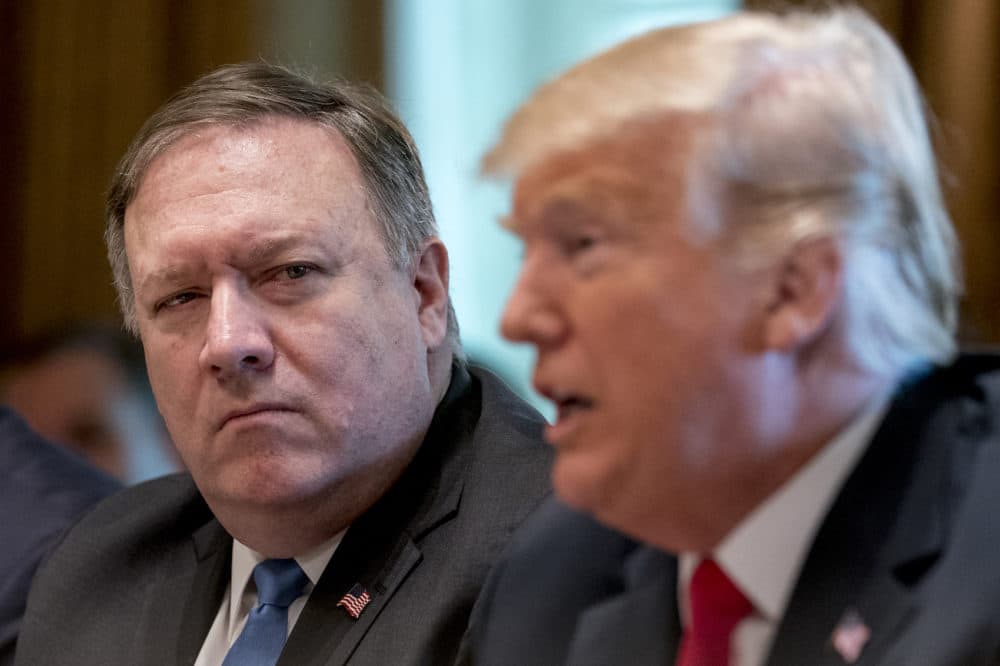 This article is more than 1 year old.
With Meghna Chakrabarti
Top reporters share from their notebooks and help us get ahead of the week's news.
Guests
Catherine Rampell, Washington Post columnist who covers economics, public policy, politics and culture. (@crampell)
Sahil Kapur, national political reporter for Bloomberg News. (@sahilkapur)
Alex Bolton, senior staff writer at The Hill. (@alexanderbolton)
From The Reading List
New York Times: "How Brett Kavanaugh Would Transform the Supreme Court" — "Most Supreme Court appointments are in a way inconsequential. A conservative replaces a conservative, a liberal replaces a liberal, and the court's basic direction is unchanged.
"That is not the case with the nomination of Judge Brett M. Kavanaugh, whose Senate confirmation hearings will begin on Tuesday. Judge Kavanaugh is considerably more conservative than the justice he would replace, Anthony M. Kennedy.
"But there is a more subtle, and important, reason that President Trump's pick of Judge Kavanaugh could remake the court. His confirmation would result in a rare replacement of the court's swing justice, moving Chief Justice John G. Roberts Jr. — a much more reliably conservative vote than Justice Kennedy — to the court's ideological center."
Arizona Republic: "Gov. Doug Ducey expected to move quickly on appointing a John McCain replacement" — "During the year that followed U.S. Sen. John McCain's brain-cancer diagnosis, Gov. Doug Ducey quashed any public discussion of a succession plan for the ailing senator.
"But with the late senator now laid to rest at the U.S. Naval Academy, Ducey is expected to move quickly to appoint McCain's Republican replacement.
"'What we're going to do first is go through all the proper services and ceremonies,' the governor said last week in a radio interview with KTAR News 92.3. 'John McCain will be laid to rest fittingly on Sunday ... And after that, we'll get to work.'
"Will the governor pick someone in the mold of the late senator, who was at times willing to defy Republican leadership and work across party lines?
"Will he name a political outsider like President Donald Trump, whose populist agenda and style have captured the hearts of Republican-base voters who disdained McCain?
"Or will he name a successor who might satisfy both factions of the state's splintered GOP, such as someone respected in Arizona's business or military communities?"
The Hill: "Obama readies fall campaign push, but some Dems say no thanks" — "Former President Obama is set to dive into the midterm elections next week with a speech in Illinois where he is expected to urge Democrats across the country to vote — addressing a problem that plagued the party in 2016.
"Obama has kept a low political profile since leaving office, but sources familiar with his plans say he will soon hit the campaign trail to help Democrats in their quest to take back the House, protect vulnerable Senate incumbents and win state legislative races.
"The former president will kick off his push by delivering a speech at the University of Illinois at Urbana-Champaign on Friday. In the weeks ahead, Obama will also campaign in California, Illinois, Ohio and Pennsylvania, a person familiar with his schedule said.
"Not all Democrats want Obama's help."
Washington Post: "Trump promised farmers 'smarter' trade deals. Now he has to bail them out." — "'Trade, not aid.'
"That's what farmers, ranchers and their elected officials keep telling the Trump administration they want. They have worked hard over the years to grow their export opportunities, forging critical relationships in China, Mexico, the European Union, Canada and other markets. Customers around the world have gobbled up U.S.-produced pork, soybeans, fruits and other goods.
"Yet in a matter of months, President Trump has managed to fray — and possibly sever — many of those ties."
Bloomberg: "Racially Charged 'Monkey' Remark Opens Florida Governor's Race" — "A day after Florida Republicans picked Ron DeSantis as their gubernatorial candidate, he used racially charged language when he told voters not to 'monkey this up' in November by selecting his Democratic opponent, who is vying to become the state's first black governor.
"DeSantis, a white conservative congressman who was endorsed by President Donald Trump, made the statement in an interview on Fox News in which he also described Tallahassee Mayor Andrew Gillum as 'articulate' but 'much too liberal for Florida.' "
This program aired on September 4, 2018.