Week Ahead: Kavanaugh FBI Investigation, NAFTA Deal And More
47:07
Play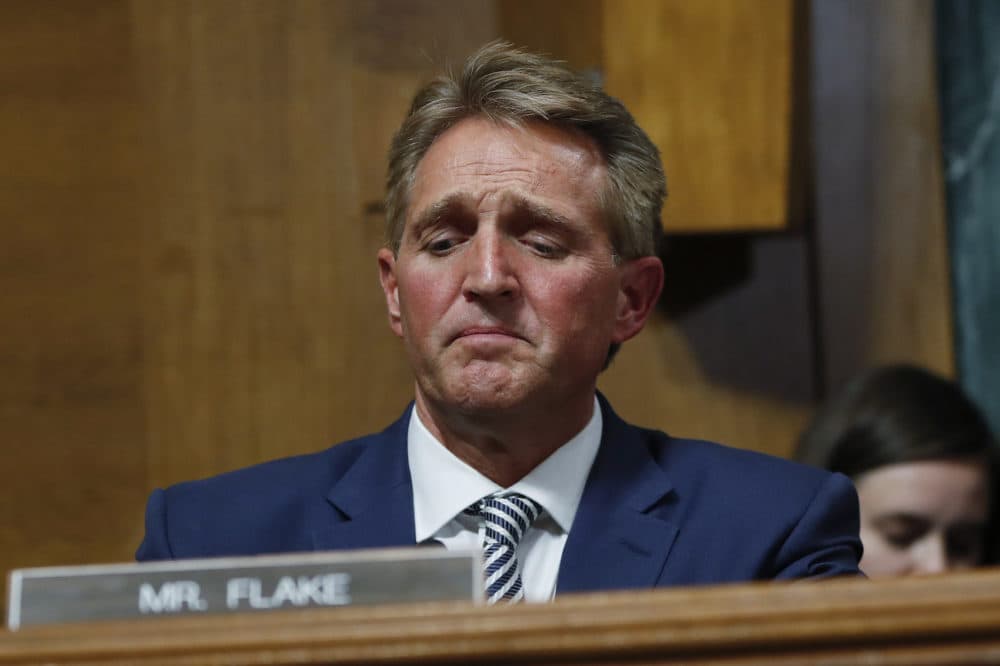 This article is more than 2 years old.
With Meghna Chakrabarti
Top reporters help us look ahead to the week's news, including what could be a pivotal moment for the Senate and the Supreme Court.
Guests
Caitlin Huey-Burns, CBS News digital political reporter. (@CHueyBurns)
Pierre Thomas, chief justice correspondent for ABC News. (@PierreTABC)
Michael Warren, senior writer at the Weekly Standard. (@MichaelRWarren)
From The Reading List
New York Times: "Details of F.B.I.'s Kavanaugh Inquiry Show Its Restricted Range" — "President Trump said on Saturday that the F.B.I. will have 'free rein' to investigate allegations of sexual misconduct against Judge Brett M. Kavanaugh, but the emerging contours of the inquiry showed its limited scope.
"Four witnesses will be questioned in coming days about aspects of the assault accusations against Judge Kavanaugh, according to two people familiar with the matter. Left off the list were former classmates who have contradicted Judge Kavanaugh's congressional testimony about his drinking and partying as a student.
"The White House will decide the breadth of the inquiry, though presidential advisers were working in concert with Senate Republicans, said the two people, one a senior administration official, who both spoke on the condition of anonymity to discuss a sensitive investigation.
"The White House can order investigators to further examine the allegations if their findings from the four witness interviews open new avenues of inquiry, and Mr. Trump seemed to stress that part of the plan in a tweet late on Saturday."
Washington Post: "FBI contacts second woman who has accused Brett Kavanaugh of sexual misconduct" — "The FBI has begun contacting people as part of an additional background investigation of Judge Brett M. Kavanaugh, including a second woman who alleges that the Supreme Court nominee sexually assaulted her.
"The bureau has contacted Deborah Ramirez, a Yale University classmate of Kavanaugh's who alleges that he shoved his genitals in her face at a party where she had been drinking and become disoriented, her attorney said Saturday.
" 'She has agreed to cooperate with their investigation,' Ramirez attorney John Clune said in a statement. 'Out of respect for the integrity of the process, we will have no further comment at this time.'
"President Trump ordered the new background investigation of his nominee on Friday under pressure from key members of his party."
CNN: "US and Canada reach deal on NAFTA" — "Canada has signed on to an agreement that will preserve the three-country NAFTA trade pact, a US official and a Canadian official briefed on the talks told CNN late Sunday.
"The agreement will allow greater US access to Canada's dairy market and addresses Canadian concerns about potential auto tariffs, the sources said."
This program aired on October 1, 2018.