Week In The News: Kavanaugh, Haley, Hurricane Michael And More
46:11
Play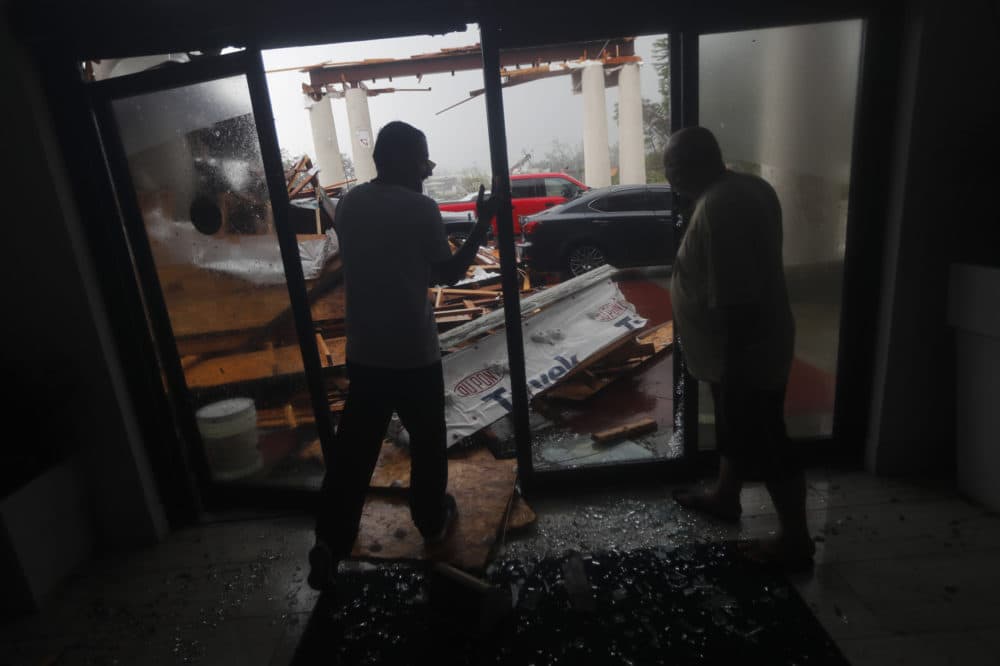 This article is more than 2 years old.
With David Folkenflik
Justice Kavanaugh takes his seat on the Supreme Court. Nikki Haley heads for the exits. Hurricane Michael threatens lives. The weekly news roundtable digs in.
Guests
Alexis Simendinger, national political correspondent for The Hill. (@ASimendinger)
Toluse Olorunnipa, White House correspondent for Bloomberg News. (@ToluseO)
Jack Beatty, On Point news analyst. (@JackBeattyNPR)
From The Reading List
Washington Post: "Hurricane Michael aftermath: Death toll spikes after five storm-related fatalities reported in Virginia" — "Hurricane Michael is no more. The violent storm that ripped through the Southeast, leaving a trail of death and destruction from Florida to Virginia, finally moved off the coast over the Atlantic Ocean overnight. It is now known as Post-Tropical Cyclone Michael.
"Michael made landfall in the Florida Panhandle on Wednesday as a Category 4 hurricane — the strongest on record to hit the area — and charged north through Georgia and into the Carolinas and Virginia, wreaking havoc and causing emergencies. In the storm's wake lay crushed and flooded buildings, shattered lives and at least 11 deaths, a number that officials worry could rise."
Bloomberg: "Trump Attacks 'Arsonist' Democrats as Polls Show House at Risk" — "President Donald Trump used to attack Democrats as mere obstructionists determined to block his agenda. But with the opposition poised to seize control of the House, he's painting them in far darker strokes — as dangerous socialists hell-bent on turning the country into a poverty-stricken crime scene.
" 'You don't hand matches to an arsonist and you don't give power to an angry left-wing mob and that's what the Democrats have become,' Trump said Tuesday during a campaign rally in Council Bluffs, Iowa. 'They would turn our country so fast into Venezuela. And Venezuela's not doing too well, folks.'
"In a Wednesday USA Today op-ed that was riddled with hyperbole, Trump wrote that Democratic control of Congress would bring the U.S. "dangerously closer to socialism in America" and "destroy American prosperity."
Forbes: "Chief Justice Roberts Requests Tenth Circuit To Investigate Kavanaugh Ethics Questions" — "While the Republican leadership celebrates the seating of Brett Kavanaugh as a Justice of the U.S. Supreme Court, Chief Justice Roberts yesterday requested the Tenth Circuit to review more than twelve ethics complaints that have been made against Kavanaugh. The complaints concern Kavanaugh's behavior at the Senate Judiciary Committee on September 27.
"These complaints were initially received by the U.S. Court of Appeals prior to Kavanaugh's seating on the Supreme Court. Chief Judge Merrick Garland — whose nomination to the Supreme Court was blocked by Senate Republicans—recused himself from the matter. The complaints were then passed to Judge Karen LeCraft Henderson, whom President George H.W. Bush nominated to the bench.
"Judge Henderson dismissed some of the complaints made against Judge Kavanaugh as frivolous. But she concluded that more than a dozen complaints were substantive enough to warrant investigation by an impartial panel and that they should not be handled by Judge Kavanaugh's fellow judges in the D.C. Circuit. She referred them to Chief Justice Roberts, who has now referred them to the 10th Circuit."
CNN: "Nikki Haley may have timed her exit perfectly" — "Nikki Haley is getting out of the Trump administration with her stature elevated and political prospects brightened — not something that could be said for most top political power players who leave the President's reputation-crushing fold.
"Outshining the showman in chief in her Oval Office goodbye Tuesday, the outgoing US ambassador to the UN pocketed a valuable endorsement for a political career no one thinks is over."
This program aired on October 12, 2018.