Groceries And Gadgets: The Robots Coming To A Supermarket Near You
Play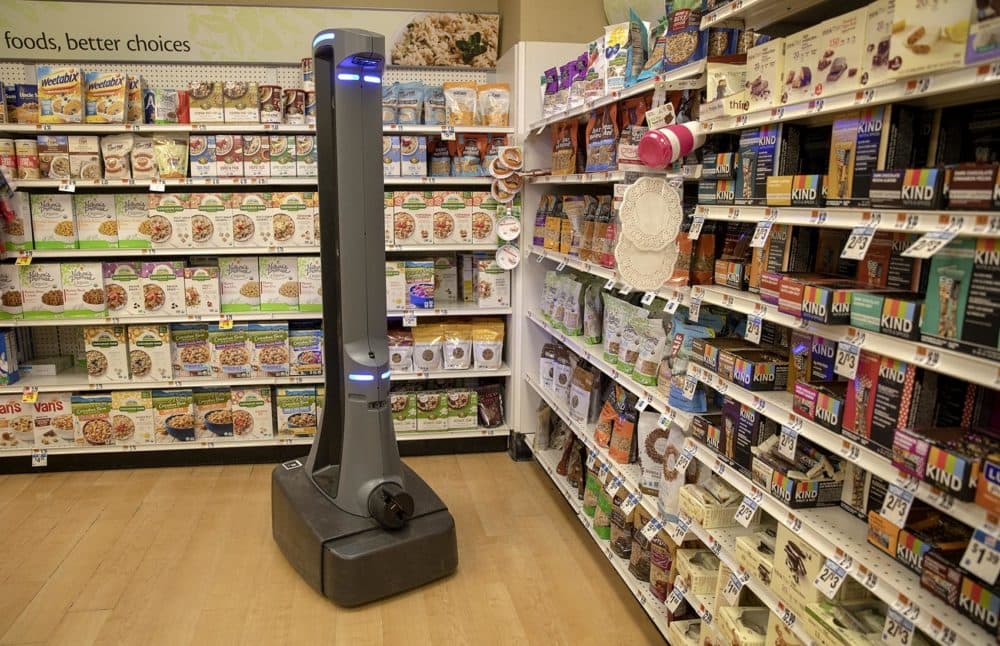 This article is more than 3 years old.
Find our buildout from this hour, featuring a partial transcription, here.
---
With Meghna Chakrabarti
There are robots roaming the aisles of Walmart and other grocery stores. Monitoring inventory, cleaning up spills and potentially replacing workers. Automation is coming to a supermarket near you.
---
Want more from the show? You can get messages from our hosts (and more opportunities to engage with the show) sent directly to your inbox with the On Point newsletter. Subscribe here.
---
Guests
Andrew McAfee, co-director of the MIT Initiative on the Digital Economy. Associate director of the Center for Digital Business at the MIT Sloan School of Management. Co-author of "Machine, Platform, Crowd: Harnessing our Digital" and "The Second Machine Age: Work, Progress, and Prosperity in a Time of Brilliant Technologies." (@amcafee)
David Pinn, vice president of strategy for Brain Corp, which creates the software for Walmart's autonomous floor scrubbers. Walmart is adding the floor scrubbers to 1,500 stores. (@braincor)
Erikka Knuti, communications director for The United Food and Commercial Workers Union, which represents 1.3 million workers in grocery stores, retail and other industries. (@erikkaknuti)
Statement From Walmart
Also, important to keep in mind, the tasks being automated are generally things that we struggle to find, hire and retain associates to do. As we've started changing the job to take out some of that routine work, it's becoming easier to find people to do those jobs.
From The Reading List
Wall Street Journal: "Walmart Is Rolling Out the Robots" — "Walmart Inc. is expanding its use of robots in stores to help monitor inventory, clean floors and unload trucks, part of the retail giant's efforts to control labor costs as it spends more to raise wages and offer new services like online grocery delivery.
"The country's largest private employer said at least 300 stores this year will add machines that scan shelves for out-of-stock products. Autonomous floor scrubbers will be deployed in 1,500 stores to help speed up cleaning, after a test in hundreds of stores last year. And the number of conveyor belts that automatically scan and sort products as they come off trucks will more than double, to 1,200.
"The company said the addition of a single machine can cut a few hours a day of work previously done by a human, or allow Walmart to allocate fewer people to complete a task, a large saving when spread around 4,600 U.S. stores. Executives said they are focused on giving workers more time to do other tasks, and on hiring in growing areas like e-commerce."
WBUR: "Cleanup On Aisle 9: Robots Arrive At Grocery Stores Near You" — "Stop & Shop's parent company, the Dutch food retailer Ahold Delhaize, has started deploying robots named Marty to more than 100 Massachusetts locations.
"Marty, a six-foot-tall pillar with googly eyes, roams the stores, beeping gently as it scans the floor for trash and spills.
"At a Stop & Shop in Quincy, Marty spots a fallen price tag in front of a shelf of Easter candy. The robot's cameras take a picture, which is then sent to a worker hundreds of miles away at a facility run by the company TaskUs. The worker looks at the picture to confirm the problem, then Marty alerts customers and store employees.
"'Caution. Hazard detected,' Marty says, playing the pre-recorded message in English and Spanish.
"A Stop & Shop employee scoops up the tag and presses a button to send Marty on his way."
Washington Post: "Giant Food Stores will place robotic assistants at 172 locations, company says" — "He goes by the name 'Marty.'
"Tall, slow-moving and gray, he has big cartoonish eyes that disguise something unique about the newest employee at Giant Food Stores: Marty is deliberate and relentless, and — unlike his fellow employees — he has the ability to work a seemingly endless number of hours without pay.
"Though he doesn't say much, a small message is always plastered to his slender trunk:
"'This store is monitored by Marty for your safety,' it reads. 'Marty is an autonomous robot that uses image capturing technology to report spills, debris and other potential hazards to store employees to improve your shopping experience.'
"After a pilot program that kicked off in several Pennsylvania stores this past fall, Giant Food Stores announced Monday that it will place Martys in each of the supermarket chain's 172 stores across Pennsylvania, Maryland, Virginia and West Virginia. The robotic rollout is part of a plan by Giant's parent company, Ahold Delhaize USA, to deploy about 500 robots to stores such as Giant, Martin's and Stop & Shop. The robots will begin arriving "in waves" over the coming months, according to Giant, which expects to have the devices fully deployed in about six months."
Anna Bauman produced this hour for broadcast.
This program aired on April 11, 2019.