Rep. Pramila Jayapal On Trump: 'Lawlessness ... Unfolded In Front Of The Public'
46:35
Play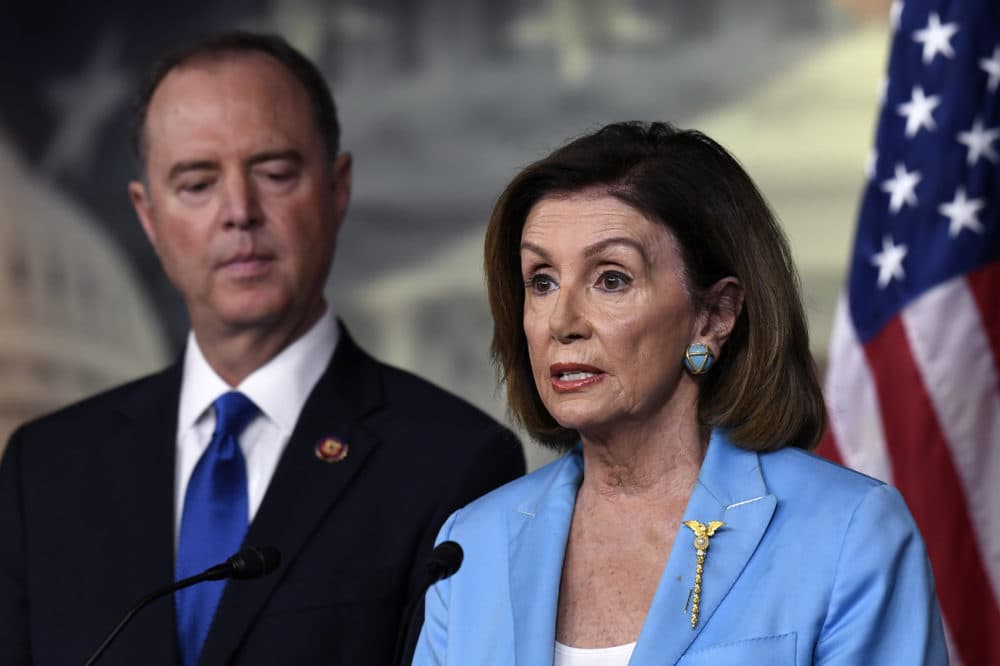 With Sacha Pfeiffer
As the impeachment inquiry intensifies, President Trump hits back and the State Department watchdog briefs Congress.
Guests
John Bresnahan,  congressional bureau chief for Politico. (@BresPolitico)
Rep. Pramila Jayapal, Democrat representing Washington's 7th Congressional District, which includes Seattle. Member of the Judiciary Committee who supports the impeachment inquiry. (@RepJayapal)
Interview Highlights
On the timeline for the impeachment inquiry
Rep. Pramila Jayapal: "I don't think we we know exactly what the timeline will be, but what we do know is that we are going to do a thorough and fair investigation, and we are going to make sure that we have all the facts in hand. I think one of the things that is very different about this than the work we were doing before, is that this is a level of lawlessness that has unfolded in front of the public. We have evidence in hand that the president endangered our national security, and the White House's record of the call shows President Trump asking President Zelensky to 'do us a favor though.' And those are very, very important words.
"I think now what you see in the subpoenas, different from what we were doing before, is that if the president, the White House, the administration continues to not allow information to come to the committees that have oversight, then that will be construed as obstruction of Congress, and that is laid out in the subpoenas in all the materials that we are sending. Because that has been, I think, this administration's playbook is tie things up in the court, refuse to send information, claim fake privilege. That's not going to be allowed to happen anymore."
"If the president, the White House, the administration continues to not allow information to come to the committees that have oversight, then that will be construed as obstruction of Congress."

Rep. Pramila Jayapal
President Trump continues to frame the inquiry as Democrats being unwilling to accept the election results of 2016. How will you respond if you hear that from constituents?
Jayapal: "I think, actually, the majority of Americans are starting to see this, as well, is that this president has endangered our national security. It is a new level of lawlessness. He withheld critical military aid to counter Russian aggression that Congress had authorized. He abused his power by pressuring a foreign country to interfere in the 2020 election and then he used the levers of government to try to cover it up.
"And this is not an isolated instance. It is actually what we have been investigating for the last several months. The difference is it is in plain view. He bragged about it. It is unfolding in front of us. Everything that we see so far is not only corroborating that single charge around Ukraine, but is also telling us that we have other things that we also need to be looking int,o other call records that, perhaps, were put into confidential safes that should not be there. Not that calls can't be confidential between world leaders, but if they're being scrubbed for things that the president was saying that abused his power, that is a problem.
"So most of our constituents, I would say, understand that, and understand that nobody came into office to try to impeach the president. That's not what we want to do. In fact, we have spent the last nine months that we've been in the majority, passing over 135 bills that have to do with the real issues that face Americans today. However, the fact is we have a president who refuses to respect the Constitution and who is betraying his oath and betraying the very essence of our democracy. That's why the founders gave us Article 1 powers and we intend to take them very very seriously."
"This administration's playbook is tie things up in the court, refuse to send information, claim fake privilege. That's not going to be allowed to happen anymore."

Rep. Pramila Jayapal
From The Reading List
New York Times: "Schiff, House Intel Chairman, Got Early Account of Whistle-Blower's Accusations" — "The Democratic head of the House Intelligence Committee, Representative Adam B. Schiff of California, learned about the outlines of a C.I.A. officer's concerns that President Trump had abused his power days before the officer filed a whistle-blower complaint, according to a spokesman and current and former American officials.
"The early account by the future whistle-blower shows how determined he was to make known his allegations that Mr. Trump asked Ukraine's government to interfere on his behalf in the 2020 election. It also explains how Mr. Schiff knew to press for the complaint when the Trump administration initially blocked lawmakers from seeing it.
"The C.I.A. officer approached a House Intelligence Committee aide with his concerns about Mr. Trump only after he had had a colleague first convey them to the C.I.A.'s top lawyer. Concerned about how that initial avenue for airing his allegations through the C.I.A. was unfolding, the officer then approached the House aide. In both cases, the original accusation was vague.
"The House staff member, following the committee's procedures, suggested the officer find a lawyer to advise him and file a whistle-blower complaint. The aide shared some of what the officer conveyed to Mr. Schiff. The aide did not share the whistle-blower's identity with Mr. Schiff, an official said."
Vice News: "Pelosi and Schiff Warn White House: Stonewalling Is a Sign of Guilt" — "House Democrats warned the Trump administration that any moves to block witnesses would be taken as obstruction of justice and used in their impeachment proceedings.
"House Intelligence Committee Chairman Adam Schiff (D-Calif.) fired back at Secretary of State Mike Pompeo and President Trump, warning them not to try to block witnesses from testifying to Congress.
"'If they are going to prevent witnesses from coming forward from testifying… that will create an adverse inference that those allegations are in fact correct,' Schiff warned during a press conference with House Speaker Nancy Pelosi (D-Calif.) Wednesday morning."
New York Times: "House Threatens to Subpoena White House for Ukraine Records" — "The House threatened on Wednesday to subpoena the White House if it did not comply by Friday with requests for a broad range of documents related to an alleged scheme to pressure Ukraine into investigating a leading political rival of President Trump.
"Representative Elijah E. Cummings of Maryland, the chairman of the Oversight and Reform Committee, notified his committee of the impending subpoena on Wednesday. He said the White House had thus far ignored Congress's voluntary requests.
"'I do not take this step lightly,' Mr. Cummings wrote. 'Over the past several weeks, the committees tried several times to obtain voluntary compliance with our requests for documents, but the White House has refused to engage with — or even respond to — the committees.' "
ABC News: "State Dept inspector general requests 'urgent' Ukraine briefing on Capitol Hill" — "The State Department's inspector general is expected to give an 'urgent' briefing to staffers from several House and Senate committees on Wednesday afternoon about documents obtained from the department's Office of the Legal Adviser related to the State Department and Ukraine, sources familiar with the planned briefing told ABC News.
"Details of the briefing, requested by Steve Linick, the inspector general at State, remain unknown. Linick is expected to meet with congressional staff in a secure location on Capitol Hill.
"The unusual nature and timing of the briefing – during a congressional recess – suggests it may be connected to a recent intelligence community whistleblower allegation which describes, in part, the State Department's role in coordinating interactions between Rudy Giuliani, the president's personal attorney, and Ukrainian officials."
Dorey Scheimer produced this hour for broadcast.
This program aired on October 3, 2019.