Impeachment Latest: Sondland Updates Testimony To Describe Quid Pro Quo
12:27
Play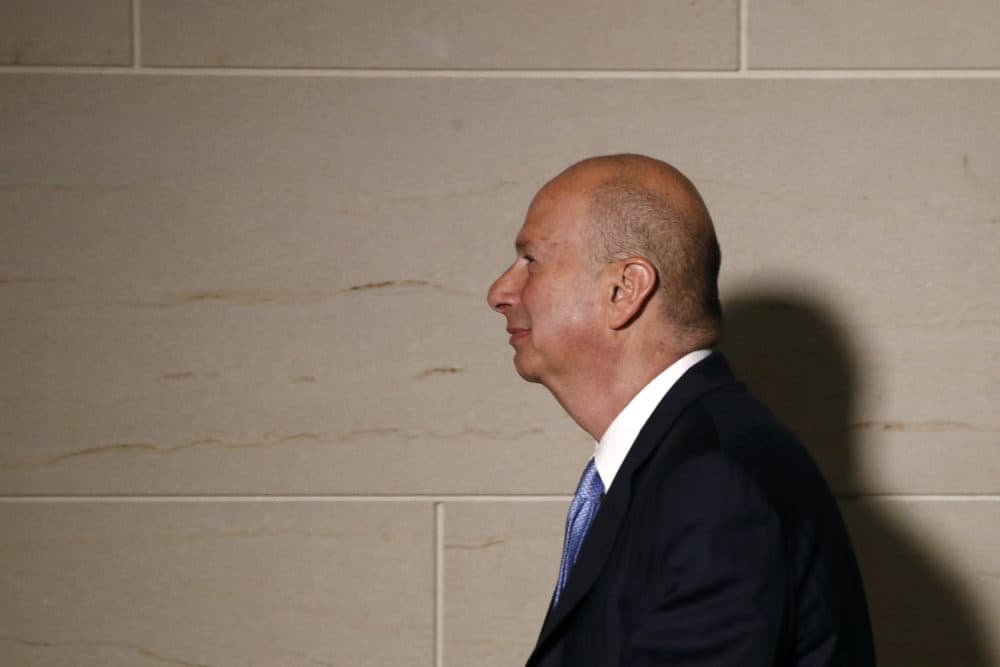 It has been a busy week already. We break down the latest developments in the impeachment inquiry, including released interview transcripts from Gordon Sondland and Kurt Volker.
Guest
Nancy Cordes, Chief Congressional Correspondent for CBS News. (@nancycordes)
From The Reading List
CBS News: "Top diplomat changes story on Ukraine aid" — "The U.S. ambassador to the E.U. revised earlier testimony to the House committees leading the impeachment probe, saying he now recalls telling a top Ukrainian official that the release of military aid 'likely' required the country to announce anti-corruption investigations into President Trump's rivals.
"Gordon Sondland, in an addendum to his October testimony, claimed his memory has been "refreshed" after reviewing others' testimony. Now, in revised testimony dated Monday, November 4, Sondland said he recalls that aid to Ukraine was, according to his understanding, conditioned on Ukraine making a public anti-corruption statement.
"Sondland initially told lawmakers he was unaware Trump attorney Rudy Giuliani was targeting former Vice President Joe Biden by urging Ukrainian officials to open an investigation into Ukrainian gas company Burisma, which had put Biden's son on its board of directors.
"In the addendum, Sondland said he now remembers a September conversation with Andrey Yermak, an aide to Ukraine's president, in which he 'said that the resumption of U.S. aid would likely not occur until Ukraine provided the public anti-corruption statement that we had been discussing for many weeks.'
"On Tuesday, House Democrats released transcripts of the testimony by Sondland and former U.S. special envoy to Ukraine Kurt Volker, both of whom are central witnesses in the impeachment inquiry."
Washington Post: "Senate Republicans consider including Bidens in Trump impeachment trial" — "Senate Republicans are privately debating whether they should use an impeachment trial of President Trump to scrutinize former vice president Joe Biden and his son Hunter as some Trump allies push to call them as witnesses while others dismiss the suggestion as a risky political ploy.
"The ongoing discussions are a revealing glimpse into the fault lines in the GOP ahead of a possible trial of Trump in the upper chamber, where there are varying appetites among Senate Republicans for the type of political combat relished by the president and his most hardcore defenders.
"Among a group of Trump's allies inside and outside Congress, there is intense and growing interest in countering the House Democrats' impeachment inquiry with their own scrutiny of Hunter Biden's overseas business dealings in Ukraine and China. Because his father was vice president at the time, these allies believe it could be a way of explaining why Trump pressed Ukrainian President Volodymyr Zelensky in a July 25 phone call to 'look into' the Bidens, who have denied any wrongdoing."
New York Times: "Pompeo Faces Political Peril and Diplomats' Revolt in Impeachment Inquiry" — "As President Trump's first C.I.A. director, Mike Pompeo was briefed by agency officials on the extensive evidence — including American intercepts of conversations between participants — showing that Russian hackers working for the government of Vladimir V. Putin had interfered in the 2016 American presidential campaign. In May 2017, Mr. Pompeo testified in a Senate hearing that he stood by that conclusion.
"Two and a half years later, Mr. Pompeo seems to have changed his mind. As Mr. Trump's second secretary of state, he now supports an investigation into a discredited, partisan theory that Ukraine, not Russia, attacked the Democratic National Committee, which Mr. Trump wants to use to make the case that he was elected without Moscow's help. 'Inquiries with respect to that are completely important,' Mr. Pompeo said last month. 'I think everyone recognizes that governments have an obligation — indeed, a duty — to ensure that elections happen with integrity, without interference from any government, whether that's the Ukrainian government or any other.'
"Mr. Pompeo's spreading of a false narrative at the heart of the Ukraine scandal is the most striking example of how he has fallen off the tightrope he has traversed for the past 18 months: demonstrating loyalty to the president while insisting to others he was pursuing a traditional, conservative foreign policy. Mr. Pompeo, 55, now finds himself at the most perilous moment of his political life as veteran diplomats testify to Congress that Mr. Trump and his allies hijacked Ukraine policy for political gain — and as congressional investigators look into what Mr. Pompeo knew of the machinations of Mr. Trump and Rudolph W. Giuliani, the president's personal lawyer."
This segment aired on November 6, 2019.