Voter roundtable: Conservative voters on what's motivating them to vote in the midterms
Play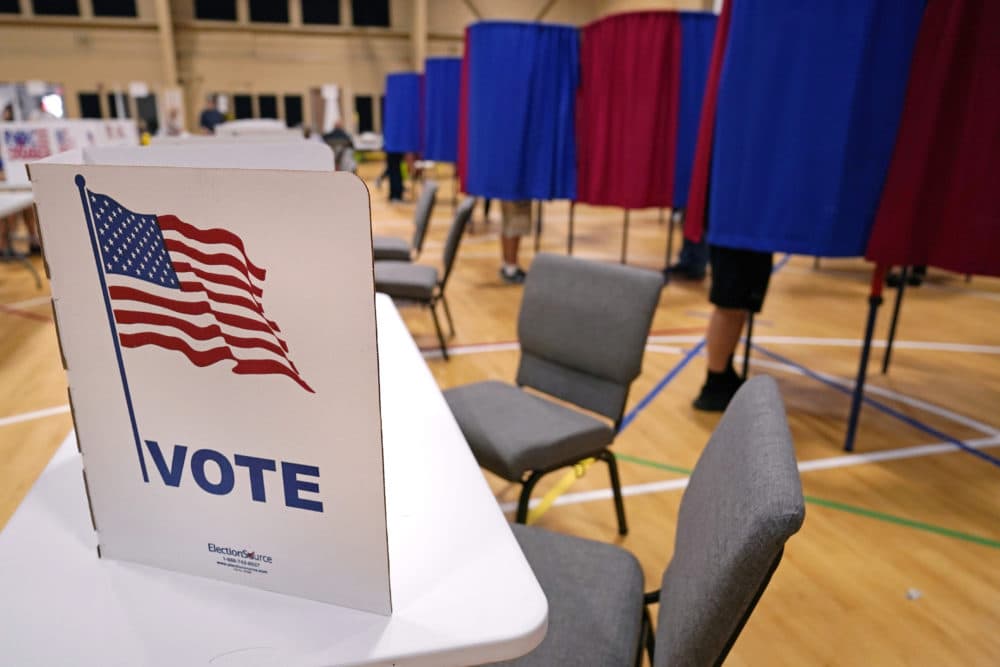 Sign up for the On Point newsletter here. 
Republicans have a chance to take back the U.S. House and Senate in November's midterm elections.
According to a recent poll, eight in 10 Americans rate the economy as "only fair" or "poor," and more than two-thirds say the economy is getting worse, not better.
Today, On Point: We sit down with conservative voters in three key states to hear what's on their minds and motivating them to vote.
Guests
Bill Poole, works in sales for local radio group.
Michael Logue, corporal who served in Iraq with the 3rd Battalion 25th Marines. Trustee for Union Township in Clermont County, Ohio.
Lupe Harpster, owner of a Tex-Mex restaurant in Erie, Michigan.
Interview Highlights: Conservative voters reflect on the issues that shape their vote
Inflation
Michael Logue: "Does it guide my vote specifically? No, not necessarily. Is it something I've been focused on? Absolutely. You know, my value system as a Republican is what guides my vote. But frankly, seeing this inflation and this impact in the country and what it's done to the American middle class, unfortunately, it's every single thing that we expected out of the Joe Biden presidency and administration. And he is delivering.
"And ... it's been a transitional president from being record-setting in the economy to record lows. Record-record setting on making our communities and our cities safer, to more crime and violence. And so, it's everything from talking to our voters, and our constituents and our people in Ohio that we recognize when we see this.
"It is now when you go to the store and you get your groceries, your grocery bill now feels like a utility bill. Your utility bill now seems like a mortgage. Your mortgage, I mean, people can't even buy houses anymore. And now you're creating a rental class of Americans. And it's unnerving, the direction this country is going, and what is being allowed to be done to destroy the middle class."
Bill Poole: "The economy and inflation is probably the No. 1 issue for most people in the upcoming election. And sort of to pick up on what Michael said, I agree that many of our problems are coming from not only the Biden administration, but the makeup of our legislature. I mean, on Biden's side, the policies of cutting back government lands that are available for petroleum production, creating a lot of red tape for government leases, eliminating offshore, ending the XL pipeline.
"Those are all contributors to the problem in the economy, because fuel prices have have gone up. And then the legislature and administration together have poured trillions of dollars into the economy. I think, much of which was unnecessary. And it's just simple economics 101. More dollars chasing, no more products or services. And, you know, it's inflation.
"And then you throw on top of that middle class people whose 401(k)s have have been diminished by upwards of 20% or more. I think that's plenty of us. If we didn't talk about anything else, I think that's plenty enough to get people riled up, and not just conservatives."
Lupe Harpster: "Inflation is 100% guiding me and the way I vote. My business has always guided me on how I vote. And personally, my faith also. How it's impacted me is very difficult right now to maintain margins, profit margins. The only reason we have those is because of the labor impact on the business. So it's been very difficult the last three years."
On policy and congressional action
Bill Poole: "I go right back to pouring money into the economy that's not necessary. But also just deficit spending. And I lay the blame for that at the feet of both Democrats and Republicans. Our fiscal responsibility seems to have just gone out the window. There are a handful of conservative congressmen and senators that talk about it and pay attention.
"But the number of those is tiny compared to our politicians that are willing to go wild, spending our money. And in my opinion, doing it, in some cases, irresponsibly. And certainly in many, many cases inefficiently. So I'd say that's the number one thing that I would like to see. And quite frankly, I don't see that happening even after the midterms."
Michael Logue: "The spending packages ... $1.9 trillion spending package went through via reconciliation. That was not bipartisan. That was done in the first two months or so of Biden's administration, while $900 billion of funding from the CARES Act in the November time frame of 2020 under President Trump was still left on executed, still not spent. There was so much money pushed into the system that it was not being executed, it was not being spent.
"But there was essentially special spending packages and cut outs in this $1.9 trillion spending that was passed via reconciliation, not a bipartisan approach. That right there was the jet fuel to start launching the rapid inflation that we have seen. The other thing, that clip that you played there, that's putting the blame on Putin.
"'Putin's price hike is the reason for this.' That's shifting. That's just shifting the blame. It's going in and cutting Keystone Pipeline, day one, it's going in and making it more regulation, red tape for American families and businesses and energy sectors to actually be producing. We were energy independent, which has a two fold benefit on on what we do as a country and our economics inside our own country, to be bringing inflation down and actually have deflation. But it also gives us negotiation leverage."
Lupe Harpster: "I'm not sure about Congress, but I agree with the spending that's been happening. I've seen it through the businesses. Yeah, some of us needed it. Others didn't get it. But I see a lot of spending in other areas. For example, the border areas. I don't understand where this money is all coming from, to house these people, to transport these people. I don't understand why this hasn't been stopped or reduced."
On Trump support
Michael Logue: "If he runs again in four years, he's going to be able to bring America back ... rebuild it for a third time. Because right now, nothing's built, nothing's back, nothing's better. But fortunately for Republicans, whoever the nominee is, if he chooses not to run, we have a deep, deep bench of people like Governor Ron DeSantis, Tom Cotton. I mean, it goes deep. And so the Trump effect is real.
"You even hear Congressman Ruben Gallego out in Arizona talking about wanting to be more like Trump, and push back. Because he recognizes, he had a recent piece out recently, talking about right now the Democrats have the trifecta of having the House, the Senate and the White House, and they have not delivered for their voters. They have not delivered for their voters on their wages. They have not delivered on their safety. They've not delivered."
Lupe Harpster: "I would say it's not a factor on whether I vote for the candidate or not. I do find it amusing, though, that people put so much merit in Trump supporting these candidates when there's so much out there against Trump. And yet he's having this influence, this positive influence on supporting these people. Many other negative things that have come out against him, I don't see them anymore.
"Where are they? And were they true? And so I don't know if people have seen past that. And so he is a positive influence on these things. And I didn't mean it's amusing, but I think it's a good thing that he obviously has some influence. And all the negative dealings that supposedly he's involved in, people aren't looking at that, obviously, from what's happening."
Bill Poole: "Me personally, it may not have as big an impact as it does for some conservative voters. But to speak to the question, you know, Trump has a tremendous influence. He was in North Carolina recently to support our Senate candidate, Ted Budd. And he you know, all you have to do is look at what the current administration and what the bureaucrats, the weaponizing of the DOJ and FBI. You wouldn't make that kind of effort to go after somebody if he wasn't the Democrat's absolute nightmare. ... I don't like his style, but I love what he does politically, how he fights back, and his policies."
This program aired on October 4, 2022.