Commentary: Odd Things That Caught My Eye About Tuesday's Elections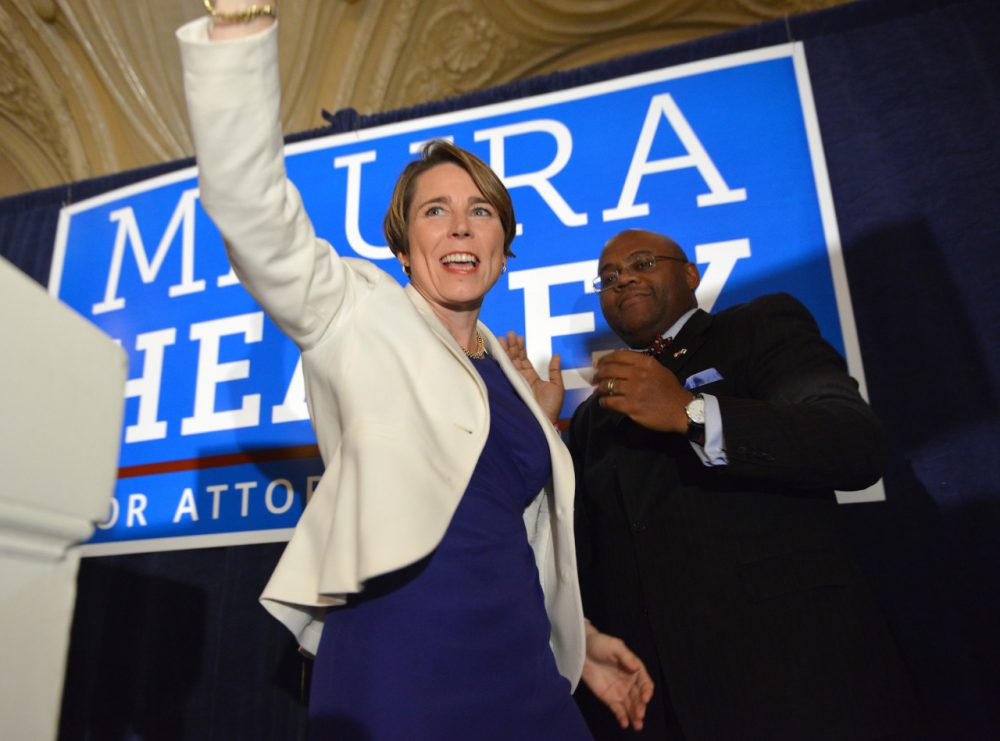 This article is more than 5 years old.
1. Martha Coakley won 80 percent of the Cambridge vote. Kudos to Coakley, but what did Charlie Baker do to piss off that fair city across the Charles River? Did he refuse to rub the toe on John Harvard's statue for good luck? Fail to drive a Volvo inside the city? Insult Fidel Castro? She also walloped Baker in Somerville (73 percent), Brookline (66 percent) and Boston (66 percent).
2. Baker whiffed twice at a victory speech. He declined to do one on election night because Coakley hadn't conceded. When she finally did on Wednesday morning, he gave an informal thank-you.
3. Attorney General-elect Maura Healey is the most popular Democrat in the state. Her statewide winning 63 percent was slightly higher than Sen. Ed Markey's 62 percent. He cruised to an 80 percent victory in Boston, to her 81 percent.
4. Once again, Secretary of State William Galvin predicted low turnout. The state official responsible for maximizing voter participation likes to predict low turnout. He thus legitimizes the act of not voting. Actual turnout was slightly higher than four years ago.
5. Michael Jonas wrote in Commonwealth magazine that Gov. Deval Patrick probably hurt Coakley. She had little to point to with the troubles in the Department of Children and Families, the botched drug tests in the state drug lab, the lack of oversight of a compounding pharmacy that caused the deaths of 48 people from meningitis, and the dopey licensing of dispensaries for medical marijuana. Ug-ly!
6. Jeffrey McCormick spent over $1 million on his independent campaign and got fewer votes — 16,106 — than signatures — 17,000 — on his nominating petitions.
7. Evan Falchuk probably got his independent party on the ballot in 2016, by getting 3.3 percent. He did it with more than a million bucks of his own money and an bedhead hairdo favored by Hollywood types and much younger men.
8. Never ignore a bad poll. A Boston Globe poll showing Baker ahead by 9 points was condemned as an outlier, but painful experience has taught me to pay heed to a negative trend.
9. Superior GOTV is no substitute for a strong, clear message. The Democratic field operation was said by Coakley strategists to be worth 5-7 points. If so, without the ground game, Coakley would've lost the unassisted count by 7-10 points.
10. If the press thinks a bad story is too complicated, you can get away with ducking it. Baker isn't done with the alleged New Jersey pay-to-play scandal. The report on the investigation implicating Baker was put off by his pal Gov. Chris Christie. But Christie can't sit on it forever; it's due out soon.
11. Big name endorsements don't move voters. They rally the troops, raise money and improve morale but they rarely change voters' minds. The Clintons, Vice President Biden, First Lady Michelle Obama didn't change the race for Coakley.
12. You can get away with a fabrication in a televised debate if telling it makes you cry. Will we ever learn if Baker's fish tale is a composite, an urban legend or just plain BS? If the fisherman exists, will he ever surface?
13. Why didn't Coakley's campaign make a TV spot on Baker's fish story or his NJ pay-to-play scandal?
14. Karyn Polito got away with looking like an mild-mannered running mate but she's been a firebrand, hardline anti-choice, anti-marriage-equality conservative. She has spoken kindly of the Tea Party and Allen West, a former congressman from Florida who once compared the Democratic Party to Joseph Goebbels, the Nazi chief propagandist.
15. I'll never understand why Coakley's former boss, ex-Attorney General Tom Reilly, attacked her. A losing candidate for governor in 2006, Reilly called her charges "nonsense," when she criticized Baker's salary and job cuts while he ran Harvard Pilgrim; Baker found the "nonsense" quote a useful defense in a TV debate.
16. Voters see a Republican governor as a highly paid mall cop — someone to cut down on stealing and maintain a semblance of order — by the Legislature.
17. Baker campaigned as a Democrat. Will he govern like one?
18. Democrats can be disloyal. Two endorsements of Baker stood out: The alleged Democratic mayors of Quincy and North Adams (Coakley's hometown) endorsed Baker, as did other of the genus Democratus Traitorus. Will they land in Baker's government?
19. Either being gay matters or it doesn't. Richard Tisei spoke matter-of-factly in a closing TV spot about "my husband." If being gay shouldn't matter, why advertise it? Democrats Maura Healey and Lt. Gov. candidate Steve Kerrigan are openly gay but didn't publicize it.
20. Nobody cares about bellwether towns once votes start coming in.
Dan Payne is a Democratic analyst for WBUR.