Commentary: Can Donald Trump Be Stopped?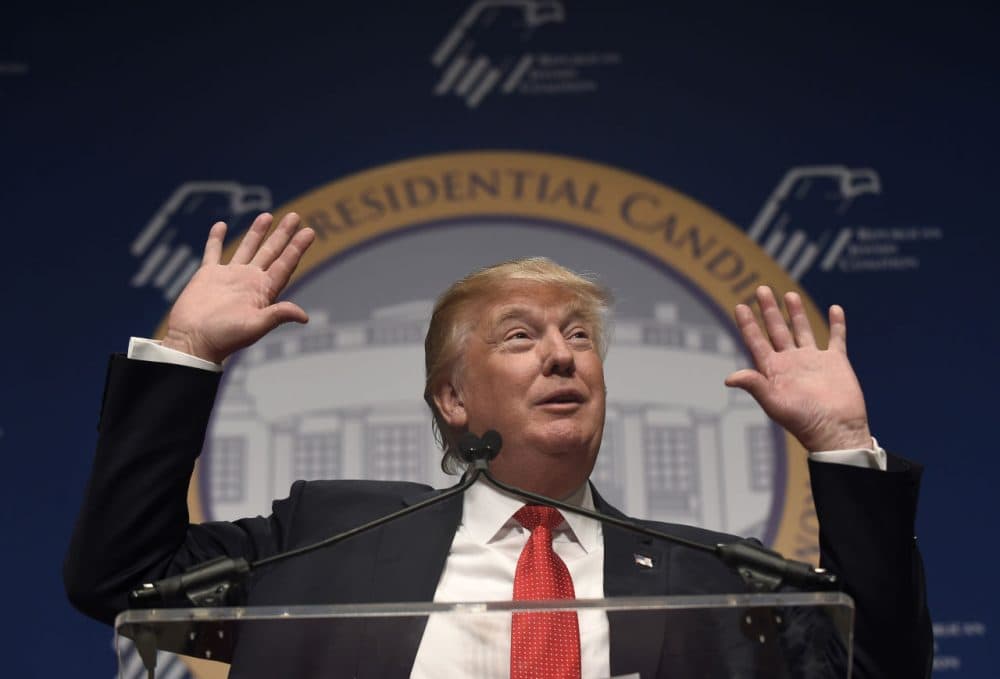 This article is more than 4 years old.
For many months The Donald has been The Frontrunner. As the Republican establishment ponders recent polls showing his lead growing for the GOP presidential nomination, the question now is whether he has become The Inevitable.
There are many scenarios where Trump would fail in his bid, but which are still plausible?
A deadlocked GOP convention picks someone else. If the multiple-candidate field continues to be split through the primaries, it's possible -- especially with proportional representation of delegates in many states -- that no candidate would have a lock on the GOP nominating convention in advance. Even if Trump had a plurality of delegates, some speculate that leading rivals, GOP public officials and party operatives would collaborate to deny him a majority. That's a plausible scenario, but unlikely because the field of candidates usually narrows down quickly after the first few states vote. And if Trump had the most delegates but was denied the nomination because of what he would call collusion and backroom deals, the GOP would suffer a lot of divisiveness, bad publicity and perhaps Trump running as an independent candidate.
SuperPAC ad barrage. Washington Post pundit Chris Cizzilla suggested that the over $100 million raised by a super PAC supporting Jeb Bush might be more profitably spent in attack ads lampooning Trump. The assumption that Bush isn't going to win anyway was buttressed by the latest CNN poll showing Bush falling to a new low of 3 percent. That decline was despite the $29 million spent by Team Bush on advertising. (Compare that to the zero dollars Trump has spent on advertising.) But if pro-Bush advertising was so unpersuasive, why would anti-Trump advertising be more effective? If the GOP establishment hasn't found a message that undermines Trump's appeal, what would they be saying to good effect in such ads?
Trump will self-destruct. This is the oldest hoped-for scenario; Trump would make a gaffe that went too far in offending people and he'd start to decline in polls. Or maybe he'd show a flash of arrogance or anger that would convince his fans that he didn't have a presidential temperament. Do we really need to review all his "gaffes" and goofy mimicry to realize that he's Teflon Don to his supporters? After his most recent mocking of a reporter with disabilities, it was again thought that he'd pay a price for being malicious. But the new CNN poll says he's actually gone up in popularity – now at 36 percent, with second place Ted Cruz at 16 percent.
War will make people wake up. After the Paris bombings, and now with the terrorism in San Bernardino, California, some political analysts thought voters would get more serious about picking a qualified candidate for commander-in-chief, someone with great knowledge of foreign affairs and military issues. But the CNN poll shows that Trump's "strong man" persona is a convincing act to many GOP voters. On the question of who is most capable of fighting ISIS and managing foreign policy, Trump is far ahead of the other candidates.
Iowa will make him a loser. A few weeks ago, Ben Carson was a co-frontrunner with Trump in polls of Iowa. The conservative neurosurgeon had growing support from evangelicals who can win caucuses. Like past underdogs Mike Huckabee and Rick Santorum, it appeared the doctor was well positioned to pull off an upset victory. But then Carson made a few gaffes and showed a startling ignorance on foreign policy issues, and he's been declining in polls ever since. Some of Carson's support went to Ted Cruz and Marco Rubio -- but also to Trump. So beating Trump in Iowa now looks iffy again.
New Hampshire will be his undoing. Trump was thought to be a bad fit for the Granite State. He doesn't do the personal campaigning in diners; he's boastful and insulting; and he hasn't been consistently conservative. So-called establishment candidates — John Kasich, Jeb Bush, Marco Rubio and Chris Christie — are all doing credibly there. But they divide the anti-Trump vote. It's still possible that one will emerge as the main alternative to Trump, and that moderate Republicans and many independents will go to that candidate in the final week. But that's a possibility, not a probability.
Other candidates will drop out. It's thought that if some of the non-outsiders quit the race and endorse an alternative to Trump, then the majority of Republicans who don't support Trump in polls can then prevail. But even if Bush, Kasich and Christie all left the race and backed Rubio (now in third or fourth place in polls) and even if they could deliver all of their supporters to him, it would be insufficient. Those three candidates combined only have a total of 10 percent in the CNN poll. Add that to Rubio's 12 percent and you have 22 percent. Trump has 36 percent. Look at it this way: If you add the support of the three outsider candidates -- Trump, Carson and Cruz (Cruz is considered an outsider, despite being a freshman senator, because he's an anti-D.C. tea party conservative) -- they have 66 percent of the Republican electorate.
With Trump still far ahead in polls, and with only two months to go before voting begins in Iowa, the odds have shifted in his favor. But this is a crazy, unpredictable race and we'll probably see twists and turns that change the race dramatically. January should be a particularly wacky time -- with candidates dropping out, new ads and tactics tried out in desperation by lagging campaigns, new issues and gaffes, and undecided voters finally making up their minds.
So can Trump be stopped? Yes, but if it happens it will likely be a combination of several of these scenarios. For the GOP's sake, it shouldn't be the one where he's defeated behind closed doors at a deadlocked convention.
Todd Domke is a Republican political analyst and a regular contributor to WBUR Politicker.