Commentary: Is Bernie Sanders Making A Stealthy Comeback?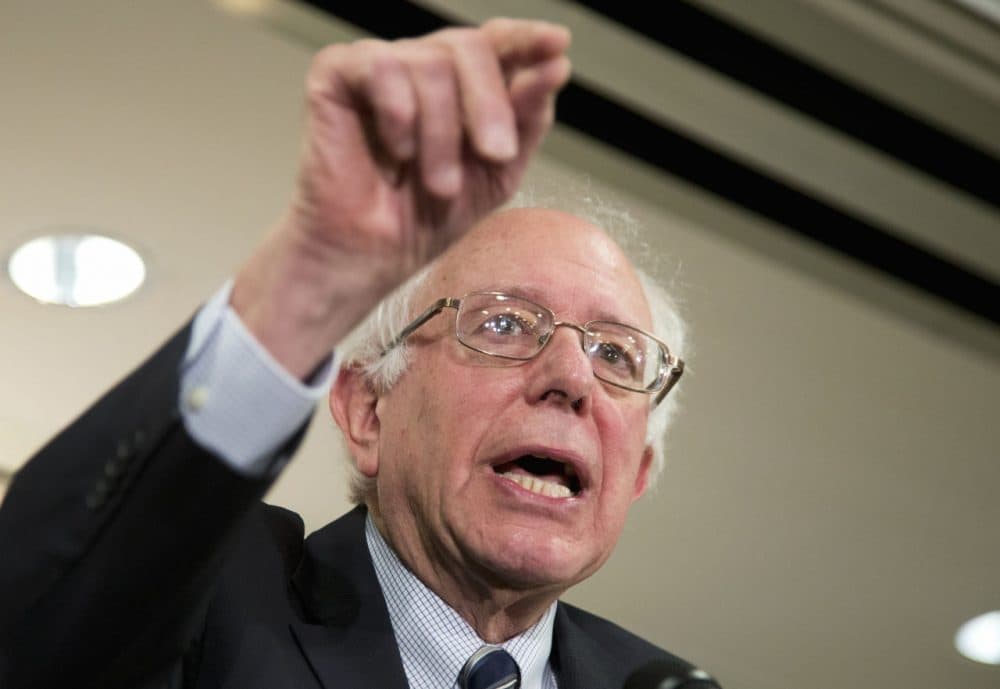 This article is more than 4 years old.
Democratic front-runner Hillary Clinton must be pleased that the focus has been on the Republican contest. Indeed, she often takes shots at Donald Trump and the Republican field, to keep attention on the GOP race. Her campaign even released a blog post of GIFs mocking the Republicans for supposedly misinterpreting the 1987 comedy film, "The Princess Bride," which is a favorite of Sen. Ted Cruz.
But a funny thing might happen on her way to a coronation: Sen. Bernie Sanders might defeat her in the Iowa caucuses and then in the New Hampshire primary.
The race has been tightening, according to polls. The Real Clear Politics poll average in New Hampshire has Sanders in the lead with 48 to Clinton's 44. Martin O'Malley has 4. The RCP poll average in Iowa has Clinton in the lead by 18, but the momentum seems to be with Sanders -- and caucus-goers tend to be the more passionate voters.
Steven Rosenfeld reported in Salon that certain poll questions reveal why Sanders might win:
...Sanders is stronger [than] Clinton on: "will do the most to rein in the power of Wall Street" (57 percent); "will fight the hardest for the middle class" (56 percent); "is most honest and trustworthy" (52 percent); and "cares most about people like you" (49 percent). His theme of "breaking up the large Wall Street banks" remains very popular, backed by 78 percent. Another 62 percent backed Obama's nuclear deal with Iran; 61 percent support legalizing marijuana; and 53 percent support "a single-payer health care plan."
Meanwhile, Sanders has announced some impressive breakthroughs in attracting support:
He won the endorsement of the Communications Workers of America. Its president said it was the decision of the union members to endorse him.
He also won the endorsement of Democracy for America, the progressive group that had tried to draft Sen. Elizabeth Warren for president. Out of more than 270,000 votes by its members, Sanders received 88 percent to Clinton's 10. The Washington Post reported that "It is the first time in the organization's 11-year history that it has opted to back a presidential candidate. And the decision is at odds with the preference of Democracy for America's founder, former Vermont governor Howard Dean."
The Sanders campaign announced it had, according to The Washington Post, "collected more than 2 million contributions, and that they expect to outpace President Obama's 2013 reelection effort on that count by the end of the year."
If you wonder whether all that good news makes the underdog feel more optimistic, Sanders told a reporter that he's already started to write his inaugural address.
Clinton remains the favorite, of course. She's still far ahead in national polls, and she too has made impressive progress in securing endorsements and raising money.
While Sanders has raised contributions that are only $30 on average, Clinton has raised a lot of money from special interest donors. David Sirota and Andrew Perez just reported in the International Business Times:
Hillary Clinton expressed surprise on Wednesday when a voter at a town hall in Iowa demanded she stop taking money from the fossil fuel companies. "Well, I don't know that I ever have," Clinton said. "I'm not exactly one of their favorites."

The former secretary of state — who had been pressed on the same topic at an event this summer — made those comments despite her long history of accepting millions of dollars of campaign and philanthropic money from energy companies and lobbyists, and despite her concurrent moves as a government official to help the fossil fuel industry. Indeed, while Clinton asserted this week in Iowa that she is "not in favor of drilling off our coasts," as a senator she broke with Democrats such as then-Sen. Barack Obama to vote to expand offshore drilling in the Gulf of Mexico.
In Saturday's Democratic debate, set for 8 p.m. from New Hampshire, Sanders will probably again stress the issue of special interest money from the "billionaire class," saying it has a corrupting influence on a system that is rigged against all who can't afford lobbyists. In that way Sanders has a populist appeal similar to Trump, who claims to be self-funding his campaign, even though he's spent more donor money than his own.
Many domestic issues will come up in the debate, unlike the recent GOP debate that was focused on terrorism and military issues. Clinton will likely be asked to further explain recent remarks about Obamacare restrictions that cause companies to push employees into part-time jobs.
The ratings for the Democratic debate won't be nearly as high as for the GOP debate. And that's the way the Clinton campaign likes it. Her supporters in the Democratic National Committee deliberately chose to have fewer debates, and apparently scheduled them at times when fewer voters would watch. That was meant to protect Clinton, in case she did poorly in debates.
But if voters are supposed to tune out, someone forgot to send the memo to Sanders supporters. They remain interested and determined. So the supposedly shrewd Clinton strategy might not turn out so well. Voters like to feel that their votes are needed, rather than taken for granted.
If Democratic voters buy the idea that Clinton has the nomination sewn up, Clinton supporters might feel free to stay home…and those who are still unenthusiastic might feel free to send a message of dissatisfaction with the status quo by voting for Sanders.
Todd Domke is a Republican political analyst and regular contributor to the WBUR Politicker.