In N.H., A Familiar Narrative Surrounds Democratic Presidential Candidates
05:30
Play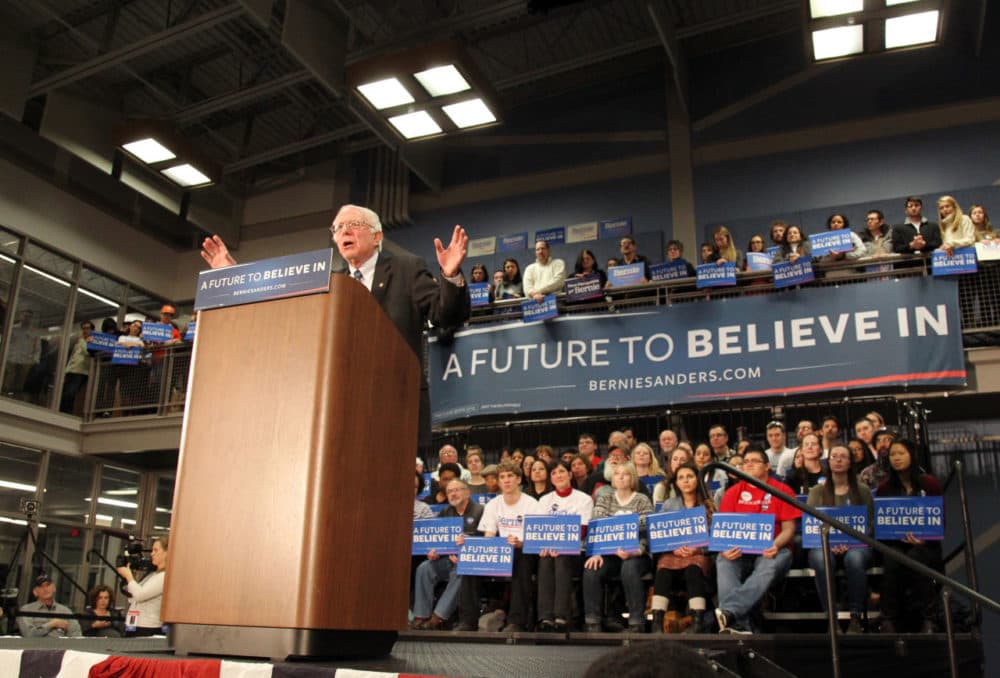 This article is more than 5 years old.
It's a close race for the Democratic presidential nomination in New Hampshire. With one more month to go, candidates Bernie Sanders and Hillary Clinton, along with some big name surrogates, will spend the next few weeks trying to solidify their support and sway undecided voters.
For voters in the state's western precincts, near the Vermont border, Sanders is something of a known quantity.
Former President Bill Clinton took a spin through the state last week, and he told NBC's Andrea Mitchell that the Vermont senator has a leg up over his wife in the Granite State, saying that's because Sanders is the boy-next-door.
"No candidate who borders New Hampshire has ever lost a primary here except when Howard Dean lost to John Kerry, because they both did," he said.
That's close to true: Actually, former Massachusetts Gov. Mitt Romney lost to John McCain in 2008, and then-Massachusetts Sen. Ted Kennedy lost to Jimmy Carter in 1976. But neighbor-state winners have typically been the rule.
And in 1992, Clinton hyped his second-place New Hampshire finish to then-Massachusetts Sen. Paul Tsongas as a resurrection for "the Comeback Kid."
Dante Scala, a political scientist at the University of New Hampshire, said the former president's words last week play into the familiar expectations game.
"I think that's all part of the gamesmanship," Scala said. "Not that there isn't some truth to it."
Sanders' partisans have said the senator doesn't have to win outright in New Hampshire to stay viable — although he certainly hopes to win there. They have also pointed out that Hillary Clinton is very well-known in New Hampshire, where she defeated Barack Obama in 2008 and laid down organizational groundwork that gave her a head start on Sanders.
Even in western New Hampshire, on the Vermont border, familiarity with Sanders doesn't automatically mean favor.
"When he was mayor in Burlington, Vermont ... pretty hard to get along with," said Kathy Morse, laughing. Morse manages the Stone Arch Bakery in Claremont, an aging mill town on the Connecticut River. She's watched Sanders for decades on the Burlington television news station that serves her area.
"He was a good guy, I always liked his morals but ... he's always seemed angry to me," she said.
Even though Morse once volunteered for the Clinton campaign, her allegiance is now moving toward Sanders. Morse said she likes the record Sanders built on gun rights while representing rural Vermont, a record that's less restrictive than Clinton's.
"I just like my rights, and I want to be able to own a gun and carry a gun and protect my family," she said.
Gun control isn't likely to define the race, however, according to Paul Miller, the executive editor of the Keene Sentinel.
Keene is the region's largest city, and Democrats outnumber Republicans there nearly 2-to-1. Miller says his readers are most passionate about the issues of sustainable energy and the opiate epidemic.
"This state per capita has as big a heroin addiction crisis as any state in the country," he said. "I mean Hillary's first visit to Keene was a round-table discussion on the opiate crisis, and nothing else."
But Miller adds that Sanders is tapping into some strong emotions among voters in the region who feel forgotten by the political establishment.
"The curious thing for me maybe is the extent to which there might be an anti-establishment sort of phenomena afoot on the Democratic side. The Clintons, the Clinton-Bush thing. And to that extent if there is one, Sanders is it," Miller said. "I mean he plays well up against that. He speaks to issues that resonate with voters here. I think he's going to do well."
Even Clinton supporters, such as Linda Nelson, agree.
"The people are going back and forth between (them). He's a New Englander, and he is sending a big message about the middle class," Nelson said.
A retiree from Keene, Nelson is volunteering at a local Clinton phone-bank where intense outreach to undecided voters is underway. While recognizing the Sanders' appeal, she said she and other volunteers aren't shy about telling undecided voters about Clinton's long political resume. In fact, they emphasize it.
"So I speak to them about what I think is important, the issues," Nelson explained, "that I feel she is the one who has the most experience on the national level, and she has the contacts overseas and she's going to help keep our country safe."
The narrative of the Clinton-Sanders matchup — establishment politician versus progressive insurgent — is one that's become typical in New Hampshire's Democratic primaries.
"Sometimes, New Hampshire voters in are in a mood to send a message," said UNH scholar Dante Scala.
But not this century, Scala added, saying that it's been the establishment candidate who has carried the day. Al Gore beat Bill Bradley; John Kerry beat Howard Dean; Hillary Clinton beat Barack Obama. So, New Hampshire neighbor or not, a Sanders win would buck the trend.
"These battles have tended to be close-fought battles, which should be encouraging to Sanders, because in a close-primary battle ... you just don't know," said Scala.
And as he notes, who wins, who's second, and even what the margins are — those will all play a big role in which candidate moves beyond New Hampshire with the strongest wind at their back.
This segment aired on January 11, 2016.