Commentary: Spoilers Alert, They're Everywhere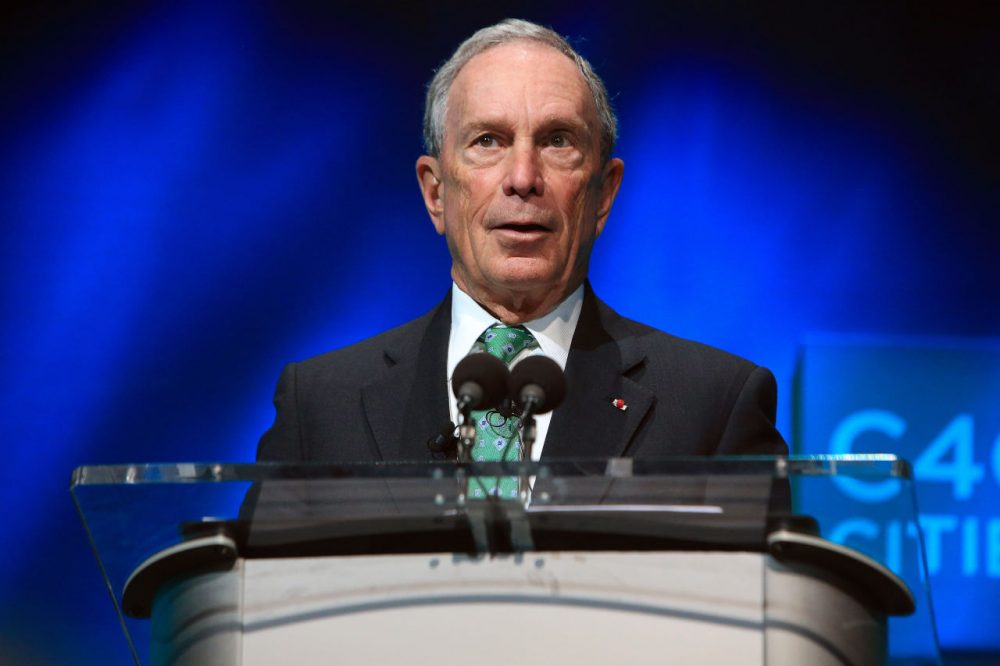 This article is more than 5 years old.
Aides to billionaire Michael Bloomberg, former mayor of New York City and soft drink menace, have told The New York Times that he may run for president as an independent.
Bloomberg left the Republican Party during his second term as mayor.  The well-known gun control advocate who supports same-sex marriage is appalled by the idea of New York businessman Donald Trump as president and is worried that Hillary Clinton may lose or be pushed too far to the left by socialist Vermont Sen. Bernie Sanders.
The 73-year-old founder and CEO of Bloomberg LP, a global financial empire, is worth more than The Donald, or about $37.2 billion. He paid for all three of his mayoral campaigns himself; and banned smoking in restaurants and bars, then parks and beaches.
Bloomberg's been a potential national candidate before, but this time, according to the Times' report, he's asked advisers to prepare a plan for him to enter the contest some time in March. One estimate is that he'd spend $1 billion, but a former mayoral opponent, Mark Green, says in Bloomberg math that means more like $3 billion. Should he run, he would be the latest spoiler in presidential politics, although it's not clear yet whom he might help or hurt (spoil) in a general election.
Consumer gadfly Ralph Nader took just enough voters from then-Vice President Al Gore in 2000 to cost Gore the presidency. Nader received almost 100,000 votes in Florida, which Gore lost by 537 votes in a seemingly endless recount calamity that resulted in the U.S. Supreme Court's Republican majority delivering the presidency to George W. Bush. In New Hampshire, which Bush won by 7,211 votes, Nader got more than 22,000 votes, three times Bush's winning tally.
Likewise, there are Republicans who believe billionaire businessman and deficit hawk H. Ross Perot performed sabotage on George Bush in 1992, giving the presidency to Bill Clinton. Perot received 18.9 percent of the popular vote, about 19.7 million votes, but zero Electoral College votes.
Closer to home, a third party candidate in Maine twice helped the crude Tea Party darling Paul LePage win the governor's office. In two straight elections, Green Party independent Eliot Cutler prevented the Democrat from claiming the governorship. His 8.4 percent in 2014 kept LePage in office.
LePage repeatedly refused invitations by the NAACP to attend a widely respected breakfast on Martin Luther King Day. LePage gave the Portland Press Herald a message for the NAACP: "Tell them to kiss my butt."
Which brings us to Bernie Sanders. He has a history of being a spoiler and "winning" a tiny percentage of statewide votes. In 1986, a client of mine, Madeleine Kunin, won the general election for Vermont governor, but failed to get the required 50 percent + 1 to be considered the official winner. Kunin got 49.47 percent, while Sanders, running on the Liberty Union label, got 14.4. That forced the election into the Vermont Legislature, which was evenly divided by party; the Assembly then ratified Kunin's popular vote victory.
Sanders ran as the Liberty Party's candidate for U.S. Senate in a special election in 1971 and finished with 2 percent of the vote. The following year, he ran for governor and received 1 percent. He would run two more times statewide as a third-party candidate and never come close. It was the first of four losing campaigns over the next five years (twice for Senate, twice for governor).
After three terms as mayor of Burlington, Sanders ran for Vermont's at-large House seat in 1988 as an independent and lost by a small margin to Peter Smith, the Republican former lieutenant governor. He won a rematch in 1990.
In the 1974 Senate campaign, Sanders almost cost Democrat Patrick Leahy a Senate seat. Sanders won 4.1 percent, to Leahy's 49.4 percent and two-term incumbent Republican U.S. Rep. Dick Mallary's 46.3 percent.
After Sen. Jim Jeffords announced his retirement, Sanders jumped into the U.S. Senate race in 2005, and the Democratic Senatorial Campaign Committee endorsed Sanders, which meant that no Democrat running against Sanders could expect to receive financial help from the party. Sanders was also endorsed by Senate Minority Leader Harry Reid of Nevada and Democratic National Committee Chair and former Vermont Gov. Howard Dean, (who is now supporting Clinton). Sanders was reelected in 2012 with 71 percent of the vote; he was only the third senator from Vermont to caucus with the Democrats, after Jeffords and Leahy.
In 1979, Sanders resigned from the Liberty Party and worked as a writer and director of the nonprofit American People's Historical Society, where he made a 30-minute documentary about socialist leader and presidential candidate Eugene Debs, Sanders' professed hero, the man who founded the American Socialist Party and ran unsuccessfully for president six times.
Dan Payne is a Democratic political analyst and a regular contributor to WBUR Politicker.