Commentary: How Bernie Can Make A Contest Of It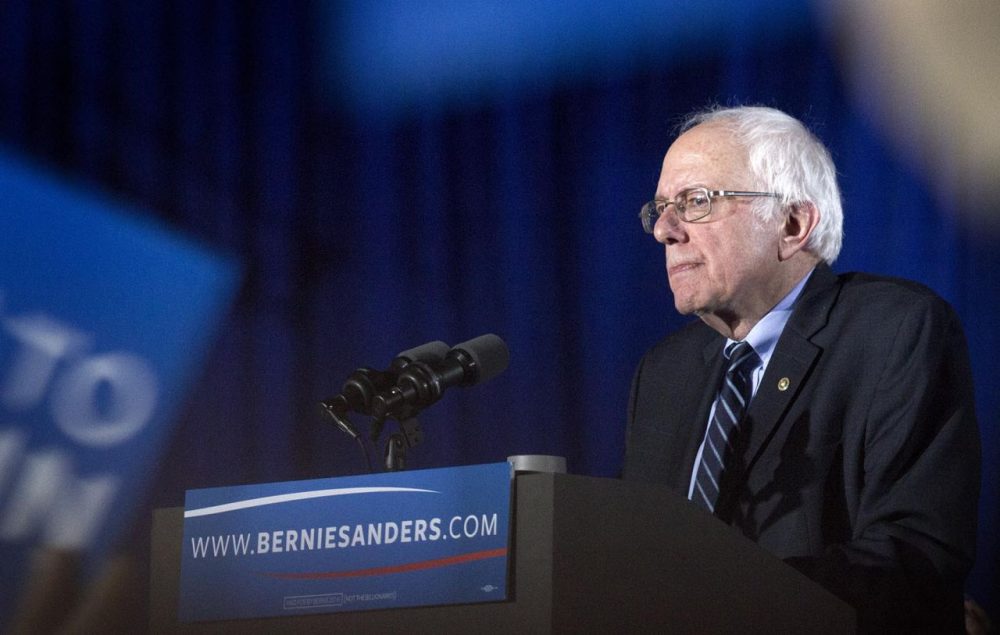 This article is more than 5 years old.
OK, it doesn't look good for Bernie Sanders after Super Tuesday. But there are some ways for the Vermont senator to make it interesting or even become the nominee.
According to The New York Times, Hillary Clinton is, with 1,052 delegates, about halfway to getting the number of delegates needed to claim the nomination. But she ain't there yet. Sanders has 427 delegates.
First, the Times says a large chunk of her delegates (457) are "superdelegates" — mostly elected and party officials who are free to vote for whomever they please. Because of their longtime ties to both Clintons, they are overwhelmingly in favor of Hillary. Sanders has never been a party animal; chances are, he hasn't met very many of them. But these automatic delegates above all want to win; if Clinton becomes problematic (more on this later), they will leave her.
Second, Sanders didn't get trounced on Super Tuesday, except in Southern states with large African-American populations. He won four states in, as Mark Shields noted on PBS "News Hour," four time zones. Clinton's Southern state wins (Alabama, Arkansas, Georgia, Tennessee and Texas) will not likely repeat in the fall, making her win enjoyable but temporary. Bill Clinton told Politico that Arkansas politics has changed so much he doubted he could win there today.
Third, Sanders is still raising a ton of money -- $42 million in February alone -- enough to keep going for months, maybe years. Sanders raises it online and through social media. A simple verbal cue  -- "go to BernieSanders.com" -- can produce millions almost instantly. Clinton has to keep raising funds, as she did the day after Super Tuesday, by showing up at grand soirees and schmoozing the wealthy; these activities are a drain on the candidate's schedule, checkbook and energy.
Fourth, Sanders is beating Trump head-to-head by 8 points, 49.8 percent to 41.8 percent, according to Real Clear Politics' latest polling average. Clinton is beating Trump by just over 3 points, 45.4 percent to 42.0 percent, in Real Clear's match-up. Admittedly, these results don't reflect the big day Clinton and Trump had on Super Tuesday. But Sanders has had a measurable lead over Trump.
Fifth, Sanders hasn't yet made his appeal among men a major part of his pitch. He appears on stage with his wife and a backdrop of college kids.  He needs to have some of the men, who are the bulk of his vote, standing on the stage with him. Not just hardhats -- although they are good -- but also guys in business suits and nerdy techies with bad haircuts and ugly T-shirts.
Sixth, the states that lie straight ahead are ripe for his message. Michigan on March 8, and Ohio and Illinois a week later, are full of angry blue-collar workers who make (or used to make) cars, tires, engines, transmissions, axles, etc. They like Trump's bashing trade deals but they will love a populist message that the bosses are getting rich and they are getting laid off. Forget Wall Street. They want to hear the guys in the fancy homes in Grosse Pointe, Michigan, and Shaker Heights, Ohio, and Winnetka, Illinois, are doing just fine while they're struggling or out of work.
Seventh, we may be at the dawn of a new Democratic coalition, one that merges college graduates, minorities and women. Many of them are registered independent or unaffiliated -- and he's winning independent voters in state after state, even as he loses the state to Clinton. They're not in love with socialism, perhaps because it sounds like something foreign or un-American. So he should talk about a New Coalition of Progress. It's the kind of thing they love to crack and peel on cable TV. CNN has more analysts than the CIA with only a few with original ideas.  
Eighth, if he keeps winning caucuses as he did on Super Tuesday, it keeps his delegate totals growing, and that makes Sanders a factor at the convention. Also, the Democrats don't have winner-take-all primaries, so Sanders can keep picking up delegates all the way to (and at) the convention in Philadelphia, even if he loses states.
Ninth, Clinton still has trouble explaining her speaking fees, emails and content of speeches to Wall Street. He shouldn't wait for debates to raise these questions; her non-answer to CNN's Anderson Cooper on why she was paid so much, "I don't know, that's what they offered," betrays ignorance of what average people would think. It's showing in her ratings; Huffington Post's tracking has her underwater at 54 percent unfavorable to 40 percent favorable. Trump's below sea level at 58 percent unfavorable to 36 percent favorable. Sanders stands alone with a net positive — 58 percent favorable to 38 percent unfavorable. 
Tenth, wait. Wait for Clinton to get indicted for mishandling her emails which allegedly contained top secret information. A Rasmussen poll in late January found that 64 percent of likely voters think it is likely Clinton broke the law by sending and receiving emails containing classified information through a private email server. That's up from 59 percent in September and includes 47 percent who say it's very likely. If an indictment occurs before the convention in mid-July, it would end her candidacy. It could bring Sen. Elizabeth Warren off the sidelines to endorse Sanders. Regardless, he's still alive and drawing huge crowds at 74, which, as Larry David would say, is pretty, pretty good.
---
PS: The most shameful political act of the year is being performed by New Jersey Gov. Chris Christie who gave up his principles and criticisms to endorse — perhaps "pimp for" is more accurate — Trump. I'd like to see Sanders call him out for it.
Best quote of the week, maybe the year, came from Sen. Lindsey Graham of South Carolina: "If you killed Ted Cruz on the floor of the Senate, and the trial was in the Senate, nobody would convict you."
Dan Payne is a Democratic political analyst and regular contributor to WBUR Politicker.