Commentary: Was Sanders' Michigan Win A Fluke Or A Harbinger?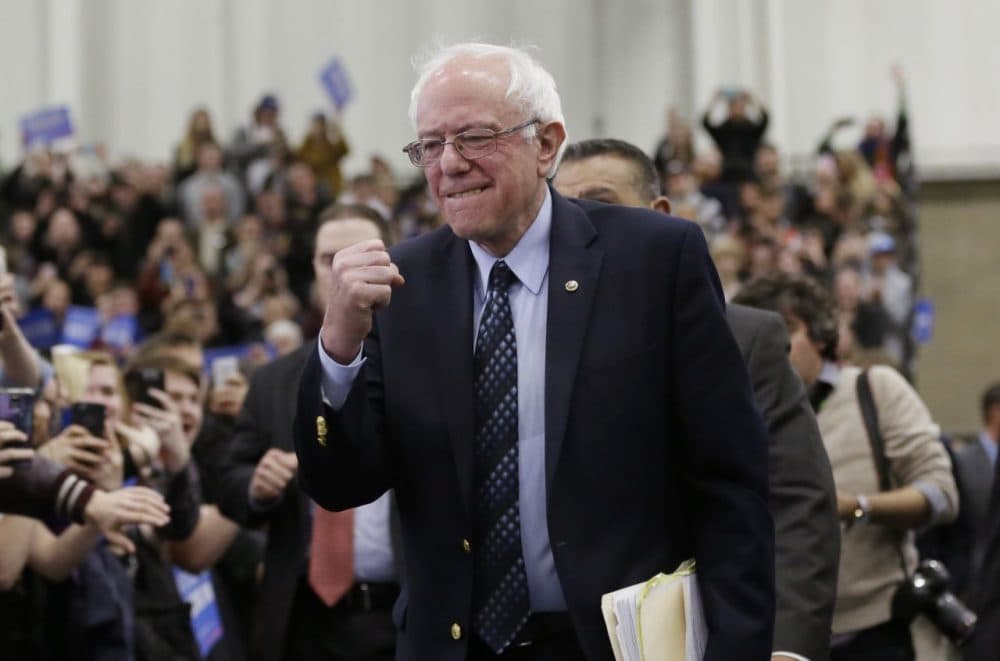 This article is more than 5 years old.
Hillary Clinton, along with the entire political commentariat, was stunned to feel the Bern in Michigan on Tuesday. While (owing to the peculiarities of delegate selection) her delegate take (70) was slightly higher than that of Vermont Sen. Bernie Sanders (67), his 1.5 percent popular vote margin in Michigan was easily the Upset of the Year. Even the always reliable Nate Silver's FiveThirtyEight oddsmaker website never saw it coming.
Few public polls were done the week before the Michigan primary, so Sanders' late surge went undetected. Clinton's own supporters, including Rep. Debbie Dingell, seemed to know what lay ahead; she said in the closing days that the race was tightening, but that Clinton would prevail.
As a rule, campaigns have better polls than the news media or colleges; campaigns only reveal their own numbers if they believe public polls are hurting them with the news media or donors.
Many of the expectations for Michigan grew out of Clinton's relatively easy wins in southern states on Super Tuesday, which were fueled by her overwhelming support from African-Americans. In some states she beat Sanders among black voters by margins of 6-1 or more. In Mississippi, which she also won on Tuesday, she won about 90 percent of the black vote. By contrast, in Michigan, she carried "only" 68 percent of the African-American vote. While Sanders got 30 percent of black voters in Michigan, in Alabama and Arkansas he got only about 10 percent.
Many black voters in Michigan are members of the middle class and live in suburbs, having fled the high crime and poor schools of Detroit and other cities. They hold professional jobs — as accountants, lawyers, engineers, physicians, software developers, professors, business owners or government officials.
As African-American commentator Donna Brazile put it on CNN Tuesday evening, "Black folks in the North vote differently than black folks in the South. You can't pander to them. You've got to have a strong economic message."
Sanders outspent Clinton in Michigan on ads by $1 million, $3.6 million to Clinton's $2.6 million.
Meanwhile, he ran a strong, disciplined, smart campaign which blamed international trade deals, especially the North American Free Trade Agreement (NAFTA), for the disappearance of Michigan manufacturing jobs — an analysis he shares with Donald Trump.
Sanders was able to make Clinton guilty by marriage, as he tacitly blamed former President Bill Clinton's administration for deregulation of the financial industry, which he argued led to the Great Recession. He continued this line of attack, without naming Bill Clinton, in the Univision debate on CNN on Wednesday.
Hillary Clinton, to her credit, focused her Michigan campaign on the poisoning of the Flint drinking water, a national story that overshadowed the plight of anxious workers in other hard-hit cities and factory towns. Famous auto industry sniper and documentary filmmaker Michael Moore, a native of Flint, endorsed Sanders. He attacked Clinton for being for the war in Iraq, against gay marriage and in favor of the Patriot Act. Her concentration on Flint probably hurt her with voters who were "very worried" about the economy, where Sanders beat her 56 percent to 40 percent.
Clinton may have overplayed her hand accusing Sanders in a debate of opposing the auto bailout, which was included in a Wall Street bailout that he had opposed. The New York Times, which has endorsed her candidacy, took Clinton to task the day after Michigan for unfairly attacking Sanders on his vote against bailing out big banks and trying to tie him to the National Rifle Association. (By the way, like Sanders' Vermont, Michigan is a big hunting state.)
Part of Clinton's trouble resulted from long-standing weaknesses. She continued to have problems with young voters especially in college towns like Ann Arbor, and with white men, who were drawn to Sanders because he pointed to NAFTA as damaging the U.S. economy. Clinton was also seen as less honest and trustworthy than Sanders, a weakness that she has struggled with for months.
Sanders said after his narrow win, "What tonight means is that the Bernie Sanders campaign, the people's revolution that we're talking about, the political revolution that we're talking about, is strong in every part of the country."
As the race heads to Illinois and Ohio on Tuesday (two more Great Lakes industrial states) as well as Missouri — all three places hit hard by the Great Recession and the loss of manufacturing jobs — the question is still this: Was Michigan a fluke or a harbinger?
Dan Payne is a Democratic political analyst and a regular contributor to WBUR Politicker.