Analysis: Is Trump Giving Up On Massachusetts?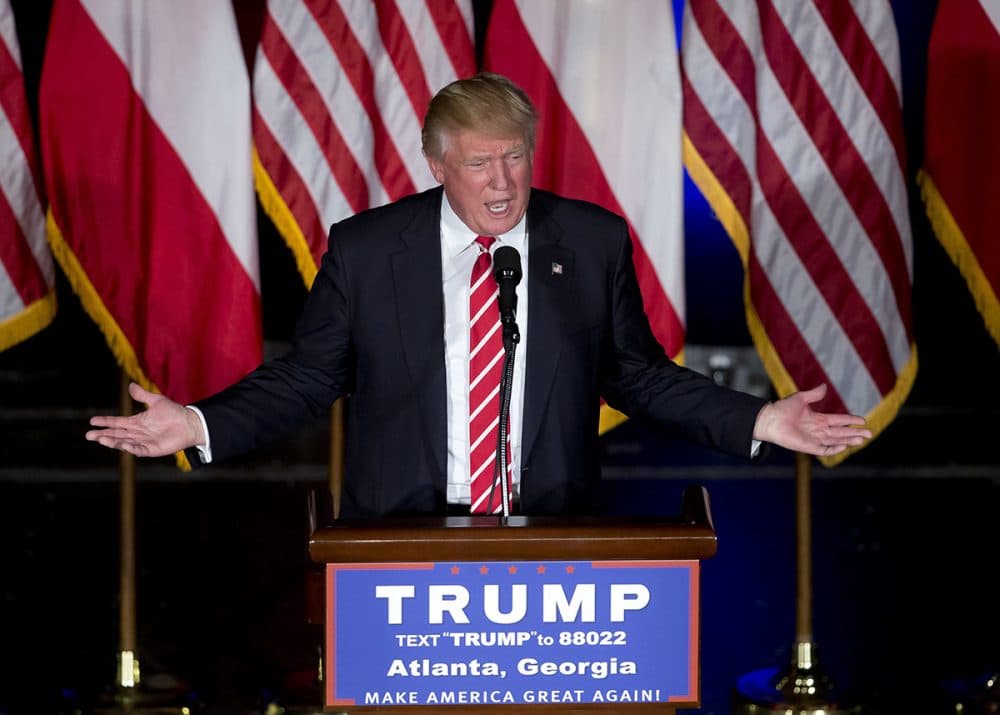 This article is more than 4 years old.
The Donald Trump campaign recently raised a lot of eyebrows around Massachusetts by suggesting the presumptive Republican presidential nominee could put the state in play for the GOP. Since then, it's been mostly radio silence from the Trump camp on the issue, even as Trump himself has promised to expand the map to include usually deep blue states like New York and California. Asked whether Massachusetts remains in play for Trump, several campaign officials either declined to comment or did not return phone calls or messages.
The state Republican party was similarly noncommittal about the idea of a Trump push in Massachusetts. When asked if the state party was working with the Trump campaign to contest the state, Massachusetts GOP spokesman Terry MacCormack sent this statement via email:
While every candidate will run their own campaign with a focus on issues important to their respective communities, our responsibility as a state party is to collaborate with everyone to turn out Republican voters in November. We are pleased to have strong working relationships with GOP campaigns up and down the ticket.
Massachusetts Republican national committeeman and Trump supporter Ron Kaufman offered a different take, saying that "the state party in Massachusetts will support the entire ticket." But he said he does not know if the Trump campaign plans to focus on Massachusetts.
The lack of a ringing endorsement or a clear plan from the state party to help Trump is not especially surprising. Gov. Charlie Baker, the de facto head of the state's GOP, made his distaste for Trump well known early on in the primaries. The idea of a Trump victory in Massachusetts was always a long shot, to say the least. And Trump's unpopularity in the state could challenge the state party's strategy of focusing on gains in a set of legislative races.
Trump Remains Deeply Unpopular In Massachusetts
Adding fuel to the fire, a new poll out Thursday morning by the consulting firm Morning Consult confirms Massachusetts remains a very long shot for the Trump campaign and a potential negative influence further down the ballot. Nationally, both Trump and presumptive Democratic nominee Hillary Clinton are about equally disliked, but in Massachusetts Trump is in a much deeper hole than Clinton.
Only one-third of voters (33 percent) offer a positive assessment of the presumptive Republican nominee; twice as many (65 percent) view him unfavorably. Clinton is also underwater, but her head is much closer to the surface (44 percent favorable versus 54 percent unfavorable).
The Trump campaign might be forgiven if winning one of the bluest states in the union has slipped off the bottom of their to-do list.
In the past week, Trump has lost ground to Clinton in national polling average. The first poll after the mass shooting in Orlando found a deeply negative reaction to Trump's response to the tragedy. Many national Republican leaders have tempered their support for Trump or backed away altogether in response to his post-Orlando remarks and his attacks on the ability of an American-born federal judge to be impartial based on his Mexican immigrant parents. At the state level, a new Marquette University poll shows Trump down 9 points in the vital swing state of Wisconsin. And an eye-popping new poll of Utah finds Trump tied with Clinton in what is usually one of the reddest of red states.
Massachusetts Matters Anyway
Even if Trump cannot win Massachusetts or chooses not to contest it, the Bay State could be an effective source of fundraising, if the campaign shifts into conventional presidential fundraising mode. Trump had a Boston fundraiser scheduled this past week but cancelled it after the Orlando tragedy.
Massachusetts is also usually a fertile source of volunteers for New Hampshire -- when and if Trump marshals a ground game of any heft. This year, with no statewide races on the ballot, and no congressional races expected to be competitive, Bay State volunteers may be more available than usual.
But there are no signs that winning Massachusetts remains a campaign priority. In April, Stephen Stepanek, New Hampshire co-chairman for Trump, said "I predict that in November, Massachusetts is going to vote Republican."
If anyone in the campaign is still predicting that outcome, they are being awfully quiet about it.
Steve Koczela is president of the MassINC Polling Group and a regular contributor to WBUR Politicker.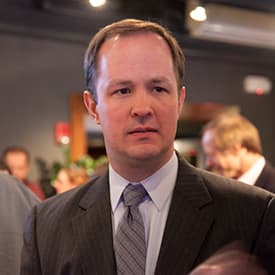 Steve Koczela Contributor
Steve Koczela is the president of The MassINC Polling Group and has overseen WBUR's polling since 2011.