Clinton Raised $7.3 Million In Massachusetts To Trump's $105,000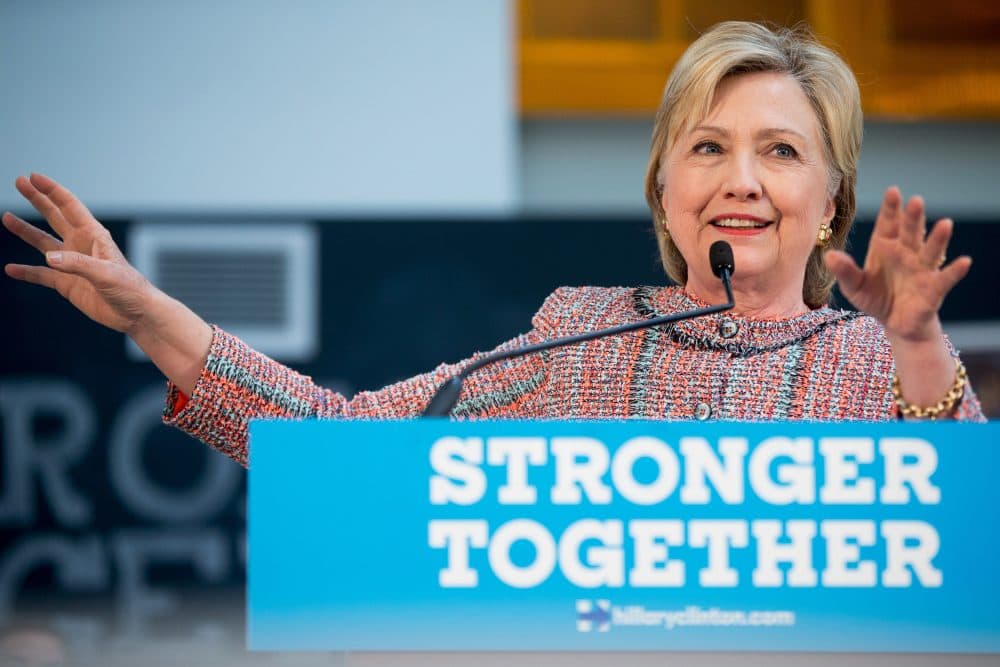 This article is more than 4 years old.
Democratic presidential hopeful Hillary Clinton has raised more than $7.3 million from supporters in Massachusetts through the end of May, compared to the vastly smaller haul of $105,000 for presumptive Republican presidential nominee Donald Trump.
Despite the hefty financial support, Clinton still trailed fellow Democrat Bernie Sanders, who has raked in more than $7.5 million in Massachusetts. But the former secretary of state is zeroing in on the general election after rounding up enough delegates to claim her party's nomination.
A month ago, Sanders collected $500,000 more than Clinton. That's dropped to a $200,000 margin, according to an Associated Press review of campaign finance records filed with the Federal Election Commission.
By contrast, Trump had just the ninth highest fundraising total among Republican candidates in Massachusetts through the end of last month, despite having effectively clinched his party's nomination near the beginning of May.
Trump is expected to add to his Massachusetts total Wednesday when he swings through Boston for a fundraising stop.
U.S. Sen. Marco Rubio of Florida, who dropped out of the running in mid-March, has taken in nearly six times as much as Trump from Massachusetts backers, about $660,000, the most of any Republican here.
While both parties routinely look to Massachusetts as a kind of political ATM, the liberal-leaning Bay Staters have been far more generous to Democratic candidates. Of the more than $18 million in donations made so far, about $15.2 million went to Democrats while just $2.9 million went to Republican presidential hopefuls.
The size of donations to each candidate was significantly different.
Sanders routinely bragged about having a small average donation of just $27. In Massachusetts, it was slightly higher at $70, but still smaller than Clinton, who has an average $215 donation in the state, and Trump, who averaged $255.
There also were geographic differences.
More than half of the money raised by Sanders — about $4.3 million — came from Boston and some of its surrounding communities, including Cambridge, Medford, Somerville, Quincy, Braintree, Weymouth, Chelsea and Revere. Many of the communities include a high number of younger, college-age residents. Clinton raised about $2.5 million from the same area.
Clinton remained stronger in some of the wealthier suburbs west of Boston, including Weston, Wellesley, Newton, Lexington, Arlington and Brookline. In Weston — a community with 491 millionaires despite having a population of fewer than 12,000 - Clinton raked in nearly $146,000 compared to Sanders who pulled in just over $16,000.
A similar difference is found in neighboring Wellesley, another wealthy community with a population of nearly 28,000, where Clinton raised $196,000 compared to Sanders' $36,000.
Clinton also outperformed Sanders in some less-wealthy but more politically conservative areas, like Cape Cod, while Sanders edged out Clinton in portions of western Massachusetts. In liberal-leaning Amherst, for example, Sanders raised almost $93,000, compared to Clinton's $29,000.
In contrast, Trump raised relatively paltry sums in Massachusetts — despite having won nearly half the vote in the state's Republican primary, one of his strongest early showings. In the same area of Massachusetts where Sanders raised $4.3 million for example - Boston and some of its surrounding communities — Trump pulled in a mere $16,000.
In Wellesley, where Clinton raised $196,000, Trump pulled in just over $4,000. And Weston residents, who poured $146,000 into Clinton's coffers, showed no contributions to Trump.