Commentary: What Democrats Must Do To Win The Senate (Part 2)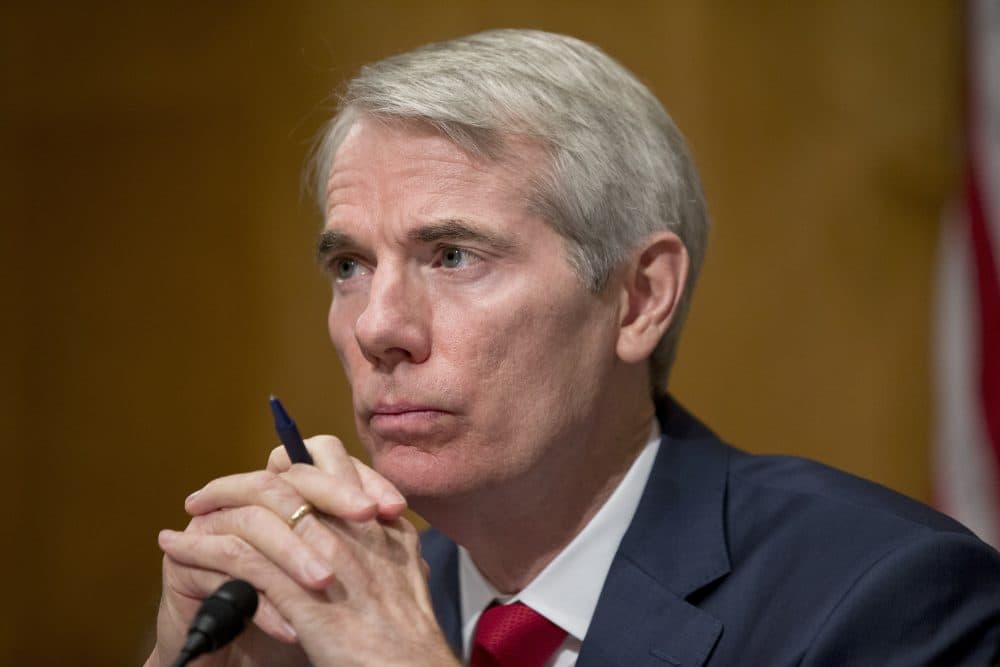 This article is more than 4 years old.
Besides the presidency, November's elections will determine the composition of the Supreme Court, with one vacancy, and the U.S. Senate, where a change of just four seats could give Democrats control.
In my last column, I looked at three vulnerable GOP senators: Kelly Ayotte of New Hampshire, Ron Johnson of Wisconsin and Mark Kirk of Illinois. In this installment, I focus on three more Republicans in blue or near-blue states who are in better shape but are undoubtedly having sleepless nights.
First up is Ohio Sen. Rob Portman. The Ohio Senate race is a virtual tie; it went from a 9-point lead for the Democrat, former Gov. Ted Strickland, to a 42-42 percent standoff in a recent poll.
Strickland is under a $1.5 million blizzard of TV attack ads sponsored by the Koch brothers blaming him for the state's economic woes during the Great Recession. Strickland's favorable-unfavorable rating went from 37-31 percent to 38-42 percent unfavorable.
Back in March, Donald Trump declared in Columbus: "Winning Ohio is so important, it's going to send a signal like nothing else." Ohio's voters sent the signal that they preferred their present governor, John Kasich, who easily beat Trump in the primary, 47 percent to 36 percent.
Kasich has declared no interest in being Trump's running mate. Trump dismissed Kasich's budget success by claiming the state got lucky and struck oil on public land, an argument judged "false" by Politifact, an independent watchdog group.
While planning to attend the Republican National Convention in his home state, Kasich says he won't be a disruptive force for Trump. Kasich is working the state hard for Portman, even setting up a political action committee for him.
The Garland gamble: Portman sides with Majority Leader Mitch McConnell in refusing to hold hearings on President Obama's Supreme Court nominee, Judge Merrick Garland. In Ohio, 56 percent of voters say Garland's nomination should move through the Senate, with 38 percent saying no.
Hillary Clinton leads Trump in Ohio by a scant 3 points in the Real Clear Politics polling average. Ohio will be, as always, a key state in November's elections.
Pennsylvania Sen. Pat Toomey won narrowly (by 2 points) six years ago. This time he faces Katie McGinty, a former top state and federal environmental staffer who bested three opponents in the March 26 primary. Two polls in late June showed Toomey with 1-point leads over McGinty.
Another poll, by Quinnipiac University, revealed deep gender and racial divides. Men supported Toomey 53 percent to 36 percent, while McGinty's vote was a majority female, 51 percent for her over Toomey's 38 percent. White voters favored Toomey 51-40 percent, as McGlinty cleaned up among minorities, 65-38 percent.
While the horse race is a virtual tie, views on the president's Supreme Court nominee are not: 64 percent of Pennsylvania voters want a Senate hearing now on Judge Garland, compared to only 19 percent who want to wait for a new president. Toomey sides with McConnell (14 percent favorable, 43 percent unfavorable in Pennsylvania) in refusing to hold hearings.
McGinty has a lengthy environmental record on the staffs of former Vice President Al Gore, President Bill Clinton's White House and former Pennsylvania Gov. Ed Rendell. She left her post as chief of staff to Gov. Tom Wolf to make this run.
Trade has emerged as a key difference, with Toomey favoring the new Trans-Pacific Partnership and McGinty bucking her own campaign chair (Rendell) and President Obama in opposing it.
Both candidates are trying to tie the other to their respective presidential candidates. Toomey says McGinty agrees with "Hillary Clinton and the most liberal wing of the Democrats on everything." Not true, Politifact found. McGinty said the day after winning the primary: "Sen. Toomey has benefited directly from Donald Trump. Donald Trump has done fundraisers that have supported Sen. Toomey's campaign," she said.
An ad by the Club for Growth, a conservative organization that operates a super PAC and where Toomey had been president, claims falsely that McGinty gave "millions" in state grants to her husband's company. FactCheck.org found $4,000 in grants went to a public charity where her husband was a consultant and had no control.
In the presidential race, Clinton holds a slim 2.3-point lead, according to the Real Politics average of recent Pennsylvania polls.
Florida Sen. Marco Rubio adamantly declared as recently as May 16 that he would not run for re-election. "I have only said like 10,000 times I will be a private citizen in January," he tweeted.
He may still find himself in private life if he doesn't win back his Senate seat in November, after Donald Trump crushed him in his home state by 18 points.
Rubio has performed what Olympics' announcers might call a full-twist-reverse-back flip, as he said he will run for re-election. After asserting that he will attend Trump's coronation in Cleveland, release his delegates to vote for Trump, and speak on his behalf if asked, he did a reverse handstand. Just this week he told the Tampa Bay Times he will not be going to the convention after all.
Why so many acrobatics? He's told friends and advisers he'd like to run for president again in 2020 or 2024 and as a private citizen that would be difficult. He also has to rebuild his standing with his state's Hispanic voters -- Cuban-Americans in Miami and Puerto Ricans in central Florida. He probably alienated the latter with his duplicitous stands on immigration during the presidential debates. The man he mocked as promising to "make America orange again" has a mansion in Palm Beach and may win Florida and be an ongoing force even if he fails to get to the White House.
Two Democrats will face off in the Aug. 30 Senate primary. Rubio leads U.S. Rep. Patrick Murphy 47 percent to 40 percent and U.S. Rep. Alan Grayson 48 percent to 40 percent, according to a Quinnipiac survey. A PPP poll showed Murphy up 42-41, with Rubio well underwater with a 30-49 favorable-unfavorable rating.
The presidential primaries may be over but Democrats will keep the Trump vs. Rubio wars before voters, probably in TV commercials. Rubio once ridiculed Trump as "a con artist" with "small hands," "a lunatic" with an "orange face." Trump for his part called Rubio "sweaty" and "little Marco."  They claim to have mended fences, although it's hard to imagine that Trump's hands have grown and Rubio has stopped sweating.
Another issue likely to dog Rubio is absenteeism. He's had an absentee rate of 8.2 percent -- four times the Senate average, making him the worst no-show in that body.
Rubio has been exposed by the New York Times for making a mess of his personal finances with the result that he had to consider leaving the Senate (annual salary $174,000) to make enough money to pay off his large debts.
As in other Senate races, Florida voters want Judge Garland to get a hearing, by a margin of 51 percent to 33 percent. Moreover, nearly six in 10 voters say Trump's comments about federal Judge Gonzalo Curiel were racist when he said that the judge in the Trump University case could not be fair because his Mexican heritage conflicts with Trump's promise to build a wall to keep Mexicans out.
Clinton leads Trump by 3.7 percentage points in Florida, according to the Real Clear Politics polling average.