Sanders' New Political Group Leaves Some Supporters Stoked About 'Revolution,' Others Skeptical
03:36
Play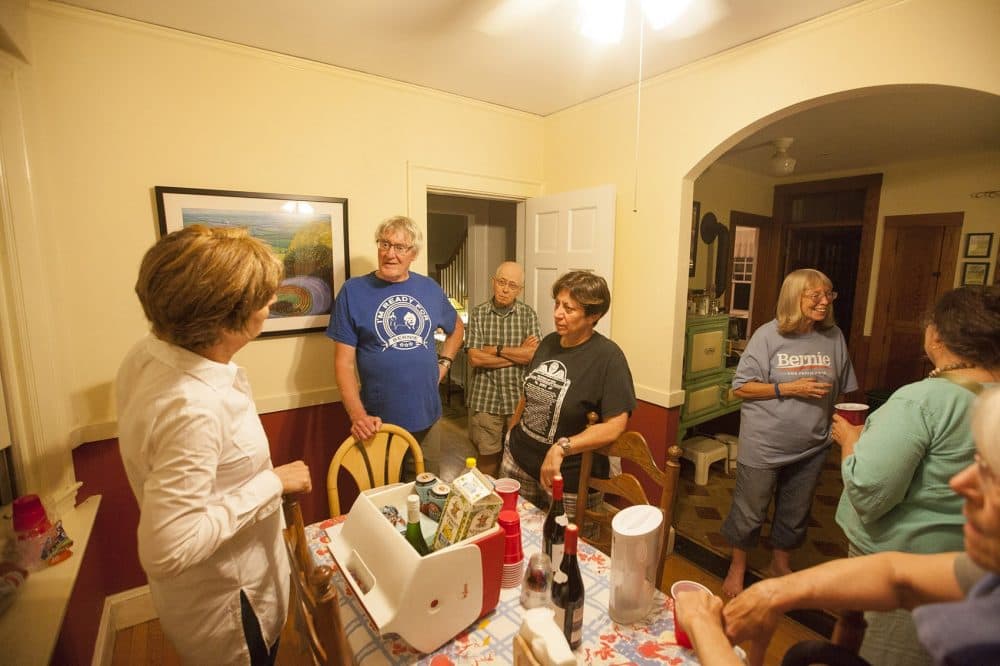 This article is more than 4 years old.
Bernie Sanders said Wednesday night he wants his new political organization, called Our Revolution, to support progressive candidates across the country.
It will also take sides in ballot questions in several states.
Sanders made the announcement in a livestream address, and it was the first chance his supporters had to hear from their candidate since the Democratic National Convention.
House parties to watch Sanders speak were held in every state.
Supporters Want To Attract 'Progressive Voices' To Government
In Boston's Jamaica Plain neighborhood, 17 people gathered at a home in Moss Hill.
The small band of supporters came from Jamaica Plain, Roslindale and West Roxbury. Most said they would vote for Hillary Clinton in November. All were still recovering from the disappointment of Sanders' defeat in the primaries.
Several had questions about the financing of the new organization. As a super PAC, it would be able to draw large sums from anonymous donors, something Sanders had criticized during his campaign, but they were excited to hear where Sanders wants to take his movement next.
Mary Brady, one of the hosts, said she was drawn to the Sanders campaign not so much by a desire to see him become president, as by an energy she had not seen since her youth in the '60s and '70s.
"It brought together people with whom I feel comfortable once again, because it's been awhile, and what I want to happen is: We've got our group together, now, let's do something," Brady said as she was greeting guests. "I respect Bernie leading us to look locally and find some people who want to run and support them in a real concrete way so that we begin to have progressive voices at all levels of government again."
Brady plans to campaign against the Massachusetts ballot initiative to expand charter schools, and support Democrat Maggie Hassan's bid to take Republican Kelly Ayotte's U.S. Senate seat in New Hampshire.
Some Say Speech Was Short On Specifics About 'Our Revolution'
Sanders spent most of the hour talking about the accomplishments of his presidential campaign, but he did name some of the candidates and ballot initiatives his group would support. He did not mention any causes or candidates in Massachusetts. And he announced that as a sitting U.S. senator, by law, he could not be directly involved in the work of the group.
The presentation earned mixed reviews from his fans on Moss Hill. Some got exactly what they were looking for. Others were more critical.
"He went on for a long, long time," conceded Monroe Heyman, one of the hosts.
"I thought the whole presentation was not very good," another man told the small gathering.
Several people were disappointed that Sanders was short on specifics and did not really explain how they could be engaged. Still, the campaign said tens of thousands of people watched.
In his campaign, Sanders drew young voters. But in the room, almost everyone had gray hair. Still, Brady was not worried that no young people showed up at her house.
"We have these discussions with our kids," Brady said as she was bidding good night to her guests. "Our daughter's 29. This is not their thing. They wouldn't come to this kind of a thing."
The campaign said 200,000 people followed Sanders on Facebook Live. "That's where the young people were!" quipped one woman.
This segment aired on August 26, 2016.