Commentary: Hillary Clinton Should Hit The Reset Button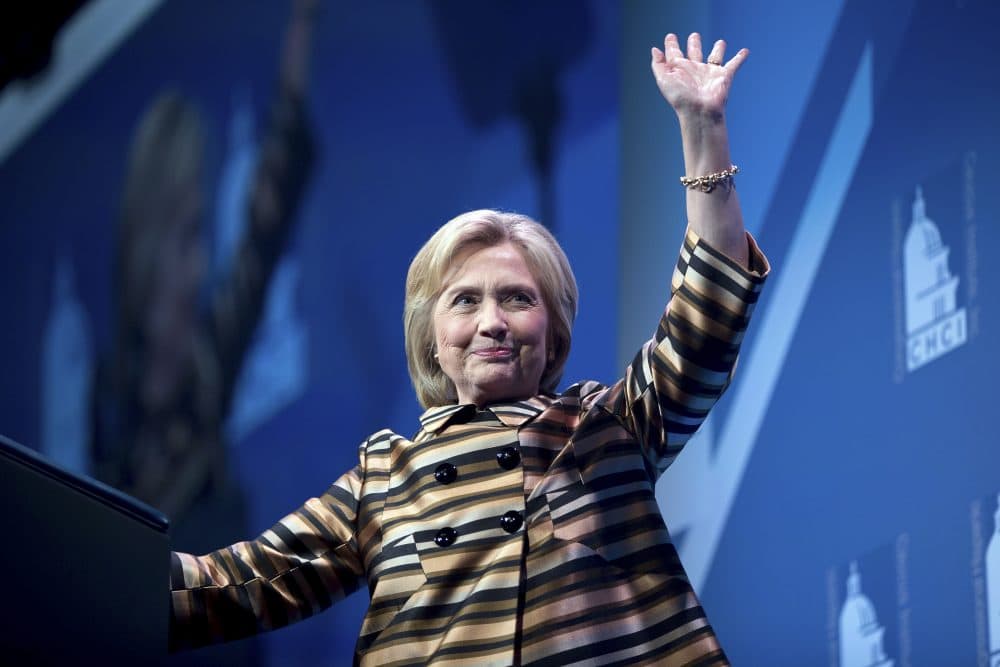 This article is more than 4 years old.
After taking a few days off the campaign trail, Hillary Clinton should re-calibrate her message and messengers. Here are five thoughts on what she should do.
1. Use President Obama as a Surrogate-in Chief. Yeah, I know he's a symbol of hatred and Washington gridlock. But he's increasingly popular (58 percent job approval, according to a recent Washington Post/ABC poll), and he not only commands respect and newsworthiness from the TV networks but he's also got a solid message: Don't buy what Donald Trump is peddling.
Moreover, he says he really cares about Clinton. "This is not me going through the motions. I really, really, really want to elect Hillary Clinton."
2. Tap the abundance of surrogates to take shots at Trump every day. They don't have to make national news but a mere mention on local TV news in Atlanta, Chicago, Cleveland, Detroit, Los Angeles, Pittsburgh or Seattle is fine. Trump's campaign can't respond to all of them. There's Vice President Joe Biden, her husband and literally dozens of big name backers in government and business.  Forget the fear of looking too establishment; after 30-plus years in government, she's stuck with that label. These surrogates should go after Trump every day in every media market, preferably on the same topic.
The Donald has fewer than a handful of equivalent endorsers, like his vice presidential candidate Mike Pence, who's as boring as a waiting room magazine and looks shaky defending him; former New York City Mayor Rudy Giuliani, who sometimes seems borderline insane and desperately wants to be Trump's attorney general; and New Jersey Gov. Chris Christie, who's despised in Jersey and desperately needs a President Trump to avoid jail for "Bridgegate."
Her designated hitters include Meg Whitman, CEO of Hewlett Packard; actor and climate activist George Clooney; rock legend Bruce Springsteen; intellectual Michael Eric Dyson; and Javier Palomarez, president of the U.S. Hispanic Chamber of Commerce.
3. Use humor against Trump. Clinton is not going to win by somehow making skeptical voters suddenly like her or by telling jokes. She can tell other people's jokes, some on herself, most on Trump.
Bill Maher: "Pneumonia?  I'd vote for a dead Hillary in this race." Conan O'Brien: "Last night, Donald Trump said if he's elected, he will employ a 'deportation task force.' It's not really necessary, because if he's elected most people will probably leave voluntarily." Australian comic Jim Jefferies says Trump is like a kid running for class president, promising "two lunches and a soda machine in every classroom." Samantha Bee: "Let's get right to the big news, Hillary Clinton has passed away. She says she's not dead, but as we know she is a liar."
4. When she gets a strong message, she should stay on it. Right now, the best stories involve Trump's foundation. After months of painstaking digging, David Fahrenthold of The Washington Post (who should be nominated for a Pulitzer) has learned that Trump regularly gave away foundation money, sometimes illegally, and almost always acted as though it were his own.
Trump a) used foundation dollars to buy a full-length painting of himself; b) made an illegal payment to the campaign of the Florida attorney general when she was deciding whether to prosecute him for Trump University complaints (Surprise: She decided not to pursue the case); c) bought at auction an autographed Tim Tebow Denver Broncos helmet and jersey using $12,000 of foundation dollars, probably worthless; d) did not as he claims donate "millions" to charity -- more like $100,000 over seven years is what Fahrenthold found.
Andrew Kaczynski of BuzzFeed discovered that Trump used $120,000 in foundation dollars to travel to Paris for a visit to a vineyard owned by the wealthy husband of actress Selma Hayek.
5. Pick one target and stay on it. Trump benefits from an endless stream of revelations about outrageous things he's said and done. No one can keep track of them all, least of all the voters. In the gold mine of embarrassments, the one Clinton should stick with for a week is The Donald's misuse of foundation dollars to buy a six-foot likeness of The Donald. The mental picture of it is priceless.