Trump Returns To New Hampshire, Where It's Now A Tight Race
03:54
Play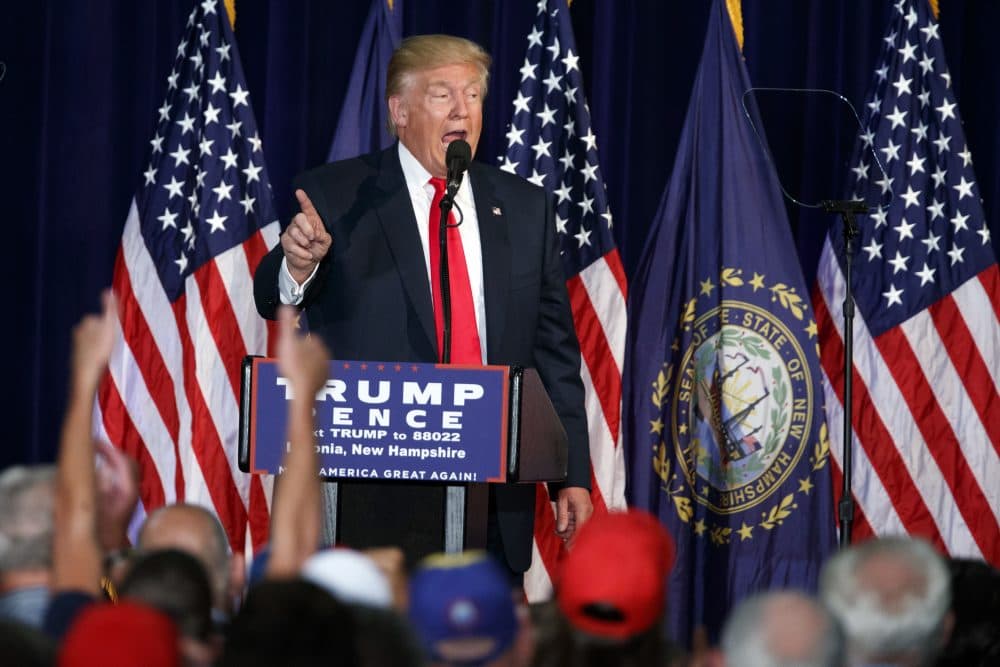 This article is more than 4 years old.
LACONIA, N.H. — Republican presidential candidate Donald Trump says his Democratic opponent, Hillary Clinton, is slandering his supporters.
Trump campaigned in Laconia, New Hampshire, Thursday night.
This was not the kind of Trump rally like the ones he held before the New Hampshire primary, when thousands of people turned out. About 600 people filled a part of the Laconia Middle School auditorium. Many walked from their homes. Others came from nearby New Hampshire towns such as Gilmanton, like Bill and Donna Losefsky -- he a retired police officer, she a veteran. They see this as a close race.
"Hillary's having some health issues, that's probably been a factor," Donna Losefsky said.
"And credibility issues," added her husband.
They explained that when they say credibility, they're talking about Clinton's problems explaining her private email server.
The last WBUR poll, conducted just after the conventions, found Clinton with a 15-point lead over Trump in New Hampshire, but that lead has narrowed as summer has neared its end. Recent polls have shown anything from a 5-point lead for Clinton to a 1-point lead for Trump, so New Hampshire's four electoral votes are in play. The race is tightening in New Hampshire as it is nationally.
John Friel, a physician, was brought by his son, a high school junior. They came from Westford, Massachusetts, to hear Trump.
"I think he's got a chance," the older Friel said. "In the beginning, I thought it really was not looking good, but the polls are coming out and they're looking like he's doing pretty well."
The rally also attracted Mary Regan, a contractor from Littleton, Massachusetts, and an immigrant from the Dominican Republic.
"I'm Hispanic, and I support him 200 percent," Regan said. "I think he should build the wall [on the Mexico border]. I think we need to have knowledge of who's coming into this country, and if you can't vet them, don't let them in."
She sees the race as close.
"Lately, it's kind of iffy for Mrs. Clinton, I guess," Regan said. "I think her thing is that she thinks that she's entitled to the position, and this is not England. This is not a crown. You have to work for it."
"Hillary Clinton slanders you as deplorable and irredeemable," Trump told the crowd. "That means you can't ever get better. She doesn't understand you. I call you hard-working American patriots. "
Trump spoke for only half an hour. He spent much of that time telling the largely white audience (it is New Hampshire, after all) he would improve education and job prospects for African-Americans and Latinos.
But then he said this: "Imagine, just imagine, what our country could accomplish if we started working together as one people under one God, saluting one flag, right? Saluting."
He never named African-American San Francisco 49ers quarterback Colin Kaepernick and his refusal to stand for the national anthem in solidarity with the Black Lives Matter movement, so it's not clear if that was the allusion. But it was a popular line with the crowd.
As they broke up, one woman said she would be voting for the first time, for Trump. Her friend asked her if she'd registered yet. She said no, but in New Hampshire, you can register as late as Election Day.
This segment aired on September 16, 2016.