Commentary: What We Learned About Trump At Monday Night's Debate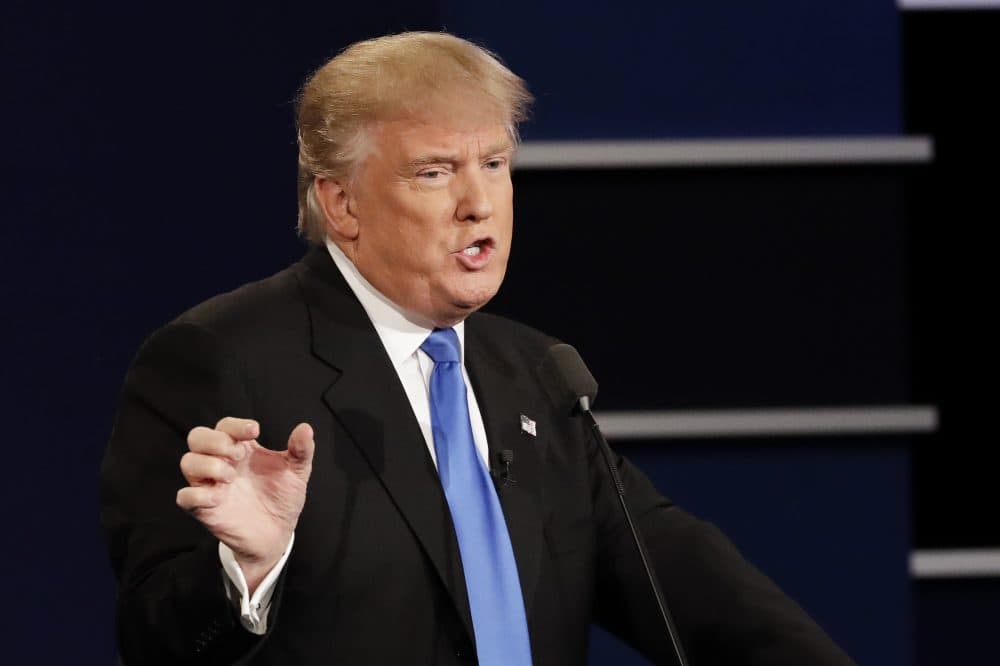 This article is more than 4 years old.
We discovered many things about Donald Trump at the first presidential debate. Among them:
--The proverbial expectations bar for his performance going into the debate was low and he still managed to get under it with a lackluster, confusing, and occasionally goofy performance.
--He has no idea what "temperament" means. He says, "I have a great temperament" then equates it with winning and success.
--He will never, ever make his tax returns public. He said not paying taxes make him "smart," yet he wants to spend more on the military, veterans, and a huge wall.
--He should never allow TV to show him in a split screen layout. He made faces, pouted, and drank water like Sen. Marco Rubio whom he criticized for sweating.
--It is possible for him to go on live TV for 98 minutes without smiling once.
--He says we won't learn anything from his tax returns; so why won't he make them public?
--For him, race relations is about "law and order" and cracking down on gangs.
--He imagines threats to cyber security as a 400-pound guy at home in bed with a laptop.
--He stepped on landmines with women and Hispanics when he called a Miss Universe, Alicia Machado, "Miss Piggy" and "Miss Housekeeping."
--His handlers called him "the Babe Ruth" of debaters. On Monday he was more like Baby Ruth, a candy bar that's soft and nutty.
--Debate moderators need a mute button to stop Trump from interrupting.
--His fears about his people watching Monday Night Football were misplaced; more than 80 million people watched the debate and the game had the lowest rating ever.
--Judging from the uniformity of opinions that Hillary Clinton won the debate, there's a good chance that his momentum has been arrested.
--A CNN poll taken right after the debate showed 62 percent of those who watched thought Clinton won, while only 27 percent gave it to the Babe Ruth of debates.