Commentary: The Other Branch On The Ballot: Key Cases Facing The Supreme Court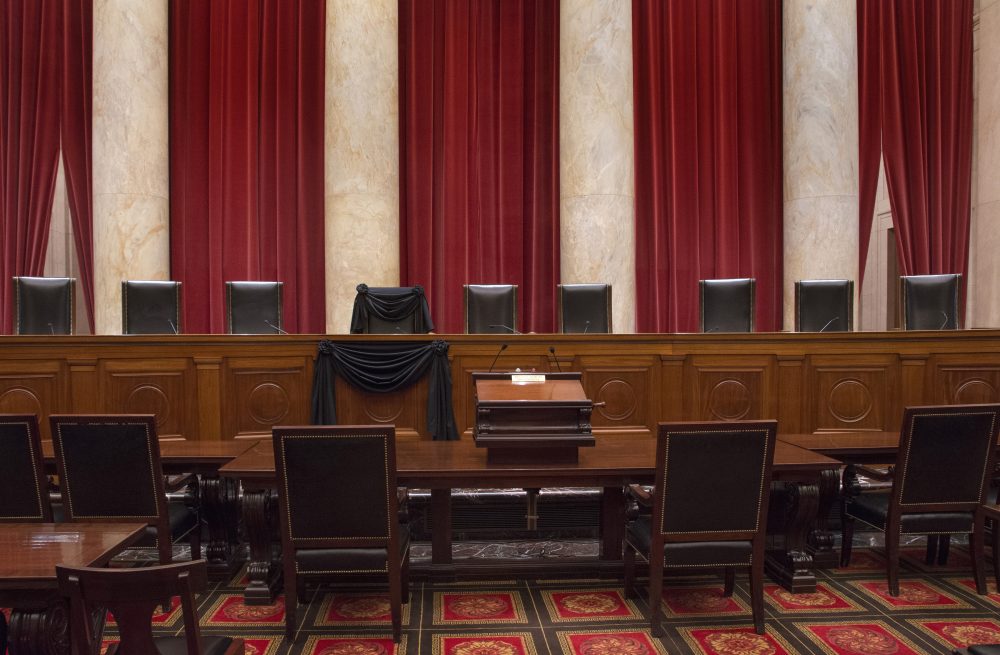 This article is more than 4 years old.
The seat of the late Justice Antonin Scalia has been vacant since February, creating a 4-4 tie between usually liberal and usually conservative justices.
The Republican majority in the Senate has defiantly refused even to hold hearings, much less vote to confirm or deny the nomination of federal Judge Merrick Garland by President Obama.
Garland was previously praised and confirmed as chief judge of the D.C. Court of Appeals in 1997 by a vote of 76-23, including seven Republican senators still in the U.S. Senate. Yet his Supreme Court nomination remains in limbo for strictly partisan reasons, which GOP leaders freely admit, arguing that they want to wait for the outcome of the presidential election.
The stakes are high.
"The next justice could fundamentally alter the direction of the Supreme Court and have a profound impact on our country," said Senate Majority Leader Mitch McConnell.
---
Consider a selection of cases McConnell — and others — might have had in mind: 
Church and state -- Trinity Lutheran Church of Columbia v. Pauley deals with whether a Missouri religious institution, which runs a licensed day care center open to children of any faith, can receive a state grant to purchase recycled material to resurface its playground. Can an enterprise run by a church receive public support without violating the constitutional prohibition against mixing church and state, if the activity has nothing to do with matters of faith?
Rights of transgender students -- G.G. v. Gloucester County School Board concerns a 17-year-old high school student, Gavin Grimm, who was born female and identifies as male. He was told by the local school board in Virginia that he could not use the boys' restroom, and instead had to use "alternative, private" facilities. He sued the board, saying the policy is discriminatory. The High Court has to decide if federal law requires schools to provide transgender students access to restrooms consistent with their gender identity.
When is an immigrant a citizen? -- Lynch v. Morales-Santana is an immigration case in which the federal government is attempting to deport a man who was found guilty of multiple crimes. He claims he cannot be removed, because he is a U.S. citizen via his father, who became a citizen in 1917 when he arrived from the Dominican Republic. His lawyer has argued that deportation would deny him equal protection of the law under the Fifth Amendment. The case will potentially create new law on the disposition of immigrants found guilty of crimes.
Post 9/11 abuse of Muslims or national security interrogation? -- Ashcroft v. Turkmen is an appeal filed by federal officials when the U.S. detained and interrogated suspects in New York after the 9/11 attacks.  Then-Attorney General John Ashcroft and former FBI Director Robert Mueller are being sued for how post-9/11 detainees were treated. The case, which began in 2002, involves hundreds of people, nearly all Muslims, who were swept up in the days following the attacks. The detainees argue that they were beaten, forced to endure humiliating searches, and otherwise abused, all without due process. The issue: Is being Muslim grounds for incarceration and extreme interrogation after an attack?
Racial bias in the jury room -- Peña-Rodriguez v. Colorado is the case of a Hispanic man from Colorado charged with harassing and trying to grope two teenage girls. Miguel Angel Peña­-Rodriguez claimed it was mistaken identity, and a witness said he wasn't at the scene of the alleged assault. During deliberations, one juror, a former law enforcement officer, declared: "I think he did it because he's Mexican. Mexican men take whatever they want." When Peña­-Rodriguez was convicted, two jurors came forward to report the racist assertion. The Court must decide if jury deliberations must always be private or if a fair trial was compromised.
The Goldilocks problem in drawing districts — Bethune-Hill v. Virginia State Board of Election examines the following: Civil rights groups and Democrats have charged that a Republican plan in the Virginia Legislature packed too many African-American voters into heavily minority districts, diluting their strength throughout the state. The Court will be asked to define how race should be taken into account when district lines are redrawn. It's been called a "Goldilocks" problem.
---
Anticipating that Hillary Clinton will win the presidency, Sen. Ted Cruz of Texas recently threatened to block any and all of her Court nominees.  Likewise, Sen. John McCain said separately he might oppose every one of her nominations. Although, in typical McCain fashion, he hinted he might not reject them sight unseen.