Commentary: Why Not Us? Mass., Again, Has Elected Officials Ready To Lead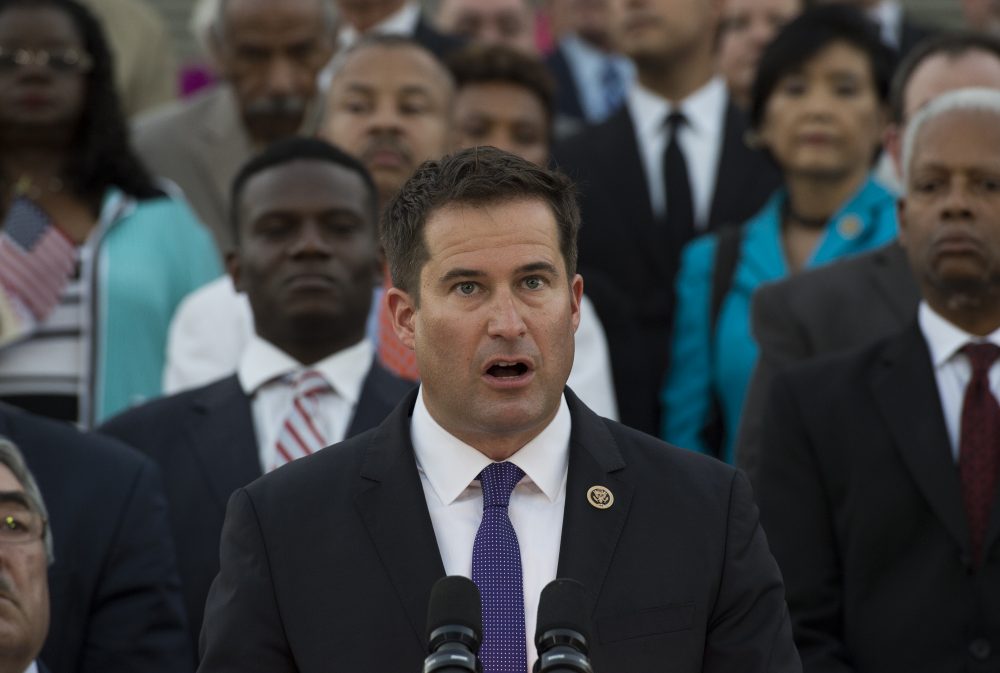 This article is more than 4 years old.
Commentary
As Democrats in Washington and across the land lick their wounds, they say they want young, dynamic and fresh faces for leadership roles. While Minority Leader Nancy Pelosi of California was just reelected by House Democrats, they would be wise to turn their attention to Massachusetts, where we offer some compelling figures both in Congress and elsewhere.
Joseph Kennedy III, 36, entered Congress in 2013, when he succeeded the retiring U.S. Rep. Barney Frank in the 3rd District. Dubbed "The One We've Been Waiting For" in Boston Magazine, and called "the real deal" by longtime reporter Al Hunt of Bloomberg News, he's the son of a congressman and grandson of the late Sen. Robert Kennedy. New York Times columnist Frank Bruni says Democrats say he's "industrious and intelligent, with as much raw talent as pedigree."
He didn't go to Harvard; he and his twin brother chose Stanford instead. When he played lacrosse at Stanford, he would drink milk while his teammates partied with beer, earning the nickname "The Milkman." He studied engineering and roomed with Jason Collins, who would later be the first active pro basketball player to come out as gay. The two marched together in gay pride events in Boston; Collins decided he needed to come out publicly after young Kennedy marched in the 2012 parade without him.
He speaks fluent Spanish and spent two years in the Dominican Republic with the Peace Corps, established by his great uncle, President John F. Kennedy. Young Joe attended Harvard Law School, where one of his professors was now-Sen. Elizabeth Warren; both gave speeches at the Democratic National Convention. Prior to running for Congress, he worked as a prosecutor. Without fanfare, he quietly visited Israel in 2013.
While it may be apocryphal, one revealing story is told about a press event for Kennedy in Newton. As Kennedy was leaving, a young female reporter came rushing to the scene, realizing she had missed the event. Kennedy noticed her predicament and told his aides to wait. He proceeded to repeat his statement for the young reporter and answered a couple of her questions. Very few political figures would have been so generous and kind.
Seth Moulton, 38, represents the 6th District of Massachusetts in Congress, after he defeated U.S. Rep. John Tierney, who was bedeviled by his wife's family's ties to mobsters. An Esquire magazine writer dubbed Moulton "Captain America" for his wartime heroics, Harvard degrees and political fearlessness.  He has been at odds with popular Republican Gov. Charlie Baker over his refusing to accept Syrian refugees; President-elect Donald Trump, whom he likened to Hitler; and President Obama, whose policies in the Middle East he criticized.
Moulton majored in physics at Harvard, then enlisted in the Marines and served with distinction in Iraq, where he led one of the first infantry platoons to enter Baghdad. He served four tours of duty in Iraq, including an attack where he went to the aid of a Marine wounded by friendly fire, for which he was awarded the Navy and Marine Corps Commendation Medal for valor.
Moulton was active in combat against insurgent forces in Iraq, including the 2004 Battle of Najaf during which he "fearlessly exposed himself to enemy fire" when his platoon was pinned down. He directed the supporting fire that repelled the attack, receiving the Bronze Star for his actions.
He told only his campaign manager, a former Marine, about these awards, keeping them secret even from his parents.When Boston Globe reporter Walter Robinson discovered his valor and recognition, Moulton was reluctant to discuss the details, saying, "There is a healthy disrespect among veterans who served on the front lines for people who walk around telling war stories." He asked the Globe not to call him a hero, arguing that he was uncomfortable calling attention to his own awards out of respect to "many others who did heroic things and received no awards at all. The greatest honor of my life was to lead these men in my platoon, even though it was a war that I and they disagreed with."
After graduate school, he worked for one year as managing director of the Texas Central Railway, a transportation company building a high-speed rail link between Houston and Dallas. He returned home to earn graduate degrees in business and public administration at Harvard.
In his second term, he recently opposed Pelosi for the party's top post in Congress, a courageous stance since she holds considerable power over matters such as committee assignments. He has even been mentioned as someone to challenge Baker.
Katherine Clark, 53, represents the 5th Congressional District, the seat formerly held by longtime member of Congress Edward Markey, who resigned when he won a seat in the U.S. Senate. As a state senator, Clark won a crowded primary field of Democrats in 2013, besting Middlesex County Sheriff Peter Koutoujian and three other state legislators. She handily beat her Republican opponent, 66 percent to 32 percent.
Born in Connecticut, Clark worked as an attorney in several states before moving to Massachusetts in 1995. A graduate of Harvard University, Cornell Law School and the Kennedy School of Government at Harvard University, she studied in Japan in 1983. She moved to Massachusetts in 1995 and became general counsel for the state Office of Child Care Services.
In June of 2016, lawmakers, led by Clark and her congressional colleague John Lewis, a longtime civil rights leader, staged a sit-in on the floor of the House to protest the refusal of Republican leadership and Speaker Paul Ryan to allow votes on gun legislation. The protest followed the Orlando nightclub massacre, the country's worst mass shooting in modern history with 49 victims.
Ryan scoffed that the sit-in was a "stunt'' which gathered 40-some members of the U.S. House, including Clark, Rep. Michael Capuano and a handful of senators that included Warren. Ryan argued that the House GOP had no intention of passing measures that he said would erode gun ownership rights. The matter never came to a vote but garnered national publicity and interrupted House business.
In March 2015, Clark was one of 56 members of Congress to refuse to attend a speech by Israeli Prime Minister Benjamin Netanyahu before a joint session of Congress. While committed to a strong relationship with Israel, she objected to the timing and partisan nature of the event. The invitation, she said, "came without consulting the president or State Department and with the false representation that it was a bipartisan invitation. [Former House Speaker John] Boehner has poisoned a critical foreign policy discussion with partisan gamesmanship," she declared.
The U.S. House just passed Congresswoman Clark's legislation, the Bringing Postpartum Depression Out of the Shadows Act, to provide states federal grants to develop and maintain programs for better screening and treatment of postpartum depression. Nationally, an estimated 1 in 7 new mothers are affected by postpartum depression. Experts estimate that least 400,000 women suffer from the condition each year; yet it is estimated that only 15 percent receive treatment.