Mass. Politicians, Obamacare Supporters Rally At Faneuil Hall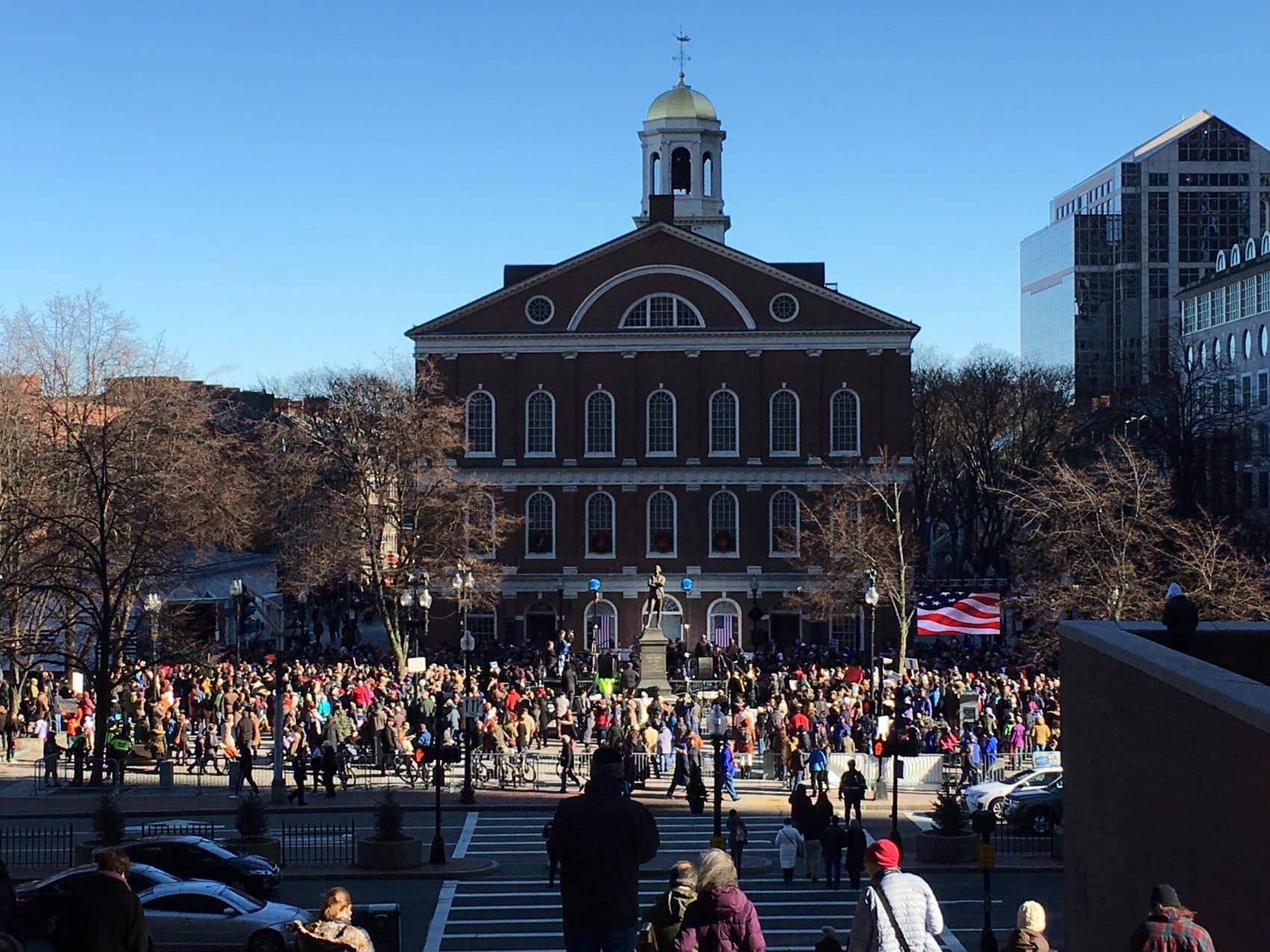 This article is more than 4 years old.
Ahead of the presidential inauguration of Donald Trump, Boston Mayor Marty Walsh and members of the Massachusetts congressional delegation are promising to fight both congressional Republicans and Trump himself as they attempt to repeal the Affordable Care Act.
On Sunday, Walsh and almost the entire Massachusetts delegation participated in a rally at Faneuil Hall in support of President Obama's signature health care law as similar rallies took place throughout the country.
In Boston, legislators took turns speaking to the crowd that filled Faneuil's cobblestone plaza and had endured the bitter cold for hours.
Sen. Ed Markey reminded the crowd that universal health care in Massachusetts was signed into law at Faneuil in 2006 by then-Gov. Mitt Romney. So-called "Romneycare" laid the foundation for the Affordable Care Act.
"We are not just any state," Markey said. "We are Massachusetts. Massachusetts will not sit on the sidelines as the future of democracy hangs in the balance. This is where the American Revolution began!"
Congressman Jim McGovern criticized the GOP and President-elect Trump for working to repeal the Affordable Care Act without a plan for an alternative.
"Donald Trump says he's opposed to Obamacare. And he was asked, 'What would you replace it with?' and his response was, and I quote, 'Something terrific,'" McGovern said. "You can't make this stuff up. It would be laughable if it wasn't so tragic."
Last week, congressional Republicans took the first steps in laying the groundwork to repeal the Affordable Care Act. However, they are divided about what a replacement would look like, and how to pay for it.
Sen. Elizabeth Warren said guaranteed coverage for 2.9 million people in Massachusetts who have a preexisting medical condition was at stake if Republicans succeed in repealing Obamacare without a plan for a replacement. Warren said free preventive care for 3.4 million Massachusetts residents was also on the line.
"We are here to say to any Republicans in Congress who try to jam through 'repeal and run': Get ready, because you are going to have a big fight on your hands," Warren said.