Celebrating Thanksgivukkah (Recipes Included!)
07:41
Play
This article is more than 7 years old.
This Thursday is Thanksgiving, of course. But it isn't just Thanksgiving. It's also the start of Hannukah, the eight-day-long Jewish holiday festival that, like Thanksgiving, is celebrated by feasting.
The unique convergence of these two holidays — for the first time in, well, ever — has inspired the term "Thanksgivukkah." To celebrate the rare occasion, WBUR's Sacha Pfeiffer spoke with one of Radio Boston's food-loving regular guests about these simultaneous celebrations and some delicious dishes that combine the best of both.
Guest
Amy Traverso, Senior Lifestyle Editor at Yankee Magazine and author of "The Apple Lover's Cookbook."
Sweet Potato-Apple Latkes
Every year, we host a big Hanukkah party for a couple of dozen friends, serving four or five different kinds of latkes (potato pancakes) at a time. These sweeter latkes, accented with the oniony bite of shallots, are always the first to go. I like a green, firm-tart apple here. Rhode Island Greening and Granny Smith would both make excellent choices.
And here's a time-saving bonus: because sweet potatoes contain less water than regular baking potatoes, you can grate them in the food processor without worrying about releasing too much liquid. 
Ingredients:
2 pounds garnet or jewel yams or sweet potatoes, peeled
3 large (about 1 1/2 pounds total) firm-tart apples such as Rhode Island Greening or Granny Smith, unpeeled, cored, and quartered
8 small to medium shallots, peeled
6 large eggs, lightly beaten
1 cup matzo meal
1 tablespoon coarse kosher salt
1 teaspoon freshly ground black pepper
Vegetable oil, for frying
Sour cream and applesauce for serving, optional for serving (applesauce recipe below)
Instructions:
Preheat the oven to 250°F
Using the coarse side of a box grater or a food processor fitted with a medium grating disk, grate the potatoes, apples, and shallots. Toss together in a large bowl. Add the eggs, matzo meal, salt, and pepper and toss to mix well.
Pour 3/4 inch oil into a large skillet over medium-high heat. When the temperature reaches 350˚ (because these latkes cook best between 350˚ and 370˚, we recommend using a candy thermometer to measure the temperature so you can adjust the heat as needed), scoop 1/4 cup potato mixture from the bowl and then gently drop the mixture onto a wide spatula. (The point here is to keep your hands as clean as possible.) Press the potato mixture into a patty about 1/4 inch thick, then gently slide the pancake into the hot oil. Cook 3 or 4 pancakes at a time (do not crowd the pan) until the edges are crisp and well browned and the undersides are golden brown, 4 to 5 minutes. Gently turn and cook until the other side is golden brown, 2 to 3 minutes longer.
Transfer the pancakes to paper towels to drain briefly, then arrange in a single layer on 2 baking sheets. Keep the latkes warm in the oven while you cook the remaining pancakes. Serve hot with sour cream and applesauce on the side. You can instead cool the latkes to room temperature, then stack them in single layers between sheets of parchment or wax paper, and freeze them in zip-top plastic bags. Crisp in a 325°F oven for 15 to 20 minutes before serving. Yield: 25 to 30 latkes
Cranberry Applesauce
Applesauce is so simple that a recipe seems a little redundant. But there is a right way to make it. First, leave the peels on. They add flavor, vitamins, and a little color (you'll remove them later when you run the sauce through the food mill). Second, do use the food mill—it creates the best velvety texture. Third, the amount of sugar you add depends on the apples you choose, so start with a 1/3 cup and keep adding and tasting until you get it right.
Ingredients:
3 pounds (about 6 large) apples, any variety, preferably a mix of different types
3/4 cup whole cranberries (fresh or frozen)
1/4 cup water
1/3 cup granulated sugar, plus more to taste
 Instructions:
Core the apples (do not peel), then cut into large chunks (about 2 inches). Put the apples, cranberries, and water in a large pot over medium-high heat and cover. When the water begins producing vigorous steam, reduce the heat to medium-low and cook, stirring occasionally, until the apples become quite tender and can be smashed with the back of a wooden spoon, 15 to 20 minutes.
Process the apple mixture through a food mill. Add sugar, taste, and add another tablespoon or two as desired. Thin with additional water, if needed. Serve cold or at room temperature. Yield: 3 ½ cups.
Chai Sufganiyot (Israeli Donuts) with Pumpkin Custard Filling
These Thanksgivukkah donuts were doubly inspired: first, they are festive, with classic Thanksgiving flavors of pumpkin, ginger, cinnamon, cardamom, and nutmeg, thanks to the pumpkin custard filling. But they also contain a little play on words: the donuts are scented with chai, the popular Indian aromatic tea. In Hebrew, the word chai means "life."
Ingredients:
2 chai tea bags
6 tablespoons salted butter
1/4 cup granulated sugar
2 packets active dry yeast
2 large eggs, beaten
1 teaspoon salt
2-1/2 cups flour, plus additional flour for dusting and rolling
Vegetable oil for frying
Confectioners' sugar
Pumpkin Custard Filling (see below)
Instructions:
In a small saucepan, gently heat milk and chai over medium-low heat until it begins to simmer. Cook, stirring often, for 4 minutes. Add sugar and butter and cook, stirring, until butter melts. Transfer to mixing bowl and let cool about 15 minutes, until just warm to the touch.
Remove tea bags, squeezing gently. Stir in yeast; let sit until it begins to foam, about 10 minutes. Stir in eggs and salt. Add 2 cups flour and stir until mixture is well incorporated. Add remaining flour, mixing until dough becomes smooth, soft, and pliable. Cover dough; let rise until doubled in size, 2 to 3 hours.
Punch down dough with closed fist and knead gently in bowl. Let dough rest approximately 15 minutes.
Using lightly floured hands, transfer dough to floured work surface and gently press down to 1/4-inch thickness. Using a biscuit cutter or floured jar, cut out 3- to 4-inch circles. Collect scraps, re-form dough, and repeat cutting. Let dough circles rest on a floured, dusted surface until doubled in size, about 30 minutes.
Meanwhile, heat oil over medium heat in a heavy-bottomed skillet to approximately 340˚ (because these donuts cook best between 325˚ and 350˚, we recommend using a candy thermometer to measure the temperature so you can adjust the heat as needed). Gently slide 4 doughnuts at a time into oil, leaving space for expansion and even browning. Fry doughnuts until puffed and golden brown, 1-1/2 to 2 minutes per side. Transfer to paper towels for a minute, then roll in powdered sugar. Let cool 15 to 20 minutes. Roll again in powdered sugar, then pipe the pumpkin custard into doughnuts with a pastry bag or squeeze bottle.  Yield: About 18 donuts
Pumpkin Custard Filling
Ingredients:
1/3 cup granulated sugar
2 tablespoons light brown sugar
2 tablespoons cornstarch
1/8 teaspoon salt
2 cups milk
1 cup pumpkin puree
1/2 teaspoon pumpkin pie spice
2 large egg yolks, slightly beaten
2 tablespoons salted butter
Instructions:
In a medium saucepan, stir together sugars, cornstarch and salt. Gradually stir in milk, whisking constantly, then add pumpkin and stir. Cook over medium heat, stirring constantly, until mixture thickens and boils. Cook for 1 minute.
Pour the egg yolks into a small bowl. Gently ladle about 1 cup of the hot milk mixture into the eggs, whisking as you go. Add another cup of hot liquid, whisking, then stir this mixture back into the saucepan. Bring back to a gentle boil and cook 1 minute; remove from heat. Stir in butter.
Pour pudding into a bowl. Cover and refrigerate at least 1 hour and up to 2 days. Yield: About 3 ¼ cups custard.
This segment aired on November 25, 2013.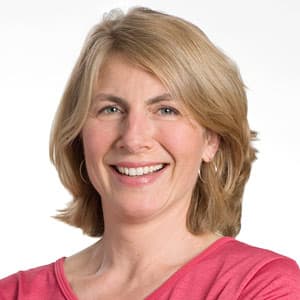 Sacha Pfeiffer Host, All Things Considered
Sacha Pfeiffer was formerly the host of WBUR's All Things Considered.