Katherine Clark, Democrat For Mass. 5th District
08:22
Play
This article is more than 5 years old.
The race to fill the state's Fifth Congressional District seat, which was vacated when Ed Markey became a U.S. senator, has gotten relatively little coverage. But that contest ends soon: the special election will be held December 10.
Radio Boston spoke with the Republican candidate, Frank Addivinola, earlier in the campaign. And today we're joined by the Democrat in the race, Katherine Clark. She's a state legislator and a public interest attorney from Melrose, and she talked with WBUR's Sacha Pfeiffer about why she hopes to work in elective politics at the Washington level.
Guest
Katherine Clark, a Democrat running for the 5th Congressional district.
Transcript
Sacha Pfeiffer: Could you start us off with the basics: Why do you want to represent the Fifth District and what unique [qualities] do you think you would bring to it?
Katherine Clark: I think that I have been very fortunate to be able to work with government from many different angles and perspectives,. And I think that I can see how effective that government can be for citizens, for partnering with private business, and that that is something we need to be reminded of in this Congress especially: that there are ways to really make for effective government that can improve the quality of the lives of the people that live in our communities. And, to me, that's always been about a focus on families and helping children, and so whether it's working on pay equity for women, making sure that we have child care that's available for working families, protecting Social Security and Medicare, it's really all borne out of my experiences in many different facets of government, and I think that will be a strength I can draw on.
Congress's approval rate is in the cellar, to say the least. I think the last percentage of Americans who felt strongly about Congress was a 9 percent approval rating. Do you have any hesitation of being part of a body that has an approval rating that low?
Oh, sure. You know, I think that is the number one question that I get asked as I go around is, 'Why would you possibly want to do this?' But I also have been incredibly heartened by as low as those poll numbers are, everywhere I go people still believe that we can change the course of Congress and that we have to keep trying, and that's my belief. And I have been so encouraged to see that validated over and over again — that people still believe in creating equal opportunity. They still believe that Congress can make progress again. And I want to be part of that.
Could you give us one example of a place where you think something is not working well and how you think you could change it as a U.S. legislator?
I think we have a real challenge that goes back to my days when I was general counsel for the [state] Office of Child Care Services in how we provide quality early education for every single student. And I think that when we give our youngest learners a great start it can really change the trajectory of their entire lives. And we know if they're good readers by third grade, that means they're going to have higher earnings as adults, they're going to have greater graduation rates. That's a lot of the work that I've done at the State House and I see a real need for that focus on accessible affordable child care and a great early education for every single child in the United States.
As you know, the U.S. House is now dominated by conservative Republicans. You would not be one of those, and I'm wondering how you think you could accomplish what you hope to accomplish in that environment.
I think there will be a challenge being the most junior member of Congress in a minority party. But I think that throughout my career I have been able to work effectively across the aisle with people who may not agree with me on a lot of things, but we can find those areas that are in common.
I think probably there are many Democratic representatives who now hope and believe that but still aren't able to make much traction.
Yeah, and I think that's the challenge of this Congress, and I think what I'm going to bring is an experience that is broad and really an ability to bring people together.
Katherine, the Globe editorialized in support of you, and in that editorial this is part of what it wrote: "Clark shares the liberal values of many Fifth District Democrats, but has shown herself to be a strategic thinker; her willingness to support a 'grand bargain' to trim the long-term federal deficit, even if it includes some provisions that are disappointing to liberals, is a sign of maturity." Now, you know that some liberals have worried that that means you might be open to, for example, cutting Social Society. What does a grand bargain mean for you? And how worried do liberals have to be?
I have been very clear throughout this campaign that I am not open to cuts in benefits to Social Security. I believe that Social Security is a robust system. We've made a promise to our seniors that we have to keep. And I think there are simple things that we can do that will ensure the integrity and strength of that system going forward, like lifting the cap on the income level for people putting into Social Security. So I do not think that that is where we look to try and create some sort of a grand bargain. Am I willing to work with people who may not agree with me on everything to help move our country forward? I am. And I think that we need that sort of mixture of knowing what your values are, knowing where you stand, and also being pragmatic.
I believe you've actually spent part of your adult life – your early adult life — somewhere other than Massachusetts. You moved here from Colorado in 1995?
Right.
And I can imagine political detractors trying to make that a liability for you, so I'm interested in how you might deflect that.
My husband and I met in law school and he is from Colorado and we lived out there for the first five years that we were married, and I think that most people see that as a bit of an advantage. I got to work for the attorney general's office out there and I worked very closely with the Colorado legislature on many criminal justice issues. And I think having the experience of working in a state that is a very different makeup in its legislature, perhaps far more similar to what I hope to find when I get to Congress – that, I believe, most people see as a strength: that I've been able to work in a state that has a different political reality and be successful there, as well.
You've worked in politics at multiple levels, from your local school committee to the general counsel for a state agency to, as you said, the AG's office, to your work in the legislature. Now, many people consider government a place where you can't get things done, so what is it about that world of government and elective politics that appeals to you so much?
I think it's the ability to really make a difference in people's lives. And people find many different ways to do that. But, for me, making government responsive, making it accountable, has been a joy. Being able to get up every day and get to work for my constituents – that is not only challenging but it is incredibly fulfilling work.
This segment aired on November 29, 2013.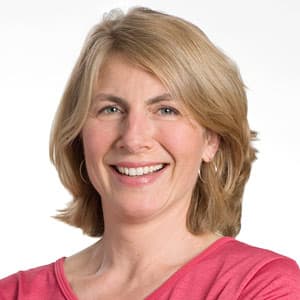 Sacha Pfeiffer Host, All Things Considered
Sacha Pfeiffer was formerly the host of WBUR's All Things Considered.