How Police Will Use Drones
25:31
Play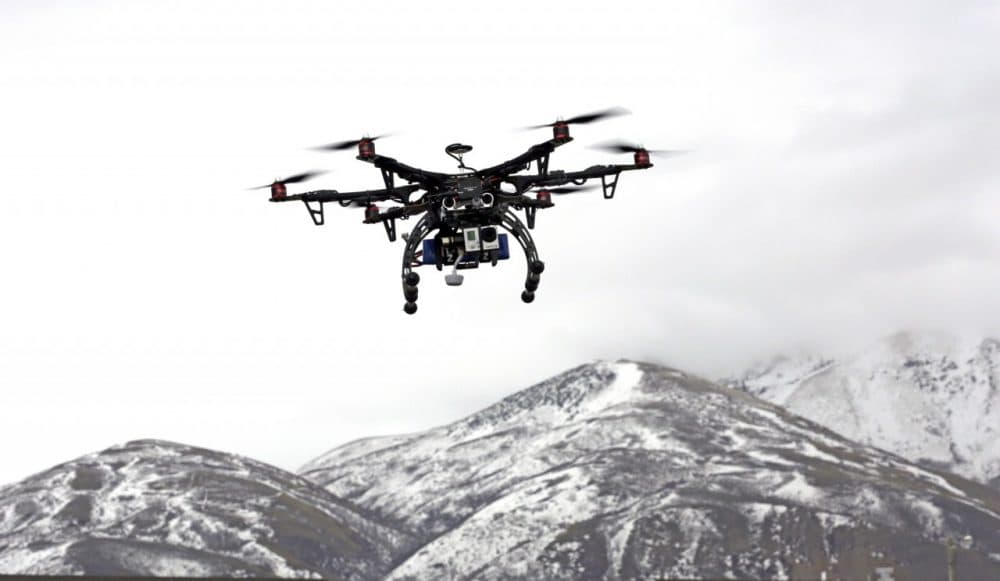 This article is more than 7 years old.
It's a bird, it's a plane, it's a drone. The unmanned air crafts could soon be flying all around us — delivering our Amazon products, monitoring our climate and helping solve police investigations.
In fact, some police departments are already using drones for search and rescues or criminal monitoring. And drones were a big focus in the surveillance discussions that came after the Boston Marathon bombings.
Some are calling this latest mix of technology and law enforcement a "wild west situation." But that could change if the Drone Privacy Act is passed. The Massachusetts law would require police to obtain a warrant before using a drone, and it would ban weaponized drones entirely.
Guests
Kade Crockford, director of the Massachusetts ACLU "Technology for Liberty" project. She tweets at @onekade.
Hillary Farber, associate professor of law at University of Massachusetts School of Law.
More
Cape Cod Times: State Legislature Takes Up Drone Issue
"With law enforcement looking to use them as an investigative tool, and a testing site coming to Cape Cod, the time has come for the Bay State to regulate the unmanned aircraft known as drones, privacy advocates said Wednesday."
The Guardian: Drones Are Coming Home To Skies Near You: Feel Safer?

"Military surveillance technologies trickle down to domestic law enforcement faster than ever before. Drones are only one highly controversial example of this endemic problem. And while cutting-edge technologies bring new – and yes, different! – threats to our personal privacy, the right response can be found in the spirit of a document written well before human beings ever conceived of an all-seeing eye in the sky: the Bill of Rights."
Boston Magazine: Massachusetts Officials Want To Regulate Drone Use
"State Senator Bob Hedlund isn't always up to date with the latest gadgets—he doesn't even have an E-Z Pass to scoot him through state tolls. But when it comes to advanced technological inventions, like unmanned aerial vehicles, or drones, he has a bird's eye view of everything that's going on."
This segment aired on March 13, 2014.