Student Group Suspension Raises Free Speech Questions At Northeastern
12:46
Play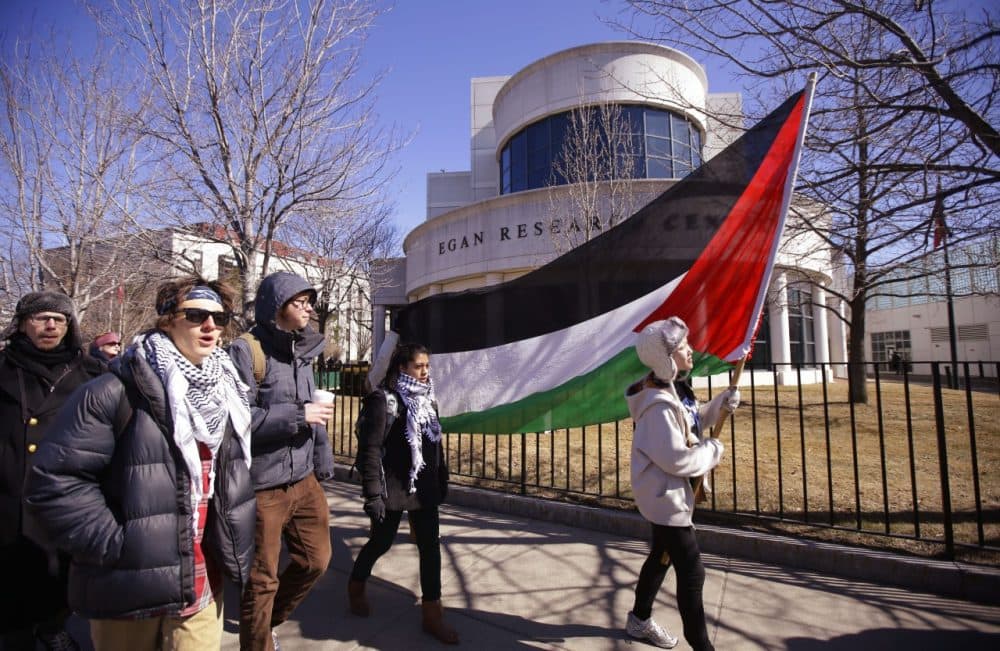 This article is more than 7 years old.
Since Gutenberg spun-up the first printing press — and maybe before that, college students have been distributing leaflets.
But when the Northeastern chapter of the group Students for Justice in Palestine slid 600 leaflets under dorm room doors this month, it was a step too far. The leaflets were mock eviction notices, used to draw attention to the Israeli government's forced evictions of Palestinians in the occupied West Bank.
Northeastern suspended the group; essentially banning it from the campus. But according to the university, not because of the content of the pamphlets, but for what it calls "multiple violations of university policy over an extended period of time." But the group's suspension has a lot of people questioning the effect on academic freedom.
Note: Northeastern declined to participate in this conversation, but did release a statement on the issue.
Guests
Harvey Silverglate, a civil liberties attorney in Boston and author of "The Shadow University: The Betrayal Of Liberty On America's Campuses" and co-founder of the Foundation for Individual Rights in Education (FIRE), which tweets at @TheFIREorg.
Max Geller, a leader of the suspended Northeastern University student group, Students for Justice in Palestine, which tweets at @NortheasternSJP.
More
The Jewish Daily Forward: Northeastern U. Duel Over Pro-Palestinian Group Mirrors Nationwide Fight
"The clash of these two free-speech experts encapsulates in a nutshell the larger clash that is mushrooming on campuses nationwide about the proper boundaries of protest when it comes to the issue of Israel and the Palestinians. That debate sharpened markedly in early March, thanks to SJP's suspension at Boston-based Northeastern and a separate incident involving SJP at Barnard College in New York."
The Boston Globe: Suspension Of Pro-Palestinian Student Group At Northeastern Stirs Debate
"But Northeastern says it sanctioned the group because it repeatedly has flouted campus policies and procedures, most recently when it failed to obtain approval to distribute the fliers. A university spokeswoman says the group also has disrupted other student group events, failed to attend student organization leadership council meetings, and vandalized university property — a statue of a trustee."
This segment aired on March 20, 2014.