Love Letters: When A Couple Disagrees About Having Kids
22:30
Play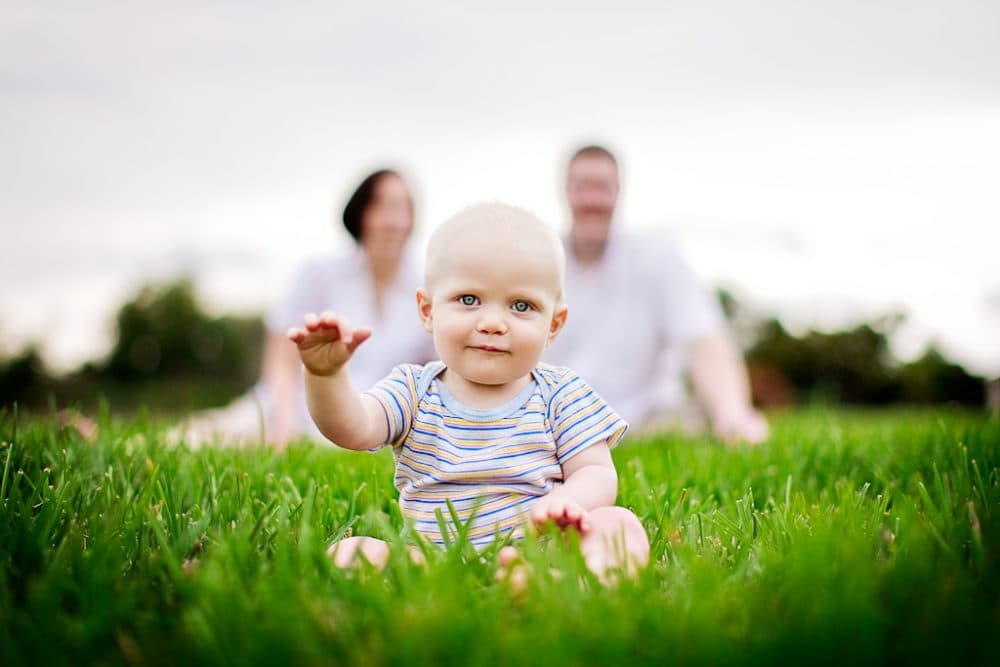 This article is more than 7 years old.
For our occasional "Love Letters" segment, we looked at the very real issue when partners in a relationship have different ideas about whether or not they want to have children. The letter goes a little something like this:
I have been dating my girlfriend for two years. We have been living together for about six months. We get along very well. We lead a pretty active lifestyle — skiing, hiking, walking around the city. We both get along with each other's family.
I am 30, she is 27.
For the most part we have a great relationship. There is one big issue though. She loves kids, works with them, and definitely wants them in the future. I, on the other hand, do not like kids and know I do not want them in the future. I do not mind them in short periods, such as nieces and nephews, but the thought of being responsible for them full time and losing sleep and money does not appeal to me.
This seems like an issue that would be a deal breaker, but I want to try to find a way to stay with her but get around this.
Is this something you're dealing with in your relationship? What pressure are you feeling as you make your decision? Did you ever change your mind about having kids?
Guests
Meredith Goldstein, advice columnist and entertainment reporter for The Boston Globe. She tweets at @MeredithGoldste.
Lauren Sandler, journalist and author of "One and Only: The Freedom of Having an Only Child and the Joy of Being One." Her August piece in Time Magazine was titled, "Having It All Without Having Children." She tweets at @laurenosandler.
Your Stories
@RadioBoston I'm 23 and discussed marriage and kids with my boyfriend on our first date - we both knew what we wanted!— Grace Evans (@grace_h_evans) March 20, 2014

@RadioBoston thx for talking about this. My friends ? My statement that I don't want kids. Being an elem schl art tchr they cant see why not— Melissa Hayes (@melahayes) March 20, 2014

@RadioBoston Solo mom, 1-&-done, daughter's dad passed away. Mom w/o helicopters. Making a happy life for her, for ME, & also for "us"!— MaldenJen (@hendrey) March 20, 2014

@RadioBoston: We tend to frame this as a women's issue. What are mens parts in this discussion? Where do they fall with life balance, etc.?— Autumn Andrade (@SwimBikeWrite) March 20, 2014
@RadioBoston I have one child and love parenting but I'm done at one. No infertility, no bad marriage, but people try to guilt us!— KSquared26 (@KSquared26) March 20, 2014

@amysohn @meghan_daum @RadioBoston @MeredithGoldste Rings true to me: my daughter can thank my fella's desire + my ambivalence for her life!— Lauren Sandler (@laurenosandler) March 21, 2014

They're talking about having children on @RadioBoston. Just hearing this conversation gives me hives.— Nicky Enriquez (@nickylibs) March 20, 2014

@RadioBoston Ppl who don't want children aren't just in conflict w/partners but w/ society. We're judged harshly abt a very personal choice.— Devlin (@rightbraindame) March 20, 2014

@RadioBoston if you love the woman and she wants a baby better get on board or she will find someone who will.— Dana Colley (@ColleyDana) March 20, 2014

@meghan_daum @RadioBoston @MeredithGoldste Thanks, lady. Tough subject--felt like we needed wine to go with the data and philosophy on air.— Lauren Sandler (@laurenosandler) March 21, 2014

More

The Boston Globe: I Don't Want Kids

"The only way to get around this problem is for you to change your mind. It's wonderful that you guys get along so well and like the same outdoor activities, but if one of you wants a baby and the other doesn't, your mutual interest in skiing doesn't matter."

The New Republic: The Case For One

"Though ostensibly the book's main purpose is to puncture these myths, there is a welcome strain of argument undergirding this well-researched and lively book: Looking out for your own happiness is not inconsistent with being a good mother."

Time Magazine: Having It All Without Having Children

"One evening when she was 14 years old, Laura Scott was washing dishes in the kitchen with her mother when she decided she didn't want to have a child. 'You might change your mind,' said her mother, whom Scott describes as 'bone tired' from a life in which she 'didn't have any time for herself.'"
This segment aired on March 20, 2014.