UConn In 'Basketball Heaven' After Defeating Kentucky
07:39
Play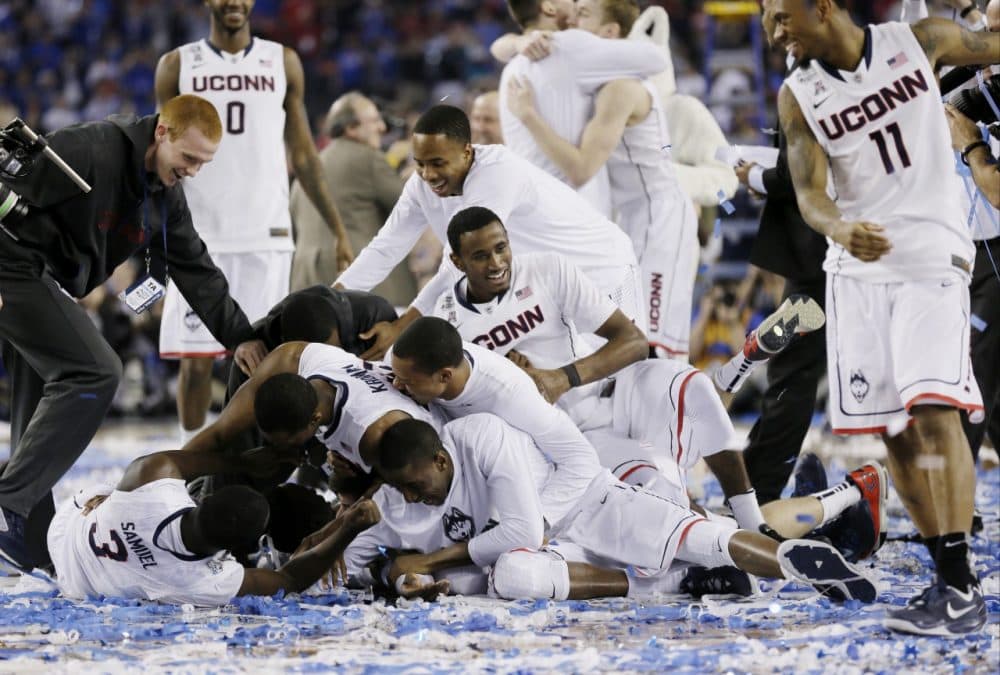 This article is more than 5 years old.
If you missed it last night, there was big news out of Arlington, Texas at the men's NCAA basketball final. The University of Connecticut outlasted Kentucky, winning the championship game 60 to 54.
It was sweet redemption for the 7th seed Huskies who had a remarkable string of victories one year after they were banned from the NCAA tournament because of academic violations.
Tuesday night, the University of Connecticut women will get their chance. They'll play Notre Dame in the women's final.
Guests
Colin McEnroe, host of The Colin McEnroe Show at WNPR in Hartford, Conn. He tweets at @wnprcolin.
Bill Curry, former comptroller for the state of Conn., former democratic candidate for governor, UConn basketball fan.
More
WBUR: UConn Wins NCAA Title, 60-54, Over Kentucky
"Coaches and players left them. Others told them to go away. The guys who stuck around at UConn ended up with the last laugh and a pretty good prize to go with it: The national title."
The Boston Globe: UConn's Title Is No Fluke
"The Huskies might have been underdogs, but now they're the top dogs in college basketball. It's not a fluke. This was not a case of Kentucky's fabulous, and soon to be fabulously wealthy freshmen, not rising to the occasion. It was a case of UConn and its dogged and tenacious defense — an extension of the personality of coach Kevin Ollie — and the best backcourt in America outplaying and outwilling Kentucky for 40 minutes."
USA Today: UConn's Men Drew Inspiration From Women In Their Lives
"Velasquez is the same way with Napier; it's become a running joke that she never sits down during games and nearly always loses her voice screaming for her son. Napier calls her his 'superwoman' for raising three kids in Roxbury and prioritizing their needs ahead of her own."
This segment aired on April 8, 2014.