Marathon Bombing Special Anniversary Show
57:52
Play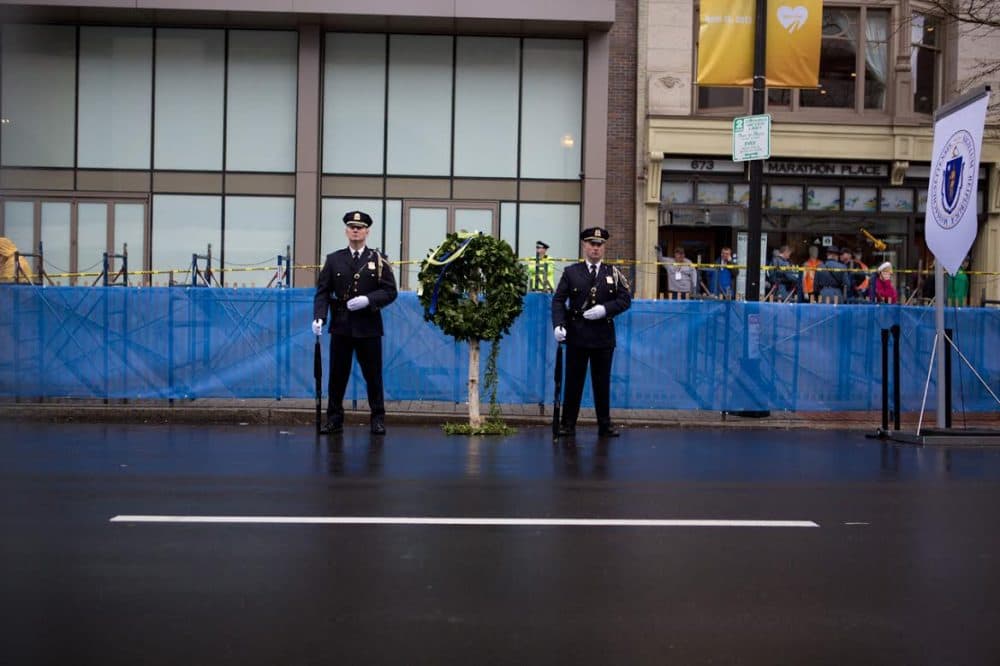 This article is more than 5 years old.
Today, a city pauses to remember and honor those killed and wounded by the attack on the Boston Marathon one year ago. It's the start of a week-long series of ceremonies and remembrances that will conclude next Monday, on Patriots Day, with the 118th running of the Boston Marathon.
Four names are very much at the center of today's ceremonies: Martin Richard, Krystal Campbell, Lu Lingzi and Sean Collier — who were killed a year ago. 260 other people — men, women and children — were injured, many of them seriously. 16 of them had limbs amputated.
At the Hynes Convention Center Tuesday afternoon, survivors, first responders and political leaders gathered to remember what happened one year ago. Boston Mayor Marty Walsh, former Mayor Tom Menino and Vice President Joe Biden spoke. So did Massachusetts Gov. Deval Patrick — who talked about the strength of Boston's community.
Guests
Jack Beatty, former editor of The Atlantic and On Point news analyst.
Joan Vennochi, columnist for The Boston Globe. She tweets at @Joan_Vennochi.
Bill Forry, managing editor of the Dorchester Reporter. He tweets at @DotNews.
Natalie Stavas, a pediatric resident at Boston Children's Hospital and Boston Medical Center, she aided victims at the scene of the attack. She tweets at @nataliestavas.
Rainey Tisdale, coordinator of Boston Better, a collaboration of 25 cultural institutions in the Boston area providing programming for the one year anniversary. She tweets at @raineytisdale.
John Tlumacki, staff photographer for The Boston Globe. He's photographed the fall of the Berlin Wall, war refugees in Uganda and three Olympic Games.
Chris Peterson, admissions officer, teaching assistant, and researcher at MIT. He's also a long-time friend of the Richard Family and is running the Boston Marathon this year in Martin Richard's name. He tweets at @peteyreplies.
More
Cognoscenti: Boston Marathon Bombings
"The first anniversary of the marathon attack has Anita Diamant thinking about the families of those who lost their lives."
26.2 Beyond The Finish Line: WBUR's 2014 Boston Marathon Coverage
"The community will gather along Boylston Street this afternoon to honor those affected by last year's deadly bombing at the Boston Marathon finish line."
Boston Marathon Reflections: 'I Walked Right Into The Second Bomb'
"It was clearly some kind of improvised explosive device. It was a pattern of injury that I could see from 20 feet away, that I had seen a thousand times in Iraq and Afghanistan."
This segment aired on April 15, 2014.