Project Louise: 6 Ways To Look Forward To Exercising
09:20
Play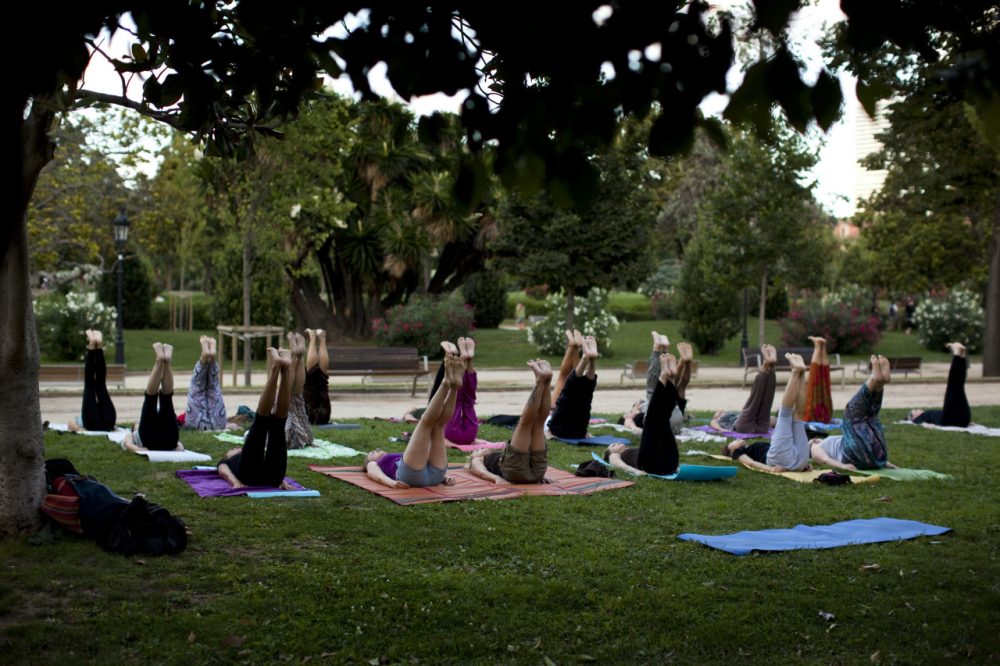 This article is more than 6 years old.
You want to get to the gym, you know you should work out more, you hear that it's good for your body, your brain, your soul. But where's the time when there's all the rest of life to contend with?
WBUR's CommonHealth blog has taken on this question in a year-long effort called, "Project Louise."
Guests
Carey Goldberg, co-host of WBUR's CommonHealth blog. She tweets @commonhealth.
Louise Kennedy, WBUR director of community engagement and the Louise of "Project Louise." She tweets @LouiseWBUR.
Allison Rimm, management consultant, award-winning educator and executive coach. She's the former senior vice president for Strategic Planning and Information Management at Massachusetts General Hospital and she's author of "The Joy of Strategy: A Business Plan for Life." She tweets @AllisonRimm.
6 Ways To Look Forward To Exercising
1. Make yourself a priority:
"The very first thing Louise has to do to make lifelong change that's sustainable is to honor herself and care enough about herself to make herself a priority and take action that's going to make her feel better and move her toward her goals." — Allison Rimm
2. Be the boss of yourself:
"You're going to need to be the boss of yourself and think of us as offering you a menu of options from which you choose something that is palatable to you and something that is so attractive to you that you're going to want to do it." — Allison Rimm
"I have some experience in dealing with recalcitrant children who don't want to do what I want them to do. So, I thought, what do I do with my daughter when she doesn't want to put her shoes on? I don't say, 'You have to put your shoes on!' I say, 'Do you want to wear the pink sneakers or the sparkly glittery ballet shoes?' [The adult analog to that is,] 'Do you want to go for a nice long walk with the dog or do you want to go for a swim?'" — Louise Kennedy
3. Find a form of exercise that brings you joy:
"If you can just reach the point where exercise is a pleasure to you, it becomes just one of life's great joys, actually. And, in fact, you also don't dare to start a day without it because you become so used to the benefits that it gives you." — Carey Goldberg
4. Challenge yourself to exercise every day for a set period of time:
"Actually having to say, for the past week, 'Yes, I exercised today. Actually having to say, just for the past week, 'Today I have to move, and tomorrow I'll have to move too, and the next day, and the next day." — Louise Kennedy
5. Find moments in the day you didn't know you had:
"I had to go to Cape Cod for work last week, poor me. But I realized that, in between all the other things I had to do, I had about an hour when I could go to the beach. And I went for a long walk on the beach and then I went for a swim, which was one of my favorite things in the world — swimming in the ocean. And so I didn't feel like I was having to work out. I was feeling like, 'Oh, I got to sneak away for an hour and do something fun. I got to away with this." — Louise Kennedy
"I have people scour their calendars and look for how they're actually spending their time and find buckets of time where they're not doing anything that's really value added, and schedule an exercise or whatever your other priority is into that moment…then you have to honor that appointment with yourself as much as you would with a colleague or your boss." – Allison Rimm
6. Find what works for you, not what works for somebody else:
"There are some people who are real planners, there are some people who really like to quantify things and get rewards on their fit bits. There are some people who just like to keep things really simple and they never judge themselves and they just try to do what they can." — Carey Goldberg
More
CommonHealth: Project Louise: Exercise Every Single Day? Says Who?
"This week I've gone swimming, and I've walked the dog, and I've watched some really silly TV on the treadmill. And it all got fairly simple, once I realized what I really wanted to post each time, and what I'll be saying from now on: I'm doing it because I want to, and not because you told me to."
CommonHealth: Project Louise: On Exercise, Sex, Free Stuff And The Secret Of Life
"I worry that halfway through your Project Louise year, while you've made truly laudable progress on healthier eating and emotional self-care, you clearly have yet to catch the exercise bug. Oh, you've tried, heroically, from bike rides to hot yoga to personal training. But it somehow hasn't stuck."
CommonHealth: Project Louise: Coach Undertakes To Kick Louise's 'But'
"She needs to believe, at a visceral level, that she is worthy of this investment. Calling herself stupid is the kind of thinking that will tether her to the unhealthy habits that created her current state."
This segment aired on July 28, 2014.