NCAA Rules Colleges Can Offer Athlete Stipends, Loosen Recruitment Rules
24:31
Play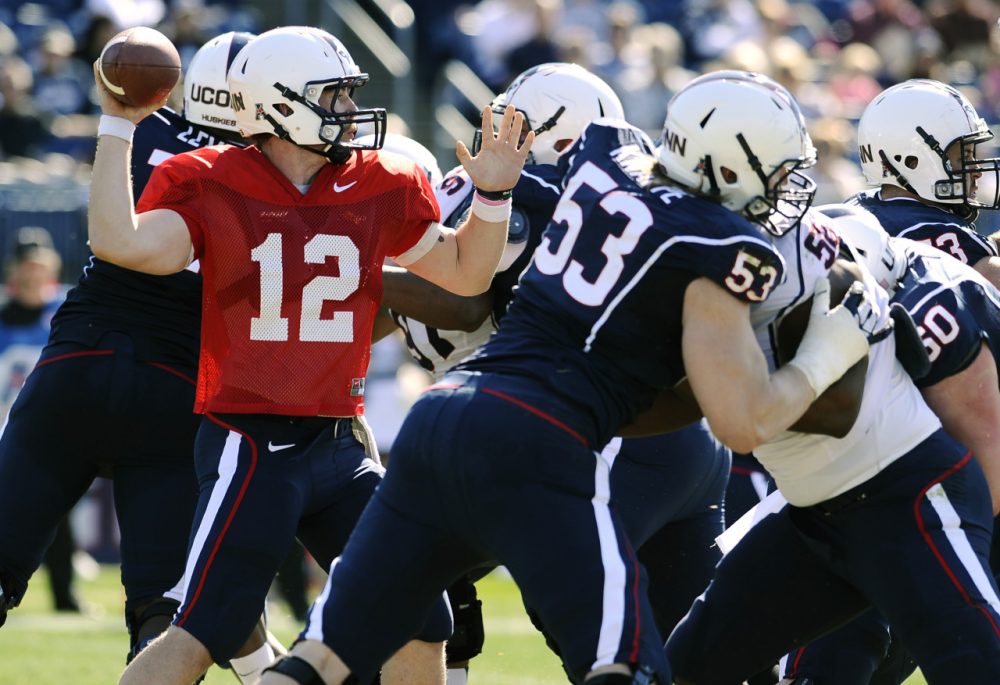 This article is more than 6 years old.
Former UCLA basketball star Ed O'Bannon was outraged when he found out that a video game company was using his image without paying him a dime. So he filed a lawsuit.
And last week, a federal judge hearing his case issued a ruling that is poised to upset college athletics as we know it. The judge said athletes like O'Bannon are entitled to a share of the billions of dollars that their sports generate.
The decision comes in the wake of a decision from the NCAA itself that schools can pay stipends to athletes and loosen recruitment rules.
Does this mean college athletics are going pro? Is this the end of a highly commercialized system that critics say was masquerading as an educational enterprise? And what does it mean to the handful of schools in the Northeast with big Division One sports programs, like Boston College and the University of Connecticut?
Guests
Doug Tribou, producer of NPR's Only A Game. He tweets @DougTribou.
Daniel Lebowitz, executive director of Sport in Society at Northeastern University.
John U. Bacon, sportswriter and journalist. He tweets @Johnubacon.
Highlights
On the NCAA changes to college sports:
Doug Tribou: "This was a huge week for the NCAA of two big stories, and the first one involved the big five conferences for the NCAA — the most powerful — the richest — conferences. That includes the [Atlantic Coast Conference], which [Boston College] is a member of. Also, the Big 10, the Big 12, the Pac-12 and the [Southeastern Conference]. And so they basically have put out a set of rules that still need formal approval, but everybody thinks will happen, in which the big five conferences will have a lot more authority to make their own rules and sort of dictate how they govern themselves, and that could take the shape of full cost of tuition or full cost of attendance scholarships. So, we've heard players complaining about, they can't buy a pizza and they can't have a job, how do they make that work? Things to address that. They might add $4,000 or $5,000 a year to a scholarship. They could be talking about full four-year scholarships instead of year-by-year. They could be talking about long-term health insurance and maybe allowing players to have agents before they're out of school. All of those things will have to be presented and then approved but we're on the road to some big changes for those big conferences."
On the compensation of college athletes:
Dan Lebowitz: "We live in a free trade system and we live in a democracy defined, in many respects, by capitalism. And I think that when you look at that system and you start thinking about coaches on the higher end of the scale at some of those 65 schools that might be making $4 million a year, and then you start thinking about athletes who, if they get a knee injury, lose their scholarship, there's a disparity."
On fan loyalty in college sports:
John U. Bacon: "The reason college football is so popular, and is separate from the NFL — people don't get this — that when Bill Martin at Michigan did a survey of his season ticket holders 10 years ago, he was athletic director at the time, he discovered that more than 60 percent of them had their tickets for 20 years or more. Very, very loyal. Only 9 percent also owned tickets for any pro team anywhere, including Detroit where most of them live. So, the college ball fan is not the NFL fan. They're different. In Boston, obviously, it's all Patriots and not much on B.C., clearly. And if you understand that, when you start paying the players, what you have to be careful of is you're taking the fan for granted. And you're not selling prowess when you're selling college football. Even the Detroit Lions at their worst — and we've seen this many times, trust me — they can beat the Wolverines at their best no matter what, and yet the Wolverines draw twice as many fans as the Lions do. So does Penn State, they outdraw the Eagles and the Steelers and Iowa State outdraws the Browns and the Bengals in Cleveland and Cincinnati, respectively. They're selling romance. You start paying these guys and get into this, you might risk alienating the fan."
On intercollegiate sports structures:
DL: "I think that you see an awful lot of universities lose money — you see certain universities evaluate programs. [Boston University] and Northeastern both, actually, got rid of football because of this and they've tried to build up their programs related to more expansion of Title IX and the like and so I think that's a very good model, too. This is a discussion, it's not something where we say, 'This is all right and this is all wrong.' If I look at the Northeastern model or the B.U. model, I think it's a great model. And so I can agree with many points that John's making about the romance issue, about college athletics, about how you have all this access to great food and great facilities and the like but it is an ongoing conversation on both sides."
More
On Point: NCAA Vote: Are College Sports Going Pro?
"The NCAA opening the way to bigger money, bigger recruiting, bigger everything in top tier college sports: creating, almost, a 'pro' tier."
WBUR: Federal Ruling May Mean Big Changes For NCAA Players
"Judge Claudia Wilken, she's great. She's not a sports fan, but she sort of voiced what you would hope for in a judge, which is someone to have an outside perspective to say, wait a minute, wait a minute - you're saying that your coach gets $9 million to make his players wear a certain kind of shoe, but the players can't get a cent?"
This article was originally published on August 12, 2014.
This segment aired on August 12, 2014.